Anxiety disorders are estimated to affect approximately 18% of the population in the United States. While everyone is nervous or has anxiety at some point in their life, those who have an anxiety disorder have issues that are more complicated than the average person. Their condition may cause problems at work or home impacting relationships and virtually every aspect of their lives. There are many different anxiety disorders, but a few of the most common are panic disorders, social anxiety, or generalized anxiety disorders.
While each condition is different, some of the same symptoms may overlap. Panic, sleep problems, shortness of breath, heart palpitations, nausea, dry mouth, and numbness or tingling in the hands and feet are just a few of the physical symptoms that can be present. A combination of environmental and genetic factors is believed to be one of the causes of anxiety disorders, but this is just a theory. Researchers also think that these disorders are influenced by how the brain regulates fear. Neurons in the brain are overactive during periods of high anxiety. Regulation of this issue has been the topic of many studies, and several medications have been successful in helping individuals deal with chronic anxiety. Xanax is one such medication.
If you need help controlling your anxiety symptoms– Click the button below to schedule your appointment.
What Conditions Qualify for Xanax?
Xanax is an anxiety prescription medication that is designed for people with anxiety or panic disorders. Although it is an effective medication, it isn't typically a first-line treatment option like Prozac since it is meant for short-term use only. Although it isn't as common, Xanax can also be prescribed for individuals who are suffering from alcohol withdrawal or insomnia. 
How Does Xanax Work?
Gamma-aminobutyric acid (GABA) is an amino acid that is produced in the body and acts as a neurotransmitter in the central nervous system. It limits nerve transmission and prevents nervous activity. It is believed that GABA controls fear or anxiety when neurons are overexcited.
Xanax and other medications like it, act on the brain's GABA receptors causing the release of the chemical. When taking Xanax bar as prescribed, the sedating effect it produces can calm your body's response to anxiety or stress. Many patients have described feeling normal after taking their first dose which is a testament to how powerful this drug can be. Speak with a doctor to see if Xanax is the right solution for you. Call EzCare Anxiety Clinic at 415-966-0848 to schedule your appointment.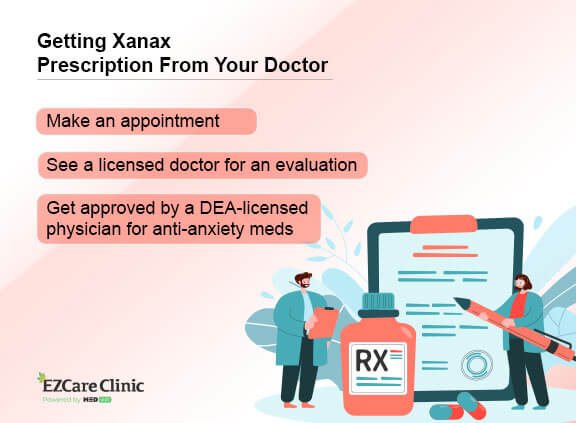 What Are the Side Effects of Xanax?
Xanax is a psychoactive drug that is intended to affect the brain. However, there are physical Xanax side effects that can be caused by this medication. Although the results are usually short-term, damage can be done to other organs if Xanax is abused. Temporary conditions such as slowed breathing, heart palpitations, chest pain, sweating, blurred vision, and upset stomach with or without changes in bowel movements can be experienced. 
Most often, patients report that symptoms are mild, but occasionally, severe effects can be seen. As with all medications, everyone will respond differently. Because damage can be done to organs if Xanax is used for long periods, it is often recommended that individuals not take this drug for longer than a month. In addition to the physical effects of Xanax, providers should be aware that patients can develop a dependency and once removed can experience severe withdrawal symptoms.  Another unwanted side effect of long-term use of Xanax is the potential for overdose. Xanax tends to build up in the body. Unfortunately, this can lead to an accidental overdose. Patients who have too much in their system can lapse into a coma unless medical attention happens quickly.
Additionally, Xanax is a drug that is highly sought after on the black market. While most doctors start patients out slowly and build the individual up to a safe level, those not under a doctor's care often take too much. Xanax dosing maxes out at 3 mg per day. Each tablet can take up to an hour to have an effect and can last from five to 12 hours depending on the formulation of the drug and take four or five days to be expelled by the body. Individuals who are self-medicating or who have not been prescribed Xanax may not be aware of its potency and take an unsafe amount leading to accidental overdoses.
To treat your panic attacks and other such disorders, click below.
How to Get Xanax in San Francisco?
Xanax is a powerful medication that can be an effective treatment for individuals who live in San Francisco Bay area and experience severe or chronic mental health issues.
If you are considering treatment for anxiety speak with our anxiety doctors about Xanax as a short-term solution. Be sure to tell the doctor about any other medications you are currently using.
As with all medications, Xanax can interact negatively with other drugs used both recreationally and those that were prescribed.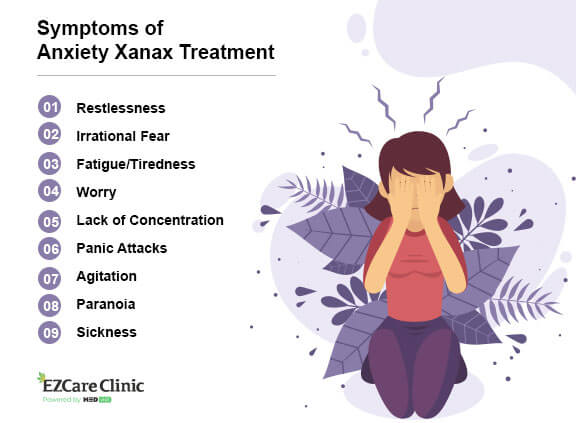 Your doctor will monitor your overall health to help prevent any complications. If you live in San Francisco and experiencing anxiety and believe that the Xanax bar can help you, please feel free to visit us at 1884 Market Street and speak with a licensed anxiety doctor to get a Xanax prescription today.
Book an appointment with EzCare Clinic today and get your anxiety checked.