Every person living with a mental illness issue has a certain level of protection. Besides your right to the confidentiality of personal information, you may also qualify for mental disability protection. Assuming you can't work due to your disability, you can receive monetary compensation in various forms. So, how much does mental health disability pay? This payment depends on many factors, such as the type of policy and the amount contributed. But for a claim to be approved, the extent of your disability isn't a point of concern, provided you have a doctor's confirmation. In addition to monetary benefits, mental disability protection enables you to work freely without discrimination.
Now, in which ways do these protections help? Let's discuss.
Protection Against Discrimination
One of the most common misconceptions about people with mental disabilities is that they can't work effectively. The fact is, people with mental disabilities can handle stressful and demanding work. And employers aren't allowed to discriminate against them. The ADA protects you from private employers who discriminate against you. Not because you can't work, but because you have a mental disability. According to the ADA, your employer should treat you like the other employees when it comes to promotion opportunities, salary, and employment freedoms.
Job Accommodation
Details about your mental disability should be confidential. But when requesting job-related accommodations, you have to disclose them. Your employer will request medical records from your doctor. Then, depending on the nature of your job, your employer will make reasonable changes to accommodate your needs.
Typically, the employer will decide which changes to make. But in many cases, these changes include;
Providing you with a peaceful or quiet working environment
Allowing you more short breaks to take medication
Letting you work from home full-time or part-time
Using a management style that works with you, such as giving you consistent reminders
Use of headset for white noise or blocking external noise
Providing flexible work schedules plus allowing for sick leaves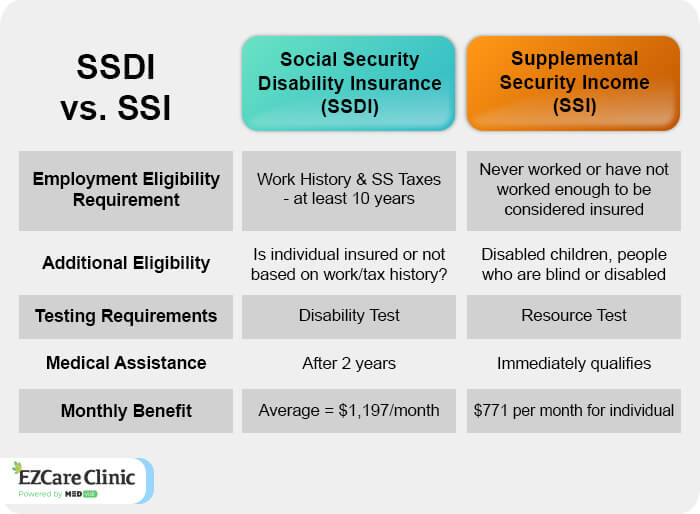 Disability Insurance
Disability insurance works for all types of disabilities, whether physical or mental. This insurance ensures that you continue to receive part of your income even when you can't continue working due to the disability. It can be short-term or long-term. The short-term policy is ideal for short-term disability for mental health. In this case, you receive payment for a limited period, usually less than two years. But in the long-term policy, you continue receiving payment until you recover from the disability. When applying for a disability insurance cover, the insurance company will need medical records from your doctor. The best thing about this policy is that you can receive 50% to 75% of your basic pay once you get a disability. So you'd still be able to pay your bills before you recover and get back to work.
Employee Assistance
In addition to providing reasonable accommodation, some employers make extra efforts to assist their employees. They do this by creating voluntary programs that improve employees' mental health. Employee assistance programs (EAP) provide counseling support to employees dealing with various problems. These problems include financial, marital, emotional, and more. Moreover, EAPs may provide referrals to employees to have a mental health assessment or diagnosis. Plus, they educate employees on stress management, overcoming substance abuse, and healthy lifestyles. Employers can also provide physical fitness programs, promote anti-stigma campaigns, and create a conducive working environment.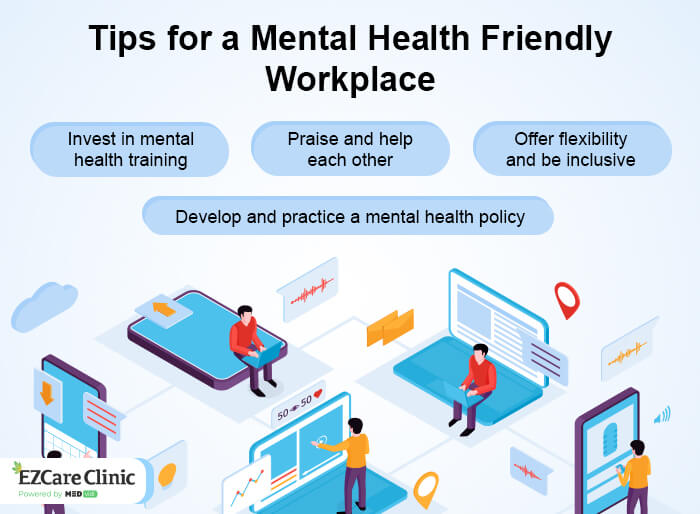 Employee Compensation
If your job contributes to your illness, you may benefit from worker's compensation. Generally, workers' compensation is a benefit paid to employees when they get injured or sick at work. So if your job causes you a lot of stress or trauma, then your medical expenses may be covered by the worker's compensation benefit. But it's better to consult your local department of labor for more information on the extent and duration of coverage.
Federal Aid
The federal authority assists people with disability through social security disability insurance [1*] (SSDI) and supplemental security income (SSI) programs. SSDI is for workers who pay social security taxes from their paycheck and have a disability. That means it's a paid benefit since you have to contribute to qualify for payment. On the other hand, SSI does not require you to work or contribute to the social security fund. Its eligibility depends on your income level, which must be low. To qualify for SSI, your disposable resources must be within the set limits. The more you earn, the lower the benefit you're likely to receive. Some people may qualify for one of these programs, and others for both. For you to get SSDI or SSI benefits, you must have a disability that prevents you from working. Here, the first thing is to claim the benefit. Then, an assessment will follow to determine whether the level of your disability qualifies you for the payment.
If you contribute to SSDI, you'll need to provide more information to determine your qualification. You must show that;
You have worked for at least five years in the last ten years
You can't continue with your previous work
Prove that your disability limits you from engaging in any other sustaining work
Your disability will last for at least one year
Once you provide the required evidence, the SSID will determine whether you qualify and how much you can receive. The process can take longer, and sometimes, you may not be eligible on the first attempt. However, you can appeal the decision or get a well-versed lawyer to represent you.