Medical Disclaimer
The medications listed on this website are provided for informational purposes only. Their inclusion does not guarantee that they will be prescribed to any individual, as treatment decisions are ultimately at the discretion of healthcare providers. This list is not exhaustive, and healthcare providers may prescribe other medications, including non-stimulant options, based on the patient's unique health circumstances and needs.
Access to virtual mental health services has grown significantly. People now can attend therapy sessions from home, and those who need a prescription can receive it from a licensed healthcare provider remotely. One medication that can be prescribed for anxiety disorders after an online consultation with a doctor is Valium (diazepam).
Here is an in-depth overview of online Valium prescriptions, the advantages of this medication, potential hazards, and answers to other common questions.
If you are seeking help for your anxiety, consult our mental health professionals.
What is Diazepam (Valium) Prescribed For?
Diazepam (Valium) belongs to a group of drugs commonly referred to as benzodiazepines. It has been successfully used to treat anxiety disorders in a short-term time frame. Other than the treatment of anxiety, it is also prescribed for:
Management of drug addiction problems.
Alcohol withdrawal symptoms.
Muscle spasms.
How Does Valium Work for Anxiety?
Diazepam (Valium) activates the gamma-aminobutyric receptors in the central nervous system. This helps to decrease nervousness and anxiety, regulates sleep, and enhances relaxation. Getting a diazepam prescription online is only suitable for short-term treatment because long-term use can lead to abuse and addiction.
How to Take Diazepam (Valium)
Diazepam (Valium) is administered orally in doses of 2 mg to 10 mg, which can be taken two to three times daily. A daily dose above 30 mg is not recommended, is indicative of drug abuse, and can often be fatal. Other common recommendations include the following:
Valium is suitable for use by persons over the age of 18 years and under the age of 65 years.
It is necessary to inform the healthcare provider about any other medications that you may be taking.
Older patients with anxiety disorders typically take a lower dosage.
Intake recommendations may vary from one patient to another due to individual symptoms, the severity of a disorder, health history, medication history, and other criteria. Consult your healthcare provider to learn more.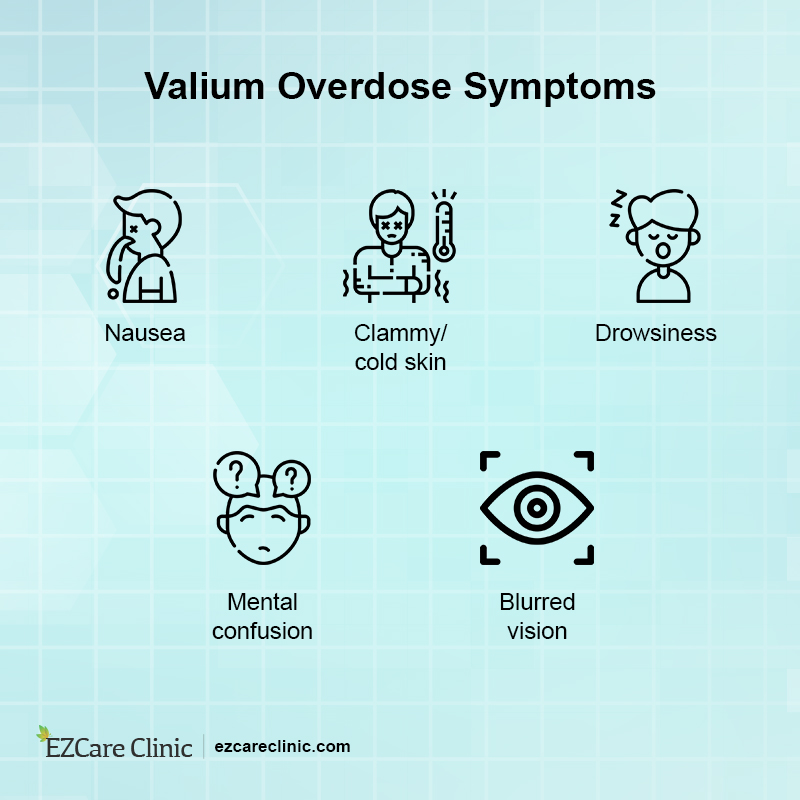 Contraindications
Patients with the following conditions should not take Valium:
Liver problems.
Arteriosclerosis.
Allergic reaction to diazepam or any other medicine of the same drug class.
A history of preceding severe depression.
Personality disorders.
Diazepam may not be suitable for pregnant women with anxiety disorders. In addition, patients scheduled for a significant operation in the coming days should avoid taking this medication. It is recommended to consult a medical doctor to learn more about alternative treatments in this case.
Doctors at the EZCare Clinic are ready to provide a personalized treatment plan based on a detailed assessment.
Side Effects of Diazepam (Valium)
Despite being an effective treatment option for anxiety, Valium has some side effects. Some of the most common side effects you can experience include the following:
Drowsiness.
Fatigue.
A lack of body balance.
Headaches and confusion.
Difficulty speaking.
Muscle weakness.
In the case of experiencing any side effects, consult your healthcare provider to know how to deal with them or adjust your treatment plan.
Does Diazepam (Valium) Require a Prescription?
Diazepam (Valium) is a prescription medication. It is classified as a benzodiazepine and is a controlled substance in the U.S. To buy it, patients require a prescription from a licensed healthcare professional, such as a doctor or psychiatrist.
Can Online Doctors Prescribe Valium?
The rules to prescribe Valium online may vary depending on the laws and regulations of the state in which the doctor is licensed and the platform through which the online consultation is conducted. Online psychiatrists abide by medical regulations and prioritize patient safety when choosing a treatment option.
To get prescribed diazepam from an online doctor, a patient should go through a symptom assessment. The need for treatment with medication is evaluated based on individual circumstances. If you get prescribed Valium for anxiety, ask a doctor about detailed intake recommendations and follow the instructions precisely.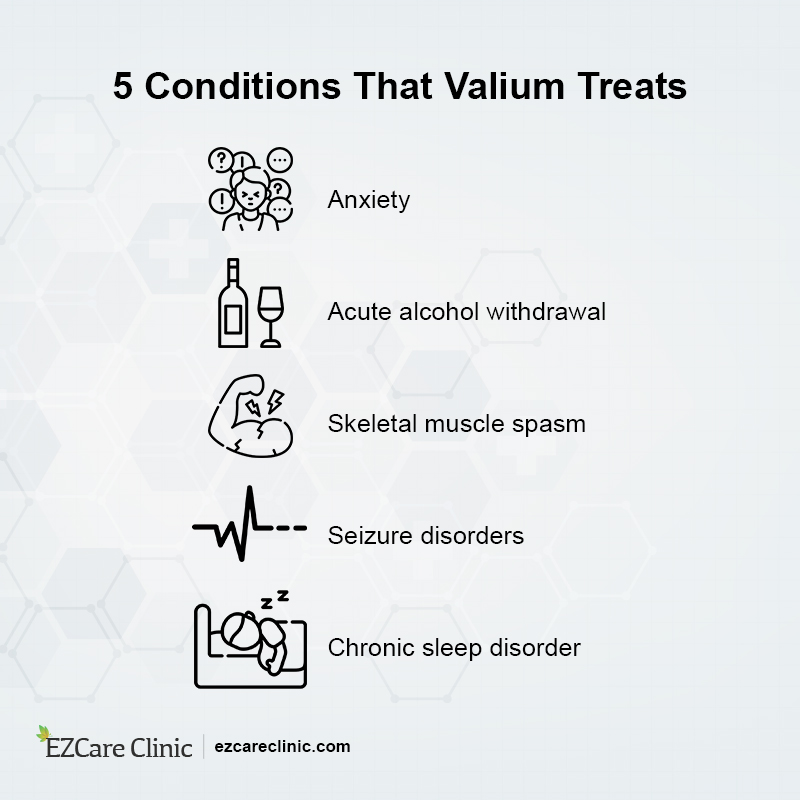 An Online Prescription for Valium (Diazepam): How It Works
Since Valium (diazepam) is a Schedule IV controlled substance, it can be initially prescribed only for 30 days. It is a highly regulated medication and is subject to the upcoming changes in the DEA rules and regulations. Moreover, booking an online appointment doesn't guarantee getting diazepam from a doctor. The treatment is chosen based on a thorough assessment of symptoms and health history. It's also essential to discuss any concerns and ask questions about the medication's potential benefits and side effects in advance.
At the EZCare Clinic, you can receive a holistic treatment plan during a video consultation. The medical professional will decide the best treatment plan for your condition or recommend an alternative treatment strategy. If you get a Valium prescription, a doctor will send it digitally to your preferred pharmacy.
In Conclusion
Diazepam (Valium) can effectively treat anxiety disorders in the short term. It is an option as part of a comprehensive treatment plan. However, it should be used with increased caution and should not be prescribed for an extended period. Patients should regularly follow up with their healthcare providers to monitor their response to medication and adjust their treatment plan if required.
Frequently Asked Questions
Who can prescribe Valium?
Only a licensed medical professional may prescribe Valium. Depending on the laws of your state, the list typically includes physicians, psychiatrists, and other healthcare professionals with prescriptive authority.
What to say to a doctor during an appointment?
Discuss your symptoms and concerns with a doctor openly and sincerely. Instead of asking for a specific drug, trust your doctor in offering treatment options most suitable for your condition. Based on their expert judgment, a healthcare professional will provide you with a treatment plan.
Can I buy Valium online?
You can buy Valium online only if you have a legitimate prescription from a qualified healthcare provider. It is essential that you choose an online pharmacy carefully, one that supplies pharmacy-grade authentic medicine. Check out the FDA recommendations [1*] on purchasing Valium online and don't hesitate to consult with your doctor if you find it challenging to choose a pharmacy.
Can I get Valium over the counter?
Valium cannot be purchased over the counter. This medication has the potential for misuse and dependence, which makes it a controlled substance. You would require a prescription from a licensed healthcare provider to purchase Valium.
+1 sources
FDA warns consumers who purchase Diazepam online of potentially serious counterfeiting issue. (2015)
Source link