How to Get Diazepam (Valium) Prescribed for Anxiety?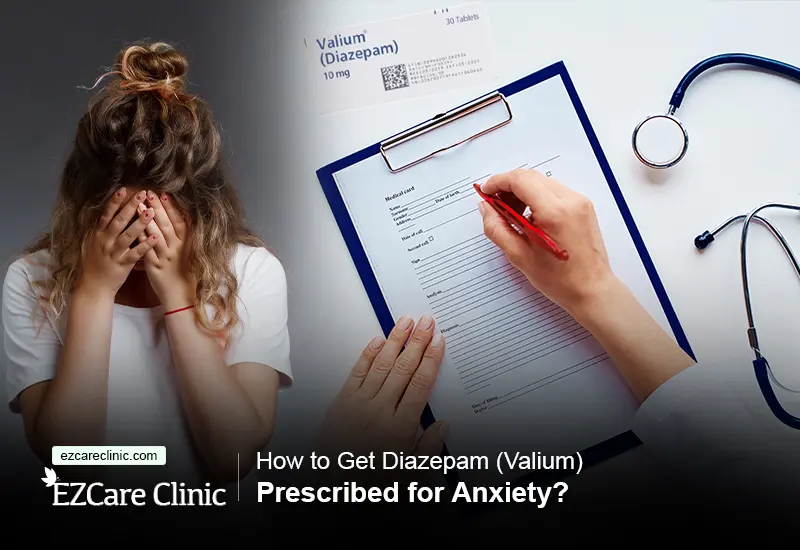 Mental wellness is a critical area of human health that many people have ignored in the past. However, with the number of mental health disorders rising each day, it has become an essential discussion topic today.
If you are seeking help for your anxiety– Click the button below to book a consultation with our mental health expert.
Common Mental Health Disorders
Depression, dementia, anxiety, and many more are some of the most common mental health cases reported in health institutions.
The most common mental health disorder among the United States patients is a generalized anxiety disorder that affects nearly 40 million people, according to the Anxiety and Depression Association of America. 
Risk Factors for Anxiety
Numerous risk factors may cause the development of anxiety disorder.
Some of these factors include genetics, stress, and many more. The silver lining is that these anxiety disorders are treatable and manageable, although less than 40 percent of patients receive treatment according to ADAA.
There is a need for a concerted effort to encourage more people into seeking treatment.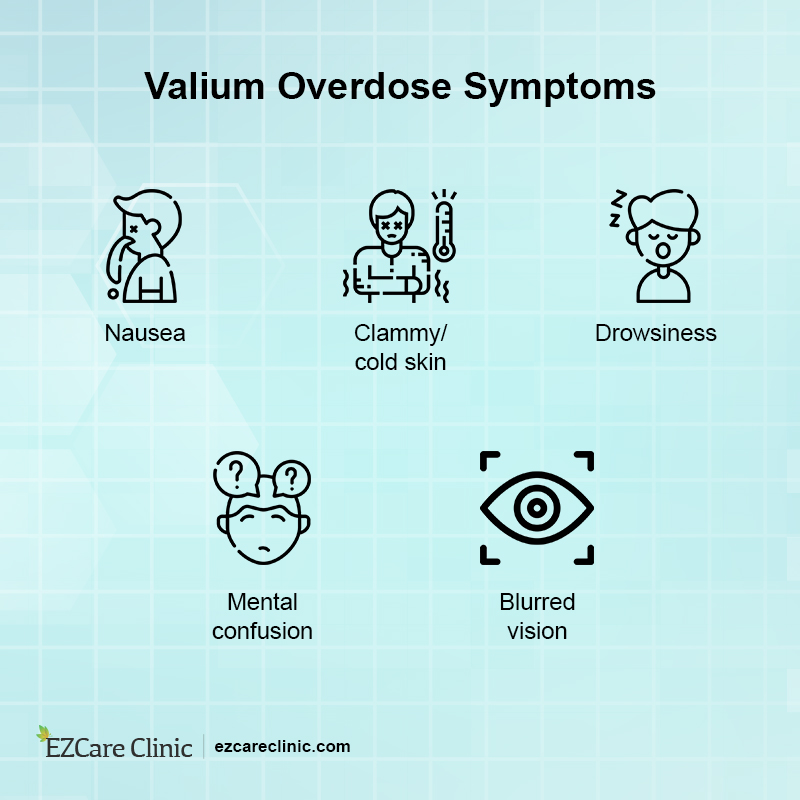 Diazepam (Valium)
Diazepam (Valium) is one of the drugs that has been successfully used to treat anxiety disorders. This drug belongs to a group of drugs commonly referred to as benzodiazepines.
Other than the treatment of anxiety, it helps in:
Management of drug addiction problems

Withdrawal symptoms of alcohol

Muscle spasms
Diazepam (Valium) can be taken into the body through three different forms, which include:
Tablets

Syrup (the liquid form)

Rectal tube
Does Valium Really Work for Anxiety?
The gamma-aminobutyric acid receptors found in the brain helps to regulate anxiety, sleep and enhance relaxation. When Diazepam (Valium) is taken into the body, it activates the gamma-aminobutyric receptors in the central nervous system, which calms down increased feelings of nervousness and anxiety.
Diazepam (Valium) is suitable for short-term treatment of anxiety as the long-term use can lead to an overreliance on the drug leading to addiction- one of the reasons why to get valium prescribed.
Valium is a fast-acting medication that helps to lower your anxiety– Click the button below to get help with your anxiety.
How to Use Diazepam (Valium)
Diazepam (Valium) medicine is suitable for use by persons over the age of 18 years.

However, before taking the medication, you should talk to your doctor about the best way of taking the drug.

You need to follow the doctor's valium prescription dutifully.

It would also be helpful if you inform him or her about any other medications that you may be taking.

The diazepam (valium) drug is administered with respect to the severity of the anxiety condition and age.

Each person has got his or her way on how to use

v

alium.

The doctors recommend taking a low dosage for elderly persons with anxiety disorders and people with other underlying issues than the recommended one.
How to Take Diazepam (Valium)
One of the most recommended ways of taking the medication includes the following:
Diazepam (Valium) is administered orally in doses of 2 mg to 10 mg, which can be taken two to three times a day.

Taking a daily dose of above 30 mg of Diazepam is not recommended and amounts to drug abuse.
Diazepam gets into the body through the gastrointestinal tract, with its active element being desmethyldiazepam.
Diazepam (Valium) may not be suitable for pregnant women with anxiety conditions as research has shown that the fetus can be affected by the side effects of valium.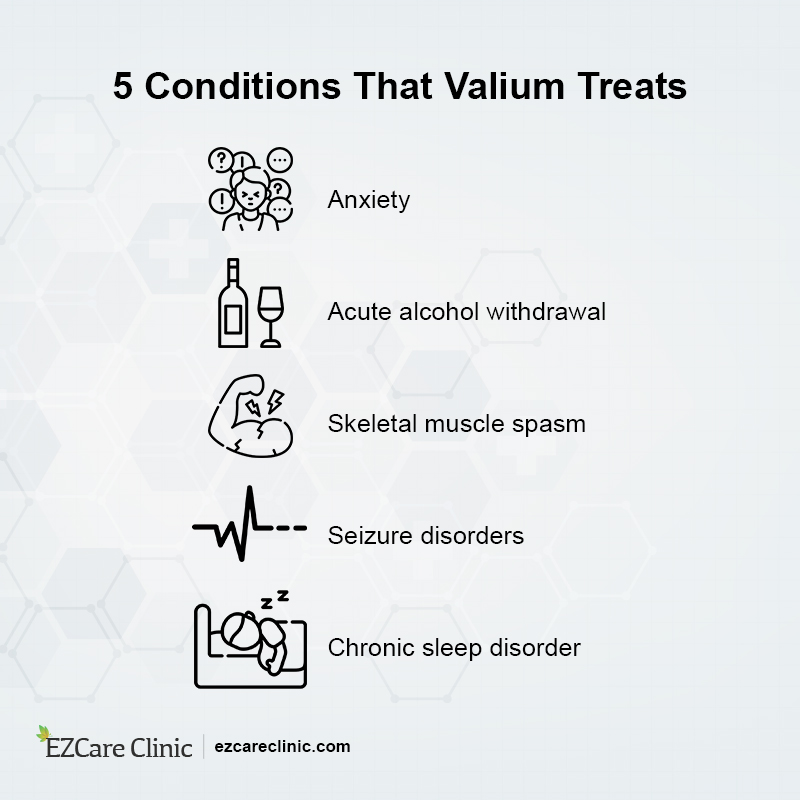 The patients with the following conditions should also not take the medicine until they consult with their medical doctors;
A patient with other underlying health conditions such as liver problems or arteriosclerosis.

A patient with an allergic reaction to Diazepam or any other medicine.

A patient who has previously suffered from depression or has been rescued from suicide activity.

A patient with some personality disorder is also not encouraged to start diazepam medication.

A patient scheduled for a significant operation in the coming days should also avoid taking this medication.
To make the best use of this medicine, doctors may recommend combining other treatment options, such as the use of therapy to alleviate some side effects associated with the help of the drug.
If you want to increase your daily dosage for the treatment of anxiety, you should consider consulting your medical doctor, who will guide you on the best ways to prevent adverse effects of the drug on your body.
Having used the drug for quite some time, and you would like to discontinue its usage, ensure you consult your healthcare provider before getting off the drugs.
This is essential as diazepam usage creates overreliance, which can bring withdrawal symptoms upon sudden disuse.
Side Effects of Diazepam (Valium)
When taking this drug, you should closely interact with your healthcare provider to assist you in case of any adverse side effects start manifesting themselves.
Some of the most common side effects you can experience include the following;
A feeling of drowsiness

Feeling fatigued and lacking control over your body

Anxiety patients may have headaches and feel confused

A person may experience difficulty in speaking   

The drug users may also experience muscle weakness

Lack of body balance may make the patient fall easily
For the drug to be effective, care and support are necessary to keep the patient going and manage the anxiety condition.
Valium is prescribed to treat anxiety symptoms– Click below to book a consultation with our mental health expert.
Conclusion
Diazepam (Valium) is a drug that can be effectively used to treat the majority of patients who are currently not on a treatment plan.
However, caution must be exercised while using this drug as it can cause adverse effects if used for an extended period.
Patients should always consult with medical professionals to ensure they follow the prescriptions for uses and dosage of Valium. Visit EZCare Clinic or click the banner below to schedule your appointment today!