Medical Disclaimer
The medications listed on this website are provided for informational purposes only. Their inclusion does not guarantee that they will be prescribed to any individual, as treatment decisions are ultimately at the discretion of healthcare providers. This list is not exhaustive, and healthcare providers may prescribe other medications, including non-stimulant options, based on the patient's unique health circumstances and needs.
Rozerem medication, also in generic form as Ramelteon, was first described in 2002. Later in 2005, FDA approved the drug for insomnia treatment.
Rozerem enhances sleep hypnosis through sleep-regulatory melatonin receptors, MT1 and MT2, in the suprachiasmatic nucleus. Unlike most sleeping pills, Ramelteon does not have an addictive effect and does not lead to dependence. It is not liable for abuse, hence is not a controlled substance.
This article reviews the most important facts about Rozerem, including its uses, intake recommendations, side effects, and others.
See a doctor via your smartphone or laptop and get a medication prescription online.
What is Rozerem Used for?
Rozerem is a melatonin agonist drug that is used for the treatment of insomnia. 30 to 40% of the adult population in the US struggle with insomnia and pharmacological treatment is often chosen to help improve symptoms.
Rozerem is specifically meant for sleeping disorders characterized by an inability or difficulty falling asleep. It helps a person to fall asleep fast, and clinical trials [2*]  have shown its efficacy in shortening sleep onset. The tablet is approved for long time use.
Rozerem Dosage
The medication is administered orally, with or without food, and is an adult-only drug. Rozerem is available in an 8 mg tablet, is round in shape, film-coated, pale orange-yellow, film-coated, with "RAM-8" and "TAK" printed on one side. Patients should not crush or break the pill; one should take the whole tablet.
Usage Instructions
Read the medication guide before an intake of the medication and follow the instructions provided by your doctor. In addition, pay attention to the following:
Do not take Rozerem after a high-fat meal, as it may affect the drug's efficacy.
Take the drug only if you have time to sleep for seven to eight hours.
Do not change the prescribed dose of Ramelteon 8 mg unless the doctor tells you to do so. The dosage is administered based on the medical condition and therapeutic response.
Rozerem takes effect fast and should be taken when you are ready to sleep, so take it approximately 30 minutes before bedtime.
Consult a doctor if the drug is not effective, makes insomnia worse, or causes mood changes such as depression.
Rozerem Side Effects
A patient may experience mild or severe side effects from Ramelteon. According to the study, mild side effects include:
Diarrhea
Dizziness
Fatigue
Exacerbated insomnia
Somnolence
Nausea
Possible severe side effects of Rozerem include:
Irregular menstrual cycle or no menstrual periods
Inability to get pregnant
Severe allergic reactions
Hallucinations, depression, suicidal thoughts, or nightmares
Hormonal changes such as an increase of prolactin or decrease of testosterone levels in the body. The changes could cause low libido
Decreased interest in sex
Milk secretion from the nipples of a non-breastfeeding person
Contraindications for Taking Rozerem Tablets
Rozerem can interact with some drugs (for example, Fluvoxamine (Luvox)) and result in health complications. A person should inform the doctor of any prescribed or non-prescribed medications, supplements, or herbal treatment they are taking. Telling about the following health issues is required too:
Liver disease
A high level of prolactin hormones
Mental disorders or suicidal thoughts
Alcoholism
Lung disease or respiratory problem
Complex sleep behaviors like sleepwalking or eating while asleep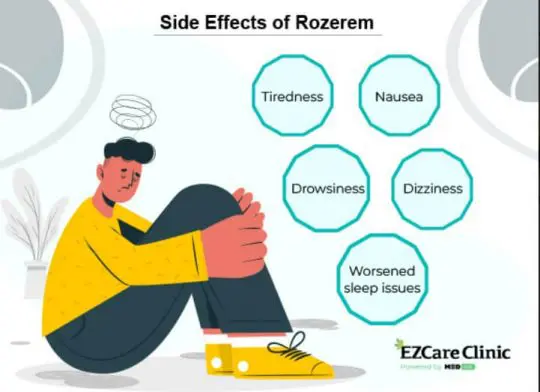 Pregnancy or plans to get pregnant
Breastfeeding or plans to breastfeed because Rozerem may cause somnolence in the infant
Rozerem Withdrawal: What to Know
Studies have indicated that Rozerem is not addictive, and its use has minimal risk of dependency, even for patients with substance abuse disorders. From the few reported physical dependency cases, drug withdrawal might come with the next symptoms:
Headaches
Sweating
Hand tremors
Nausea
Increased heart rate
Psychological symptoms of withdrawal include:
Cravings
Stress
Insomnia
Anxiety
Irritability
Conclusion
Sleep disorder is a common problem that affects approximately a third of the general population. Insomnia is prevalent much more in elderly persons and in people with psychiatric and comorbid medical disorders. Sleep disorder impairs daytime functions, decreases the quality of life, and makes one vulnerable to health challenges. And doctors often prescribe Rozerem for sleep to help overcome this condition.
Rozerem is recommended to treat and regulate the body's sleep-wake cycle. The drug is prescribed for delayed sleep disorders. Since it is non-addictive, it is not DEA-controlled. Still, it has several contraindications, so a patient must disclose all physical and psychological medical history and any ongoing treatment. A patient should follow the prescription as instructed and consult a doctor in case of an adverse reaction. If you want to know more about insomnia treatment, contact EZCare doctors today.