Medical Disclaimer
The medications listed on this website are provided for informational purposes only. Their inclusion does not guarantee that they will be prescribed to any individual, as treatment decisions are ultimately at the discretion of healthcare providers. This list is not exhaustive, and healthcare providers may prescribe other medications, including non-stimulant options, based on the patient's unique health circumstances and needs.
Insomnia is common in America: about 70 million citizens struggle with sleeping disorders. Different symptoms of insomnia are detected in approximately 33% to 50% of adults. Different factors cause sleeping disorders, hence the need for varied treatment. As a result, there are many medications available. One common option is Unisom.
Unisom sleep tablets, also available in multiple brand names and forms, belong to the antihistamine medical category.
In this post, we'll mostly review the effects of Unisom for insomnia. Still, let's start with exploring the different uses of this medication.
Various medications can help treat insomnia effectively. Contact a doctor today to get personalized treatment.
What Is Unisom Used for?
FDA has approved the combined use of Unisom with pyridoxine to treat nausea and vomiting in pregnancy. It also treats hay fever, allergies, the common cold, and insomnia. Unisom tablets block histamine and acetylcholine production in the body to stop allergic reactions. When these chemicals are reduced in the body, a person gets drowsy. The drugs take about six hours to affect the body.
Unisom is recommended for adults only. Children over the age of 12 years can take it with a doctor's approval, but it is suggested to enquire from a medical practitioner about other ways to help a child with sleeping disorders.
Unisom for Insomnia
FDA recognizes Unisom as an effective and safe treatment for temporary insomnia. However, the drug is not recommended for long-term use. Most sleeping aids can be addictive. Unisom's risk of physical dependence is minimal, but it can cause psychological dependence.
FDA considers the drug safe for pregnant women. It can be prescribed to help manage insomnia, nausea, or vomiting.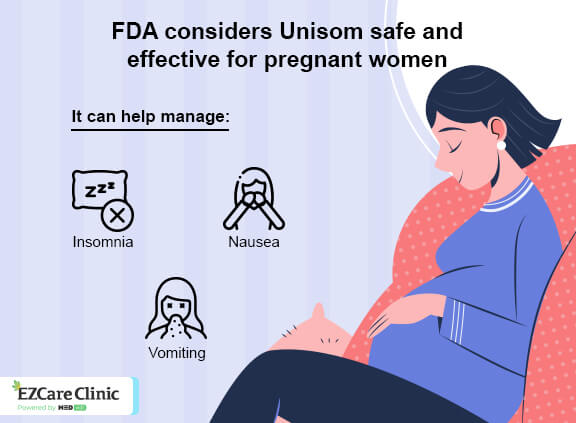 Unisom Dosage
Many factors determine the dose a doctor can recommend to a patient. A person should follow a doctor's instructions to avoid an overdose or side effects. Unisom's usual dosage is 25 to 50 mg [3*] , taken orally at bedtime. If a person cannot function after taking 50 mg, taking the minimum dose of 25 mg is advisable.
These are a few extra recommendations:
Take Unisom with or without food.
In the case of stomach upsets [4*] , take food or milk.
When taken in chewable form, ensure it is chewed thoroughly before swallowing.
Use the assigned spoon/device to measure the dosage carefully if taken as a liquid. To take the correct dose, do not use an optional measurement device.
See a doctor online to get clear instructions on how to take Unisom for insomnia.
Unisom Side Effects
Most medications have side effects, and Unisom is no exception. The side effects can be temporary or permanent, mild or severe. However, not every user gets these reactions after drug use.
Common side effects include:
Upset stomach
Headache
Irritability
Drowsiness
Dry mouth, nose, and throat
Dizziness
Inability to concentrate
Restlessness
Constipation
Increased perspiration
Though the above side effects are not severe, it is essential to consult a doctor if they are becoming difficult to bear. They could lead to consequences if not managed medically.
It is essential to consult a health professional as soon as one exhibits the symptoms below after the intake of the Unisom sleep tablets:

Muscle weakness
Increased/irregular heart rate
Hallucinations
Seizures
Bruising on the body
Ringing in the ears
Difficulty in passing urine
Vision problems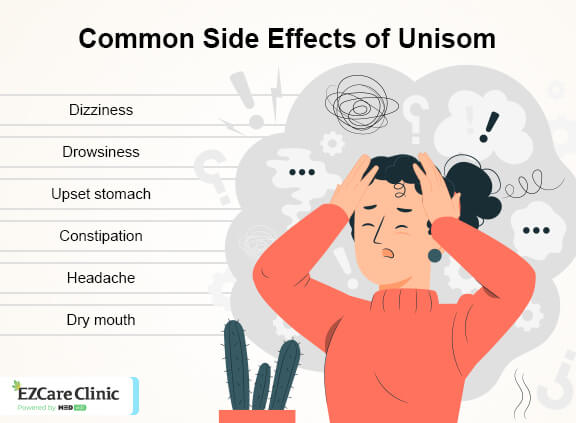 A person should consult a prescriber and discontinue the medication intake if unable to function and is greatly affected after taking the drug. Stop the intake of the tablets in case of the signs below:
Wheezing
Chest tightness
Hive or skin rash
Unisom Withdrawal
The Unisom sleeping tablet is not addictive compared to other habit-forming sleeping pills. After a period of use, one can develop dependency. Withdrawal symptoms are rare with the use of Unisom, and since it is available as an over-the-counter drug, there is a risk of overdose and sensitivity reaction in patients. Therefore, it is important to consult a doctor before using Unisom as a sleep aid.
Conclusion
Unisom is an effective treatment for persons struggling with sleeping disorders. It is a medically proven solution that requires one to stick to the doctor's instructions.
It is also important to be alert to any medication reactions in the body to get professional help if adverse symptoms arise. Treat any reaction with utmost seriousness as necessary.
Patients are advised never to share pills with others even though they depict similar symptoms. To get personalized treatment and receive the medication that will suit your particular symptoms and diagnosis, contact EZCare Clinic today.