Medical Disclaimer
The medications listed on this website are provided for informational purposes only. Their inclusion does not guarantee that they will be prescribed to any individual, as treatment decisions are ultimately at the discretion of healthcare providers. This list is not exhaustive, and healthcare providers may prescribe other medications, including non-stimulant options, based on the patient's unique health circumstances and needs.
Have you ever found yourself overwhelmed with fear of something normal? Are there any things in life you cannot see yourself doing because your body tenses up? Do certain everyday activities, such as commuting to work or interacting with others, cause excessive worry? If you have experienced similar situations, you may have generalized anxiety disorder, but fortunately, it can be managed.
Along with therapy, medications are the mainstay treatment option for anxiety disorders. This post will address all your important questions about how you can get anxiety medication.
To manage your anxiety disorders with prescribed anxiety medication, click the button below!
Can Anxiety Disorders Be Treated?
Therapy and medications can effectively manage anxiety symptoms and prevent the condition from being debilitating. However, they cannot cure anxiety completely. Successful treatment requires a patient's deep involvement in the process, increased self-awareness, and learning self-help techniques that prevent anxiety from being a problem in normal day-to-day life. The use of such techniques helps reduce anxiety episodes even after stopping medications and talk therapy.
Drugs for Anxiety
Medications make it easier for people to deal with issues brought on by anxiety. There are many brands in the market, so there are many options for prescribed anxiety meds. At the same time, it is vital to understand that all drugs for treating anxiety are different in terms of their chemical makeup. While one drug might work well for some, it may be ineffective or harmful for others. Keep this in mind when consulting with your physician about which anxiety medications are best for you.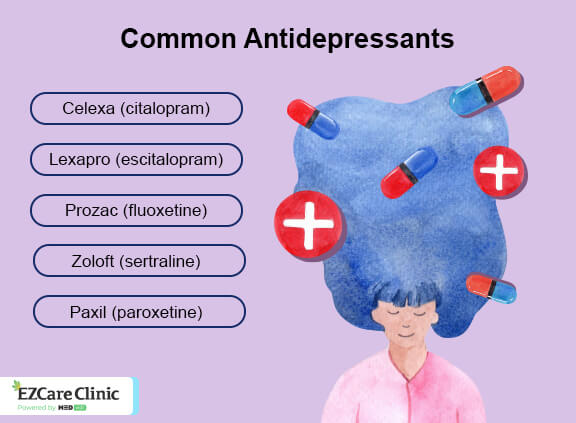 Types of Medications for Anxiety
The two most well-known types of medication for anxiety are antidepressants and benzodiazepines. These drugs are designed to influence different neurotransmitters in the brain so that your body and mind can better relax. Both antidepressants and benzodiazepines involve a set of drugs, and you can get them with the help of a doctor's prescription.
Antidepressants for Anxiety
Antidepressants for treating anxiety and depression are further classified into two categories:
Selective serotonin reuptake inhibitors (SSRIs) [1*] raise the levels of serotonin in your brain. These include:

Celexa (citalopram)
Lexapro (escitalopram)
Zoloft (sertraline)
Prozac (fluoxetine)
Paxil (paroxetine)

Serotonin and norepinephrine reuptake inhibitors (SNRIs) [2*] work to increase the levels of both serotonin and norepinephrine in the brain. These include:

Cymbalta (duloxetine)
Effexor (venlafaxine)
Benzodiazepines for Anxiety
Benzodiazepines [3*] are prescribed for short-term anxiety treatment. They include:
Valium (diazepam)
Tranxene (clorazepate)
Serax (oxazepam)
Librium (chlordiazepoxide)
Buspirone [4*] is another FDA-approved medication for anxiety disorders. Additionally, beta-blockers such as propranolol [5*] may also be prescribed to manage physical symptoms of anxiety.
While all these anxiety medications are prescribed to manage anxiety disorder, due to their different chemical makeup and patients' individual specifics, their effectiveness can vary, as well as how long the effects can last.
How to Get Prescribed Anxiety Medication?
While non-medication treatments such as therapy, exercise, and meditation can be helpful, medication is often necessary for some individuals. If you're struggling with anxiety disorders and think that pharmacological treatment may be needed, here are some steps on how to get anxiety medication.
Speak with your healthcare provider. They can evaluate your anxiety symptoms and medical history and determine what medications you should be taking to achieve the best results. If your mental health professional decides that anxiety medication is appropriate for your condition, they will develop a treatment plan and provide you with a prescription.
Follow your healthcare provider's instructions. Be sure to follow the doctor's instructions carefully, including the dosage, how often to take the anxiety medication, and any other important information, such as dealing with the potential side effects.
Fill out your prescription. Once you have a prescription for anxiety medication, you can fill it at a local pharmacy. Be sure to tell the pharmacist about any other medications or supplements you may be taking to avoid any potential interactions.
Do not change the intake regimen by yourself. It may take some time for the medication to start working, so be patient and continue taking it as directed. Some types of anxiety medications start working within 30 minutes and relieve symptoms fast, while others, prescribed for long-term treatment, may take a few weeks to bring effects.
Attend follow-up appointments. It is important to attend follow-up appointments with your healthcare provider to monitor your symptoms and make any necessary adjustments to your medication regimen.
Who Can Prescribe Anxiety Medication?
Prescription of antidepressants or other uncontrolled anti-anxiety medications does not require any special requirements on the part of doctors. However, in order to get benzodiazepines, you must be approved by a DEA-licensed physician since these are classified as controlled substances [6*] with abuse potential. If the doctor you see is not DEA-licensed, they may not be able to prescribe these drugs.
In addition, your healthcare professional should have the appropriate training and expertise to both prescribe medications and manage your medication regimen. In the United States, anxiety medication can be prescribed by these healthcare providers:
Psychiatrists
Medical doctors (MDs)
Family physicians
Physician assistants (PAs)
Nurse practitioners (NPs)
If you are unsure about who can prescribe medication, how to get anxiety meds, or if you have any other questions about treatment options, contact EZCare Clinic, and we will connect you with our doctors who can help you.
How to Ask Your Doctor for Anti-Anxiety Medication?
During an appointment, your doctor can point out that you are ready to try pharmacological treatment for anxiety disorder. After a thorough evaluation, a healthcare provider will determine whether a prescription for anxiety will work for you at all and what medication can be the most effective. Once treatment is approved, you will be provided with an individual treatment plan. You will likely be prescribed a low dosage to start, though it can be increased later if needed.
Side Effects of Anti-Anxiety Medications
If you get anxiety medication, make sure to look over these side effects:
Drowsiness. Anxiety medication has sedative effects on the brain, which causes patients to experience dizziness, drowsiness, or lightheadedness. This may affect their ability to perform tasks that require alertness and concentration, therefore it's crucial to take precautions and remain aware.
Low sodium levels. Antidepressants such as SSRIs can cause severe falls in sodium levels, clinically known as hyponatremia [7*] , especially in older adults. Common signs of low sodium levels include headache, confusion, or fatigue. So, if you experience such symptoms after taking anxiety medication, discuss it with your doctor as soon as possible.
Insomnia. Restlessness at night is a serious side effect that can get in the way of your sleep. If you can, take your medication for anxiety in the mornings, and talk with your doctor if restlessness and insomnia continue.
Weight changes. You can consult with a dietitian if you think your weight gain or weight loss is caused by anxiety medications. Otherwise, make sure you get all the needed nutrients and have enough physical activity throughout the day.
Changes in libido. If you are planning to stay sexually active while you take medication, you should consult your doctor to better know possible side effects and how to deal with them.
Serotonin syndrome. As anxiety medications, including SSRIs and SNRIs, increase serotonin levels in the brain, they can cause dangerously high serotonin levels. The symptoms of serotonin syndrome [8*] can include raised temperature, confusion, agitation, sweating, muscle, twitching, shivering, and tremors. This phenomenon is more common when these drugs are taken with other medicines; therefore, you should disclose all your drug history to the doctor.
Suicidal ideation. Anxiety medications may lead to suicidal thoughts in rare cases, especially in adolescents and young adults under 25. Therefore, it is important to disclose any feelings of self-harm with your loved ones immediately so that necessary medical assistance can be provided without delay in such scenarios.
Abuse and dependence. Due to their potent psychological effects [9*] , benzodiazepines have the potential for abuse and addiction. Hence, doctors recommend only short-term treatment with these drugs to avoid negative consequences.
Anxiety Treatment at EZCare Clinic
If you are battling any anxiety disorder and seeking help, mental health professionals at EZCare Clinic offer personalized care and a comprehensive approach to managing your symptoms. A team of licensed healthcare professionals is ready to provide you with a personalized treatment plan. It may include safe and effective medication management options coupled with therapy and other supportive services.
Do not let anxiety keep getting the best of you. Call us today or set up an appointment online.