Unlike traditional talk therapy, experiential family therapy focuses on practice and experiences. It promotes active participation through activities such as role-play, arts, and props. Read on to explore experiential family therapy's key concepts!
Looking for a reliable platform for online therapy? Click the button below to reach your destination.
What Is Experiential Family Therapy?
Carl Whitaker introduced the concept of schema experiential family therapy in 1953. The model focuses on changing family interactions and patterns. Every family faces numerous difficulties. However, if left untreated, any of these alterations have the potential to cause conflict and might escalate to more serious family problems. Hence, the advantage of experiential family therapy is that it helps overcome current issues and find their roots and avoid repeating them in the future. This type of family therapy uses activities like guided imagery, artistic expression, and role-playing to treat underlying difficulties in a family environment. When engaging in particular activities or behaviors, you can explore and learn more than standard verbal learning. The essence of experiential family therapy is the concept of practicality in achieving behavioral or mental goals.
Example of Experiential Family Therapy
This is one example of an experiential technique involving creativity and problem-solving. Family members draw their family and then discuss the drawing with each other. The use of art therapy may reveal dynamics or information in families that otherwise would not be addressed in a session.
Uses of Experiential Therapy
Experiential family therapy can assist families in resolving various conflicts. This discomfort, however, does not imply a lack of love within the family. The unresolved conflicts in the family can include the following:
Living together as a new couple
Having a baby
A child begins school
Children grow up
Divorce or separation
Shifting
Alterations in financial circumstances
Value disparities
A person suffering from addiction in the family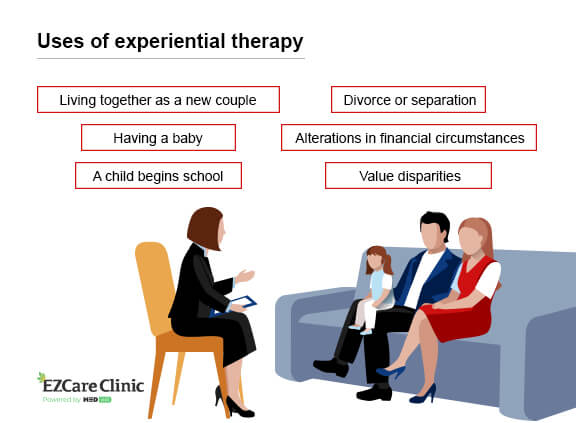 Experiential Family Therapy Techniques
There are several interesting interactive techniques used in experiential family therapy. Their purpose is to increase the involvement and insight of the therapy members.
1. The Technique of Family Sculpting
It is a technique in which the therapist requests one or more family members to arrange the other members (and finally oneself) in relation to one another in terms of space, posture, and attitude to depict the arranger's perception of the family, either in general or about a specific aspect or situation.
The therapist asks family members to use puppets to make a story. Then, it can be used to determine alliances and conflicts.
Family relations are the fundamental element of your well-being. If you face conflicts with your family, click the button below to get help.
3. The Family Art Therapy Technique
Family art therapy uses creativity and art that help to achieve greater self-awareness. This technique serves the following benefits:
Aids in recognizing emotional problems and the recovery procedure.
Employs creativity to improve clients' mental health.
It can treat various emotional problems in both children and adults.
4. Technique for Drawing Conjoint Families
The therapist instructs the members to make a drawing of their family, including everyone, and have everyone do something. Then, the therapist and the family would talk about what was drawn and why. This could show how each member perceives the family, as well as possible alternative patterns the family may exhibit.
It is commonly used for children aged 3 to 11 years, though adults can benefit from this approach. Puppets, dolls, playhouses, fingerpaints, sandboxes, and other media help children express their feelings and thoughts.
In therapy, past role-playing events or worrisome experiences from the future can bring them to life. Role-playing these events can help the clients to gain the courage to face their fears.
To address the emotional content surrounding those members not present in therapy, therapists use techniques such as the "empty chair." These un-present people can be relatives or close family members.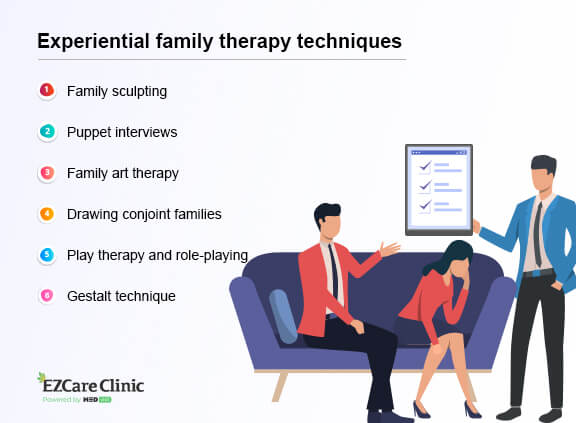 Experiential Family Therapy's Strengths and Weaknesses
Despite its usefulness and variety of techniques, experiential family therapy also has drawbacks. This portion includes an overview of the strengths and weaknesses of this therapy.
The following are the advantages of experiential family therapy:
First, it assists the clients in identifying the emotion, worries, and thoughts that contribute to the problem.
It enables the clients to express their problems, emotions, and sentiments to the therapist and family members. This is a crucial element of the healing process.
The therapist's goal is to improve the client's emotional well-being while also assisting the family members in examining and re-connecting their ties.
The following drawbacks can be associated with experiential family therapy:
The clients cannot connect their concerns with the treatment experiences gained through activities.
It places less emphasis on the family structure. The family structure comprises married couples and their offspring who help each other.
The benefits of experiential family therapy outweigh the disadvantages. Adding practical measures to your recovery can be very effective. If your family is going through conflicts, don't hesitate to get assistance. Reach out to the EZCare Clinic for assistance.