Lunesta
Eszopiclone is a drug used to treat insomnia and is marketed under the trade names Lunesta and others. In order to promote sleep, it slows down brain activity. It might make it easier for you to go to sleep, stay asleep for longer, and wake up less frequently at night so you can enjoy a better night's sleep.
Benzodiazepines
Benzos are more traditional medications for insomnia. In the past, they have been successfully used to treat sleep disorders such as sleepwalking and night terrors. These drugs have major drawbacks, such as residual daytime sleepiness, rebound insomnia, and difficulty forming new memories, and can lead to addiction and dependency. Examples of benzos used for insomnia include Temazepam (Restoril) and Triazolam (Halcion), which may be helpful if you need a longer-lasting insomnia treatment.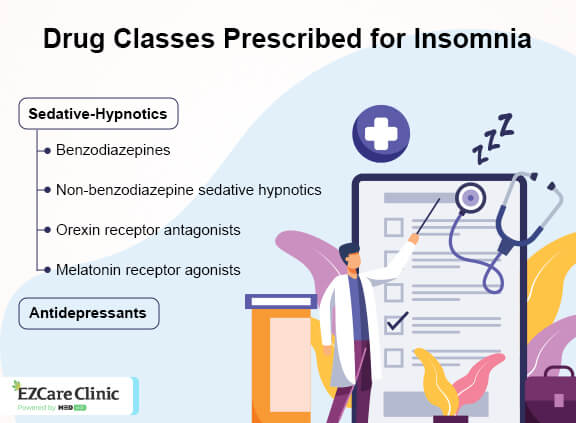 Pros and Cons of Sleeping Meds
Benefits: improved sleep quality, higher nighttime sleep efficiency, and a more regular sleep pattern. Also, better sleep can lessen daytime tiredness, and improved sleeping patterns contribute to gaining healthy habits.
Adverse effects: the potential drawbacks of sleep aids differ depending on the particular prescription and individual specifics. These include:
Even if a sleep drug isn't meant for long-term usage, a person can nevertheless develop a dependency on it.
After frequent use, abrupt cessation of the medication may increase sleep issues or withdrawal symptoms.
These medications may have a comparable overall impact on driving while intoxicated, impairing one's attention, reaction time, and judgment.