The Benefits of Breast Augmentation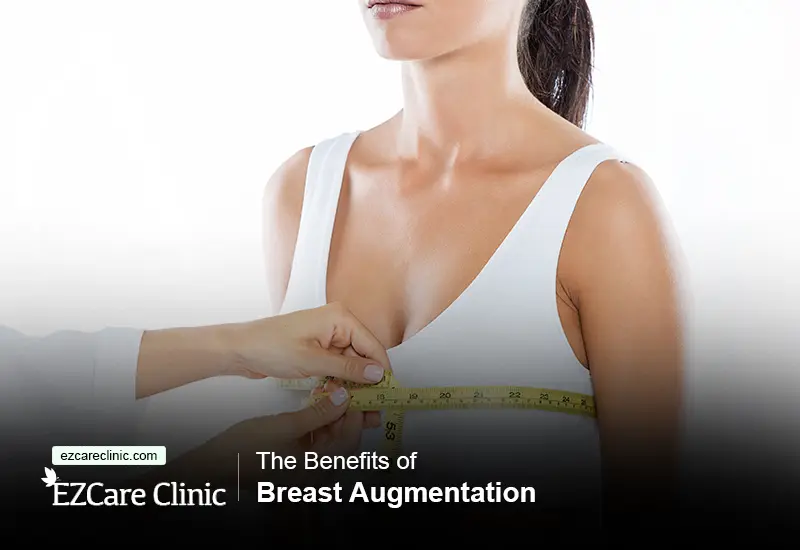 Receiving a breast augmentation procedure a very courageous step towards a new look. Breast augmentation is also known as breast implants or augmentation mammoplasty. A consultation with a physician, such as those who specialize in breast augmentation at EZCare Clinic, will provide you with all the information you need for your breast augmentation procedure. However, there are a few steps you can take prior to meeting with a physician to familiarize yourself with the procedure and to know whether breast augmentation is right for you.
Consult with our specialists if you wish to start on your breast augmentation journey.
According to a study published by the US National Library of Medicine National Institute of Health, "breast augmentation is the most commonly performed cosmetic surgical operation" (ncbi.nlm.nih.gov, 2008). For example, people may seek breast augmentation:  
To correct asymmetrical breasts.

 

When they want to reconstruct their body after a mastectomy for breast cancer.

 

To reshape their breasts after weight loss, aging, or pregnancy.

 

For cosmetic reasons and self-confidence. 

 
Breast Augmentation Consultation
During a consultation with your doctor, the best incision type and location will be identified for you. Generally, there are four types of incisions for breast augmentation. 
Inframammary: An incision under the breast just above the crease, allowing for larger implants to be inserted.

 

Transaxillary: An incision made in the armpit. The procedure requires more precision and the use of a camera for the surgeon to have exact placement, but there is no scar left on the breast itself.

 

Periareolar: An incision made on the lower edge of the areola (the dark area that surrounds the nipple). This incision is common when a breast lift is being done at the same time.

 

Transumbilical: An incision made just above the navel. This allows for only one scar to be made, and no scar left on the breast.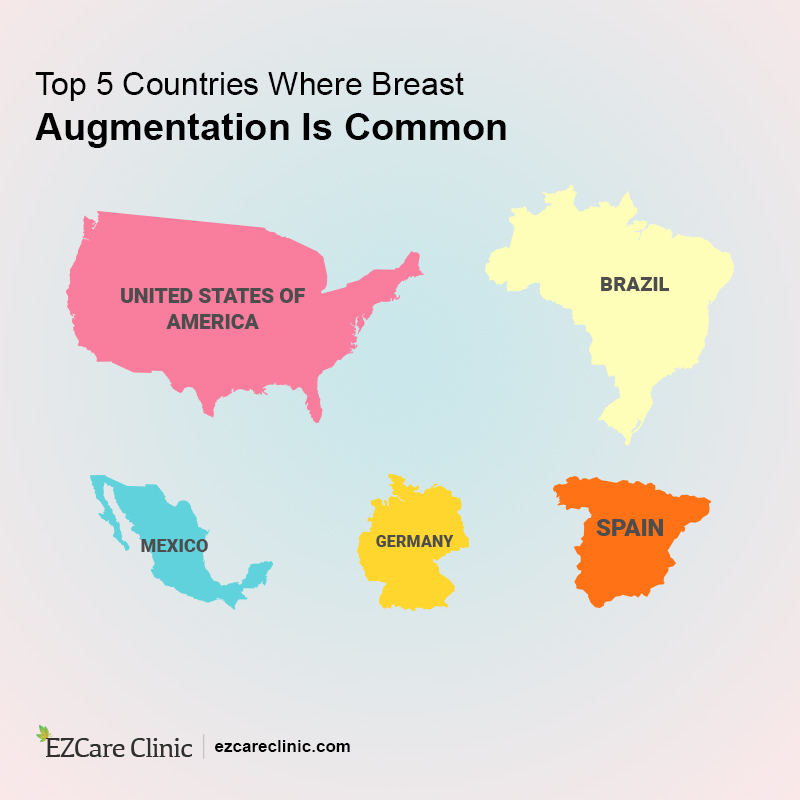 Breast Augmentation History
Now that you know the incision types, it is also helpful to know the types of implants available. In the 1960s, Surgeons Frank Gerow and Thomas Cronin were the first to pioneer the silicone breast implant (BBC, 2012).  
After testing their idea on dogs, they performed the surgery on a volunteer Timmie Jean Lindsey, who was astonished by the results. A year later, in 1963, Gerow and Cronin exposed their methods at the International Society of Plastic Surgeons in Washington. Silicon proved much more useful and safer than what was being done prior, such as the insertion of sponges under the breast that eventually became hard as rocks. 
Are you ready to get a change in cup size? Well, now is your chance! Call EZ Care Clinic to schedule a consultation today. 
What Types of Breast Implants are Available?
The types of breast implants available have come a long way since the 1960s, and there are more choices now than ever before. The cost, the shape, and the feel of the breasts you are seeking will determine the choice you make with your physician.  
Breast Augmentation choices include: 
Silicone Gel-Filled Implants – These implants are filled with a soft silicone gel and are pre-filled to a variety of sizes and shapes.

 

Cohesive Gel Silicone Gel-Filled Breast Implants – These implants are known as the "gummy bear" implants as their molecularly structured silicone gel is much more firm than normal silicone implants. This makes them very firm and able to hold their shape longer than normal silicone.

 

Saline-Filled Implants – These implants are filled with sterile saltwater. They can be filled during surgery to be modified to the correct shape and size.

 

Structured Saline-Filled Breast Implants – These are also filled with sterile saltwater, but have a structure inside that makes them feel like a silicone gel implant.

 

Autologous Fat Transfer – While not necessarily an implant, it is still a form of breast augmentation. This process involves liposuction from another part of the body, and the fat cells transferred and injected into the breasts.

 
Effects of Breast Augmentation Surgery
After determining whether breast implants are right for you, it is helpful to know about the procedure you will be going through. An article published on the American Board of Cosmetic Surgery draws attention to the fear of having ugly scars after a breast augmentation procedure. "Qualified cosmetic surgeons will use a surgical technique that places breast augmentation incisions so the resulting scars are easily hidden and inconspicuous, even to the patient" (americanboardcosmeticsurgery.org, 2017).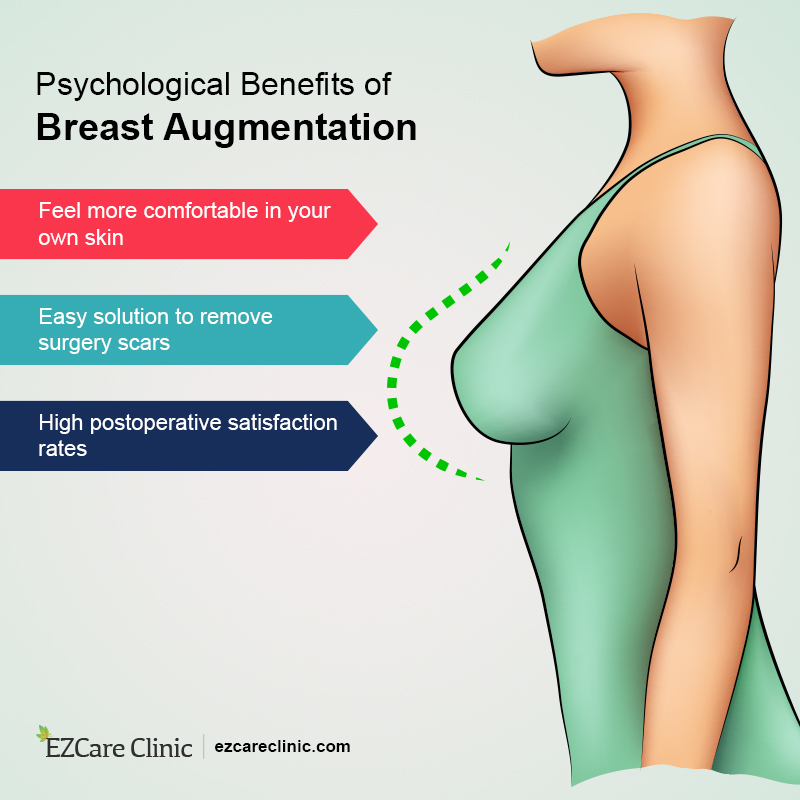 Will My New Breasts Hurt?
After the surgery, there are steps you can take to make the transition most comfortable for you. Most pain is experienced 48 hours after the procedure. Implants stretch the breast muscle, and it is natural to feel pain and soreness in the chest area. Painkillers like acetaminophen can help alleviate this pain.  
For the next few weeks, you should minimize any physical activity. Allow the scars to heal, which means avoiding unnecessary lifting and full-range movements that can potentially reopen the incisions. After about a month, your breasts should be free of soreness, but everyone recovers at differently, so be sure to follow the recommended care plan as indicated by your doctor. 
Breast Augmentation can be life-changing – get your appointment today!
Are There Any Risks To Breast Augmentation?
Whatever the reason for seeking breast augmentation, it is important to know all of the risks involved with the operation. While it is notable that significant complications due to augmentation are infrequent, it is still a surgical operation the patient is undergoing, and it carries with it all the risks of one.  
Without proper care, there is the possibility of infection from the incision, a loss of sensation in the breast and nipples, and allergic reactions from the type of implant used. Additionally, the implants themselves need to be monitored, which means that you will need to make frequent visits to EZCare Clinic for mammograms and checkups. It is advised to have an MRI scan three years after receiving the implants and every two years after to check for silent ruptures. 
Overall, the risks are nowhere near the potential benefits of receiving breast augmentation. Whether it is for cosmetic reasons or recovering from a life-threatening disease like breast cancer, breast augmentation is an option for anyone looking to improve their self-image. The most important part of it all is staying informed, and consulting with a qualified physician such as those at EZCare Clinic in San Francisco.
To schedule a consultation today, call EZCare Clinic in San Francisco or book an appointment by clicking the button below!