Physical and Psychological Causes of Erectile Dysfunction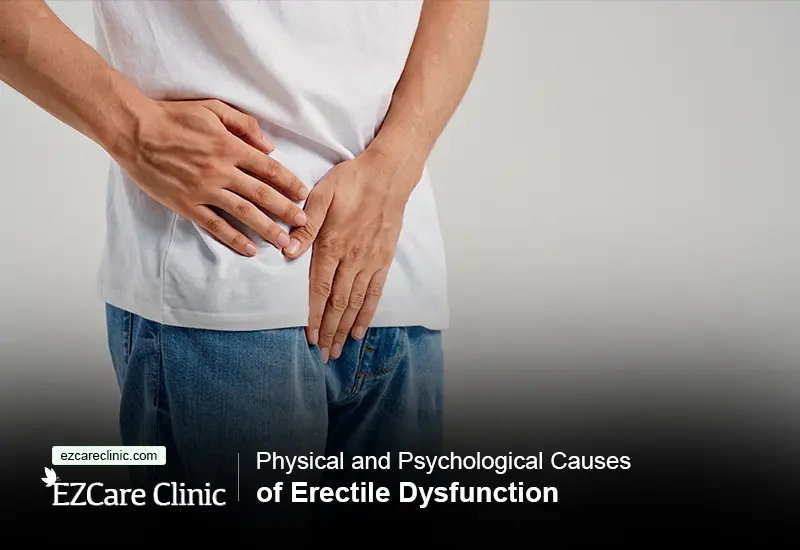 Knowing the causes and treatments of erectile dysfunction requires an in-depth understanding of how erections work and the psychological and physiological factors that bring them about. An erection is part and parcel of the male physiognomy and is caused by increased blood flow through the penis. This increased blood flow is usually caused by either direct contact with the penis or the stimulations of sexual thought. Basically, erections are neurovascular events, which means that the veins, arteries, and nerves all need to function properly for them to occur.
Click the button below to get professional help and ease symptoms of erectile dysfunction. 
What is Erectile Dysfunction?
Getting an erection is a complex process that involves the peripheral nervous system, the central nervous system, psychological and physiologic factors, vascular (i.e., circulation or blood flow) and hormonal components, as well as local factors within the penis. Erections happen in response to smell, touch, visual or auditory stimuli, any of which may cause the brain to send information to the nerve centers located along the spine's base. The nerve fibers located here are responsible for the regulation of blood flow before, during, and after erections.
Erectile dysfunction or impotence is the inability to get or sustain an erection long enough for the satisfactory completion of sexual activity. It is a subset of sexual dysfunction and can occur if any of the psychological or physiological processes required to get or maintain an erection is disrupted. The factors that cause erectile dysfunction are classified into two: psychological factors and physiological factors.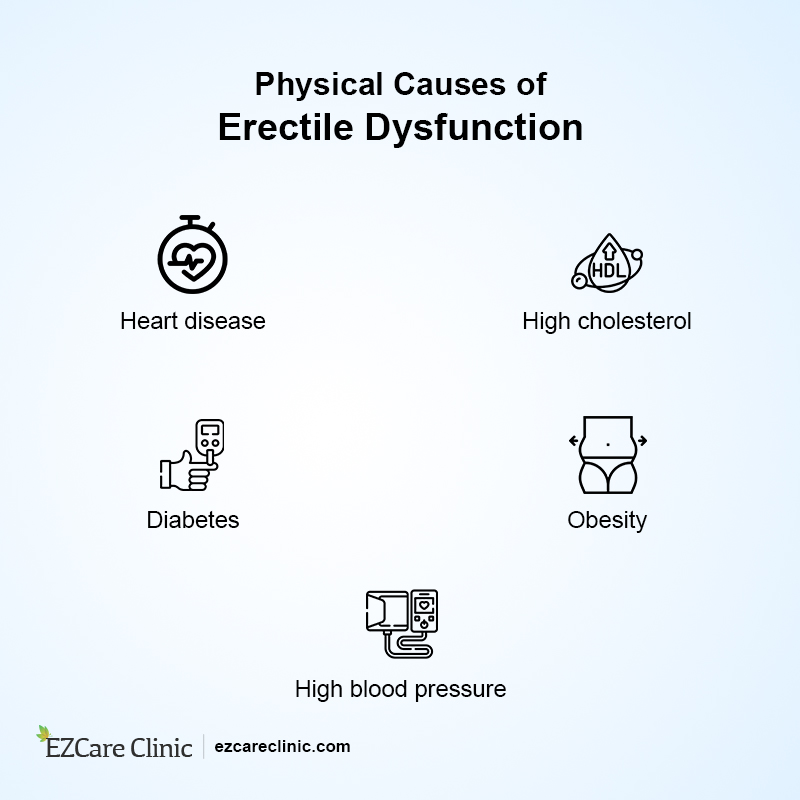 Psychological Factors of ED
Some studies show that this is the most common cause of erectile dysfunction, although it usually coexists with other functional or physical causes. Inability to get an erection often produces an emotional and psychological reaction in those affected, and this, in turn, produces a pattern of stress, low self-esteem, and anxiety that further interferes with sexual performance. This is termed "performance anxiety" and should be addressed immediately by your preferred healthcare provider.
Several areas of the brain are involved in sexual behavior, and as such, psychogenic ED may induce the brain to send messages that prevent or inhibit erections. Psychogenic ED may occur due to stressors that cause the release of catecholamines that tighten penile muscles and prevents them from relaxing. Also, feelings such as self-consciousness or nervousness about sex, stress at home or the workplace, troubled feelings, or feelings of insecurity about your sexual relationships can contribute to psychogenic ED.
In such cases, successful treatment will include psychotherapy or psychological counseling for both partners. Medications used in the treatment of psychological issues may also cause ED, and it is advised to consult a physician before discontinuing any medication.
Click the button below to treat the psychological and physical causes of erectile dysfunction. 
Physical Factors of ED
Physiological erectile dysfunction has been linked to a number of factors such as hormonal imbalance, sleep disorders, or simply a matter of age. From the age of 40 and above, most men will experience some form of ED. They will notice that achieving erections will take more time and effort and sustaining it will become more challenging. Hormonal imbalance is another cause of physiological ED especially in men having pituitary gland problems or having excess estrogen in their system, due to obesity.
Some of the common causes of physiological ED include the following:
   High blood pressure and cholesterol

   Metabolic syndrome, multiple sclerosis, and Parkinson's disease

   Diabetes and obesity

   Peyronie's disease and sleep disorders

   Alcoholism and substance abuse

   Enlarged prostate or prostate cancer treatments

   Injuries or surgeries that affect the spinal cord or pelvic area

   Radiation treatments for cancer

   Medications such as antihistamines, antidepressants, and prescription drugs that treat prostate, pain, high blood pressure, etc.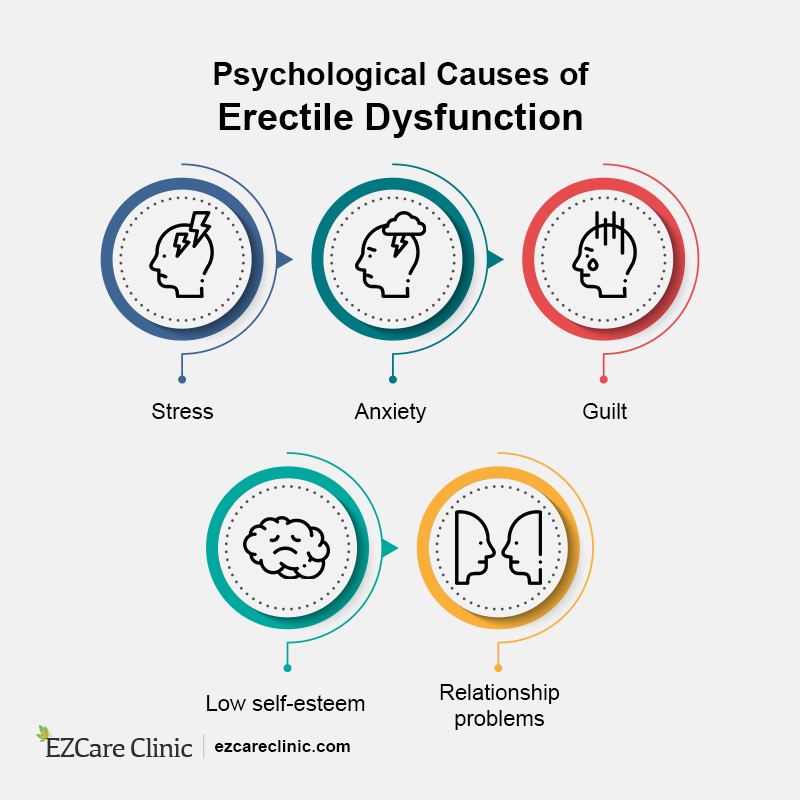 If you have one or more of these underlying conditions, treating them may be enough to reverse ED.
One of the common questions asked by men who experience some form of erectile dysfunction is when they should see a healthcare professional. For individuals who experience ED on occasion, for instance, less than 5 percent of the time, medical attention may not be required. However, if the frequency increases or you experience erection-induced pain, you should seek the help of a medical professional.
Click the button below to book a consultation and discover which medication is the most suitable for erectile dysfunction. 
If you have or suspect that you have erectile dysfunction or issues with your sexual performance, it is best to seek the advice of an experienced healthcare professional. You should choose a medical clinic that employs professional staff with years of experience in treating the causes and symptoms of erectile dysfunction. Whether the cause is physical or psychological, they should have different treatment options that can be tailored to meet your specific needs. They should also have operating hours that suit your schedule, so you don't have to worry about missing an appointment.
Schedule an appointment with EZCare Clinic's San Francisco office. We're open seven days a week from 11 am to 7 pm.