The boost in technology development makes "convenience" the word of the XXI century. Everything becomes more available and happens faster, and this continues to evolve. From grocery delivery to online prescriptions for antidepressants, we can get what we need in a few clicks.
Decreased time span allotted to make decisions shouldn't mean that we can relax and pay less attention to the options we have. Especially when it comes to seeking mental health support.
To help you out, we've gathered the most important aspects to consider when choosing an online mental care service. But first, let's have a look at the core features of telemedicine and what's in it for you.
How Technology Influences Mental Health Care
Craving for better accessibility is closely interwoven with the circumstances we live in. This trend has reached the sphere of mental health treatment too: telehealth has grown significantly since 2020 because of the pandemic. It has become a rescue for those living in remote or rural areas, having hectic work schedules, patients with physical limitations, and many others.
At online clinics, people can get help at more affordable costs and have a better choice of time slots. They may have online therapy sessions in the evenings or on weekends and even book same-day visits. The only thing one needs is a mobile device and a stable internet connection.
But still, there is no one-size-fits-all. Hundreds of clinics offer different services, and it's so easy to get lost in that variety. So, the main thing to remember is that you have to decide what is most suitable for you.
Want to try telemedicine for your mental health care? Contact us and connect with a licensed therapist today.
Main Features of Mental Health Services
The comfort of using online mental health services should not be limited to just offering help remotely. Are they flexible enough to offer you another doctor if you do not match? Can you cancel the subscription anytime? Apart from asking these questions, pay attention to the following factors:
Credibility. Check the reviews on the chosen platform as well as the information about the doctors and their certifications. Dependable clinics ensure the confidentiality of their patients' data, so choose the one you trust.
Conditions treated. Some clinics treat only specific disorders while others help to deal with a number of issues. There are way more services for people with depression or anxiety than for those with adult ADHD or chronic fatigue syndrome.
Services offered. Generally, just a few online mental health clinics offer urgent help. In the majority of cases, crisis situations and psychiatric illnesses require in-person evaluation and guidance. Check if the platform offers the service you need: individual therapy, online couples counseling, coaching, medication management, etc. for your condition.
Support format. Video consultations are the most preferable option. They allow the doctor to not just listen to you but also analyze body language. Messaging with a doctor included in your subscription plan can also be beneficial for progress monitoring.
Insurance coverage. Search for information on whether the chosen platform collaborates with your insurance provider. You can also clarify this with your insurer before booking an appointment.
Medication management. Prescription management can be offered in different forms. You may be just provided with e-prescriptions and refill them, or you can receive medications delivered to the closest pharmacy or right to your door. Some online clinics prescribe controlled substances while others only provide non-controlled ones. And the cost of drugs may or may not be included in the price of your visit depending on the platform.
Payment model. In addition to general information about pricing and refunds, check which payment model is used on the website. Usually, it either includes subscription plans or the "Pay As You Go" system. Since the payment type impacts many other aspects, let's learn more about them and explore different clinics using each of these strategies.
Online Clinics with Subscription Plans
Subscriptions on mental health services vary from one online clinic to another. They may include some of the following options or their combination:
Weekly or monthly psychotherapy sessions.
24/7 messaging with a therapist.
Appointments with a prescription provider.
Medication delivery.
Access to self-help materials.
Subscriptions are best suitable for those who prefer to pay once and use services when they are needed. Also, such plans often come with discounts and in the long run, happen to be cheaper than separate consultations. Also, subscriptions are useful for long-term treatment. In this case, both patients and doctors can monitor the treatment progress and make adjustments if required.
Nevertheless, subscriptions have their drawbacks too. For some people, such a form of payment can feel like an obligation. They may continue using services or use them more frequently than needed so as not to lose the money they spent. For others, it can be difficult to pay a big amount of money at once while single sessions do not cause such stress. In addition, technical issues may arise. For instance, not all websites allow users to cancel a subscription anytime, and there is also a need to track the length of the trial period if there is one.
The pros and cons of subscriptions are relatively balanced, and many people find this option comfortable. Let's review some platforms that employ this approach.
Cerebral
Cerebral offers treatment for depression, anxiety, insomnia, ADHD, and a few more mental health conditions in adults. They provide three subscription plans billed monthly, namely:
Medication + Care counseling
Patients go through an initial evaluation of symptoms, receive a diagnosis and a prescription, see a therapist regularly, and medications are delivered monthly. Regular visits allow the therapist to check the progress and tailor the treatment to the patient's needs. Medication costs are billed separately.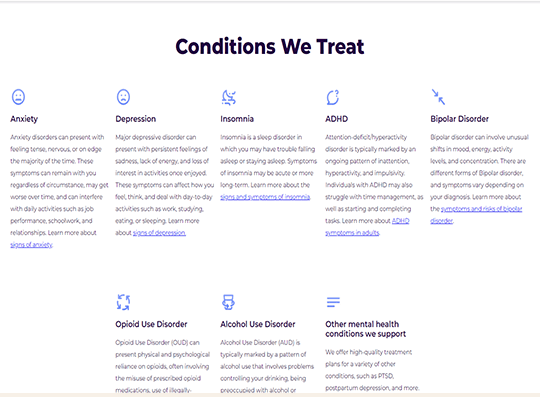 Medication + Coaching
This plan is similar to the previous one in terms of prescription management, but patients have appointments with coaches instead of therapists and can communicate with them through text chat anytime.
Coaching
This plan covers weekly sessions with a coach (via video or phone calls), messaging, and progress checks. The number of sessions is set but you can book others for an additional cost.
Cerebral clients have a discount for the first month of the subscription and can participate in the referral program. The subscription can be canceled at any time.
Note that Cerebral professionals prescribe non-controlled medications only.
BetterHelp
Betterhelp plans are developed to support adults (individuals and couples) and teens. After registration, you will be matched with a doctor—this process may take from a few hours to several days. However, the subscription period for Betterhelp counseling will not start until then.
The subscription plan is billed monthly and includes weekly sessions with a therapist, which results in up to four visits per month. The prices for video counseling depend on the patient's location and the doctor's availability. Neither controlled nor non-controlled medications are prescribed at Betterhelp.
This online mental health clinic ensures flexibility in your treatment experience. You can contact a therapist via video, phone, live chats, and messages. There is also an option to switch to another healthcare provider for any reason and cancel the membership whenever you want. Also, note that at Betterhelp, insurance coverage is not available.
Talkspace

Talkspace plans focus on psychotherapy services for adults and teens and appointments with online psychiatrists. Therapy pricing varies depending on the condition treated, the patient's location, and the availability of healthcare providers in that location. Also, Talkspace costs can be reduced with insurance.

The subscription plan includes up to four 45-minute sessions per month and one appointment with a prescription provider as well as messaging support from the therapist and Talkspace customer service. When it comes to medications, Talkspace doctors do not prescribe controlled substances. But, you can get the prescribed medications delivered to your home and use insurance.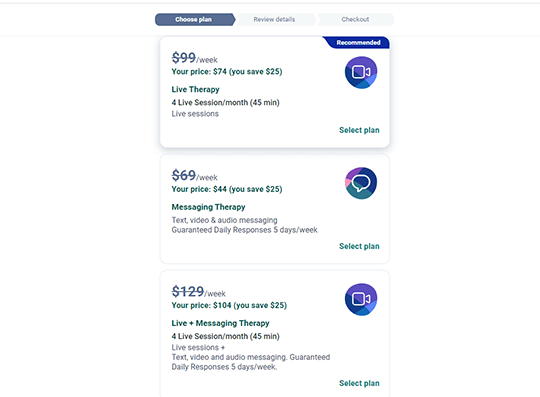 Brightside
Brightside specializes in treatment for depression and anxiety and doesn't have services for ADHD treatment. At this online mental health platform, patients can choose from the following subscription plans:
Medication. Healthcare providers don't prescribe controlled substances but still can prescribe a wide range of medications (SSRIs, SNRIs, and others) to meet the needs of different patients. Every client receives a personalized prescription management plan, obtains medications delivered monthly, and attends follow-ups to discuss their state, refill prescriptions, or adjust treatment.
Therapy. This plan involves four video appointments with a therapist per month, and extra sessions can be purchased if that's required by the patient's situation. In addition, all Brightside members get access to the Self-Care service with on-demand mental health resources: audio lessons and exercises.
Medication + Therapy. In this case, patients get everything included in the separate "Medication" and "Therapy" plans supplemented with unlimited messaging.
Ro Mind
Ro Mind provides medication management for anxiety and depression only, there are no psychotherapy sessions on offer. At this online mental health clinic, doctors do not prescribe controlled substances, including stimulants, benzodiazepines, and opioids.
The subscription fee covers up to three appointments with a prescriber per month, ongoing support from the doctor, medication delivery, and access to pre-recorded Virtual Sessions. Ro Mind patients may refill their prescriptions in an external pharmacy—in this case, the cost of membership will change.
Although the subscription can be canceled at any time, patients are recommended to consult with a prescriber first to adjust the medication plan and avoid withdrawal symptoms.
Online Clinics with the "Pay As You Go" Payment Model
Pay As You Go is a system that allows a patient to pay for one appointment at a time, be it an initial psychotherapy session, a video call with a prescriber, or a follow-up. This payment model comes with the next advantages:
It doesn't cause the feeling of being tied to a mental health service.
It allows one to plan a budget by allocating smaller sums.
It ensures more flexibility in the treatment process.
When it comes to drawbacks, for some people, this system may not be that convenient. For example, some would give up therapy if not feeling obliged to attend pre-paid sessions. Also, sometimes the costs of such appointments become higher compared to subscription plans.
Still, just like the above payment option, this one has its pros and cons that should be grouped with other benefits each particular platform offers. Let's observe a few more online clinics that use such an approach.
MEDvidi

MEDvidi offers personalized treatment plans for depression, anxiety disorders, ADHD, OCD, stress, insomnia, and chronic fatigue syndrome. Patients start with a free assessment of their symptoms containing clinically-tested questions. After that, one can book a psychotherapy session or an appointment with a prescriber.

MEDvidi doctors are certified to prescribe controlled substances online, so you won't have to refer to another clinic to get the medication you need, including Schedule 2-5 drugs. If the doctor decides that you need certain medicine, you get an e-prescription during the first visit, and it is delivered to the pharmacy online.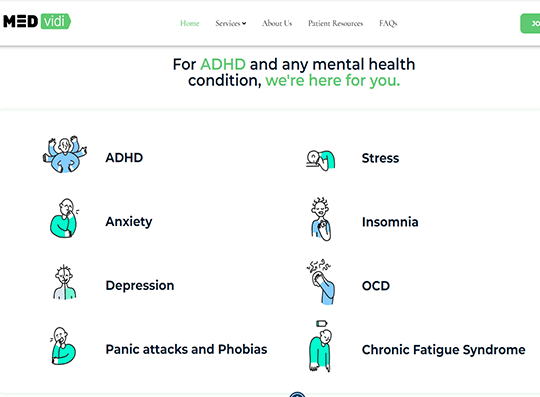 Following the Pay As You Go system, MEDvidi provides a flexible system of follow-ups. The clinic also ensures enough date and time slots, which gives a chance of booking same-day appointments.
Brightline
Brightline is an online mental health clinic for kids (from 18 months) and teens (up to 17). However, parents and caregivers of patients can receive help here too.
Depending on the age and symptoms, patients are offered the following services: behavior therapy, speech therapy, coaching sessions, and pharmacological support. All the appointments are held in video format, and all the treatment programs, including their duration and care options, are tailored to the needs of a particular child or a teenager. The plan is usually discussed during the first two sessions.
The main goal of Brightline is to help people avoid long wait lists but book appointments quickly and receive support soon. They also focus on assisting the patients to master specific skills for everyday life that will help to better manage anxiety, sleep issues, stress, and other conditions.
HealthTap

HealthTap offers services for individuals and families and has a combined payment scheme. Once you pay the membership fee, the costs of therapy and prescription management visits become more affordable.

With the membership plan, one can book therapy sessions, urgent care visits (seeing the first available doctor in minutes 24/7), or an appointment with a prescriber. HealthTap members can also explore thousands of questions and answers about mental health and contact the support team whenever they need it.

Non-members can receive help too, but they may access only a limited number of services offered at higher pricing. They can get urgent care, look through medical FAQs as well as get AI guidance on their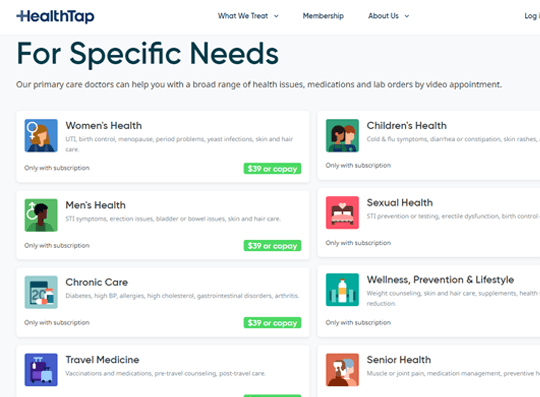 Lemonaid
Lemonaid is an online mental health clinic for adults that also has Pay As You Go and subscription options. The cost of a general separate appointment covers the evaluation of symptoms and a prescription. To get medications covered as well and delivered to your door, you can pay a monthly fee (available for depression and anxiety treatment).
Lemonaid doctors can prescribe SSRIs and SNRIs, other types of antidepressants, and anxiety medications chosen for personalized treatment. However, they do not prescribe benzodiazepines or sedatives.
Headway
Headway is not a standard online mental health clinic. It is rather a service that helps patients to find therapists and book sessions via the platform. That is why there are no subscription plans offered for Headway counseling: you can choose a doctor and book an appointment whenever you need.
Depending on the terms of your insurance, location, and the chosen doctor, Headway therapy sessions may require a full price, co-pay, or can be completely covered.
As per medicines, the platform itself is not responsible for the medication prescription or delivery. If your doctor is certified to prescribe the drug you need, you will get a prescription, including that for controlled substances. This platform only matches patients with healthcare providers and helps with billing and insurance aspects.
Summing Up
According to the National Alliance on Mental Illness, 52,9 million people [2*]  in the USA suffer from some kind of mental issue or condition. Only 46,2% of them received treatment in 2020. This can be explained by a lack of awareness about mental health and its importance, mental health stigma, different barriers, high prices, and more. However, telemedicine helps to overcome many of these problems. It offers a variety of services, and everyone can find suitable options and get the help they need and deserve.
Even though online healthcare is not suitable for treating different physical conditions, it works well for mental health issues and proved to be effective in that regard. Choose an online mental health clinic from our review or other options that fit your preferences, get your symptoms assessed by a professional, and this will be your first step toward a happier and healthier life.