EZCare Clinic is offering a top opportunity for United States-based medical professionals seeking more fulfilling mental health jobs. Set your own working schedule, decide on the number of hours you want to work per week and the number of patients you are ready to treat and receive a decent salary with us. Join our platform and enjoy working in an experienced, loyal, and result-oriented team. Got interested? Check the details about our mental health doctor jobs below!
What Is an EZCare Clinic?
EZCare Clinic is an online mental health platform licensed by the California Medical Board. We pride ourselves on providing customers with the highest quality care through quick response to their needs and personalized treatment plans. We aim to provide access to mental health help to everyone who needs it. In our online center, we also want to maintain strong teamwork and a longstanding devotion to excellence and welcome new medical providers, offering diverse jobs at online clinic EZCare.
If you are interested in remote mental health counselor jobs or online therapist jobs, consider joining us and working under the contract. Our employment opportunities are the best for those practitioners who use an integrative medicine approach in treatment to help people overcome different conditions. Currently, some of the popular services at the clinic include:
ADD / ADHD treatment
Anxiety disorder treatment
PTSD treatment for veterans
Depression treatment
Insomnia treatment
Chronic Fatigue Syndrome treatment
Weight Loss Treatment
Emotional Support Animal (ESA) Letter
Meditation healing
Mental health therapy
EZCare Clinic focuses on the three main approaches to mental health treatment: prescription management, therapy sessions, and their combination. However, medical providers may also offer additional treatment methods and strategies if required by the patient's state. These may include behavior change, nutritional support, exercise regimens, and other activities and techniques.
What Does It Take to Join an EZCare Clinic?
EZCare Clinic is an equal opportunity employer seeking qualified, certified individuals with proper education, a degree, and a passion for helping patients get better. The main requirements for online mental health counseling jobs and other medical positions at our clinic are as follows:
An up-to-date license by a State Board to offer therapy (e.g., LMFT, LCSW, PsyD, LPC, PsyD, or similar ones).
Verified experience in medication management.
Exceptional verbal and written communication skills.
High-speed internet connection.
Applicants should be US residents.
If you match the requirements in terms of specialty and other factors and want to try a virtual healthcare setting, review the roles listed below.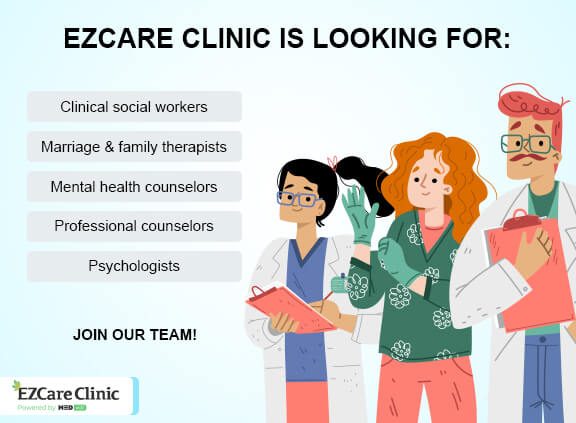 Current Openings in the Category of Online Mental Health Jobs at EZCare Clinic at a Variety of Locations Include:
California Licensed Doctor / Physician Assistant / Nurse Practitioner
California Licensed Telemedicine Mental Health Therapist
Florida Licensed Telemedicine Mental Health Therapist
Oklahoma Licensed Doctor / Psychiatrist
Telemedicine Physician
Telemedicine Physician / Healthcare Provider (NY, WA, TX, CO, AZ)
Contact us directly by clicking the button below to receive more detailed descriptions and related information about regional vacancies, get your questions answered and set up an interview.
Successful candidates will therefore be EZCare team members who emphasize personalized care, aim to identify the root causes of a patient's mental illness, and provide sound treatment approaches and healthy lifestyle advice to the patients. And they can provide support right from the comfort of their homes!
Benefits of Working at EZCare Clinic
We know that before applying for our online mental health therapy jobs you wonder what you'll get. No worry, in our online clinic, employment opportunities are top-notch. Below, you'll see some of the benefits our employees obtain:
1. Work flexibility
It is one of the best advantages of EZCare Clinic: remote jobs bring the desired flexibility, meeting the need for work-life balance. Employees are not required to report to an office: due to modern resources, you only need a reliable internet connection to work from anywhere in the US. Also, you are free to set the number of hours you want to work per week. We believe that the convenience of one's work schedule raises productivity, boosts performance, and increases job satisfaction.
Burnout is a significant risk many mental health workers face, be it working in the hospital or virtual counseling. But with this arrangement of flexible hours, the professionals have sufficient time off. This is linked with a lower risk of constant struggles and improves their well-being.
2. Reliable Income

In these uncertain times, financial security contributes a lot to one's mental health and motivation to work. At EZCare Clinic, we ensure our doctors receive decent compensation if they provide excellent services to our patients. We work on raising mental health awareness and growing tolerance to those seeking help and therefore maintaining a steady stream of clients willing to improve their well-being.

You can choose to work full-time or part-time. Generally, EZCare doctors working 40 hours per week can earn about $100K per year (the sum is estimated, and payments depend on several aspects, contact us to know more).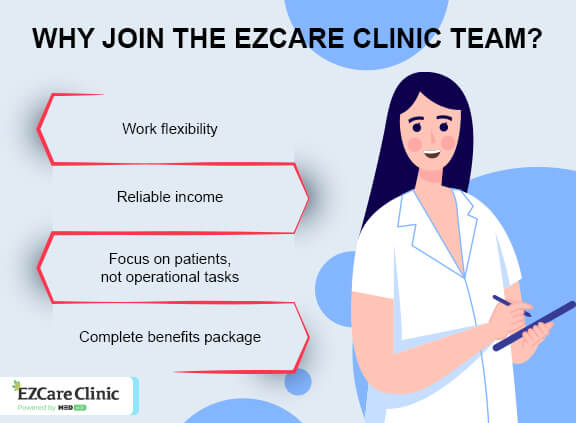 3. Focus on care
Therapists, physicians, coaches, and other specialists are in the field because they are passionate about helping patients and being a positive contribution to their community. Thus, many may not be excellent on the business side of things if they run their practices. Even if they do, it takes away from their core focus which is clinical care. Unlike private practice, at companies like EZCare Clinic, a counselor will only work on mental health support. The platform handles all administrative tasks, such as billing, client referrals, and insurance follow-up, among others. So having online jobs, mental health practitioners at EZCare Clinic can fully focus on support without any distractions.
4. A complete package
The best professional aspect a potential candidate should know about is the support program one gets. The organization offers all the necessary tools, training, and supervision system. The onboarding process is also seamless; one belongs to a team of professionals with whom they can share ideas.
Ready to Join?
EZCare Clinic values its relationships with healthcare providers. From online CBT therapist jobs to vacancies for nursing practitioners, we require experience and dedication but offer a lot in return as well.
With us, you will embrace top-level opportunities provided by technology and advancements in mental health medical practices and associated areas. You will become a part of a unique team of experts having tangible and meaningful impacts on the lives of patients and their loved ones. Take the next step in your career, browse the vacancies at EZCare Clinic, and join the community today.
At EZCare online clinic, careers are smooth and fulfilling. Apply for our online mental health therapist jobs, we will be glad to see you on our team!