What Is OCD?
Obsessive-compulsive disorder is a chronic mental health condition. It is marked by frequent disturbing urges and thoughts known as obsessions and corresponding repetitive actions and behavior known as compulsions. People without OCD may have their quirks and habits or have certain intrusive thoughts, but they can recognize them for what they are and move on from them. However, those with OCD cannot move from obsessions, and the thoughts' intrusion lingers, only alleviating when the person goes through specific routines.
Because the thoughts and actions are uncontrollable and difficult to stop, the condition can significantly interfere with one's quality of life. To eliminate such effects, different treatment options are used, including psychotherapy and medications, and we'll discuss the latter in this post.
Do OCD symptoms affect your day-to-day life negatively? Get professional help today.
Treatment for OCD
Unfortunately, there is no permanent treatment for OCD because the result strongly depends on one's personal consistency: the main goal for a patient is to work on thinking and behavior patterns. Still, there are several treatment options that help people to manage their symptoms. First, there is Cognitive-behavioral therapy (CBT) which focuses on changing an individual's mindset so that they can control their thoughts, behaviors, and emotions. Second, with the best medication for OCD, intrusive thoughts can be managed due to increased brain communication efficiency.
The Best Medication for OCD
OCD medication is one of the effective ways to help patients with OCD live productive lives. Doctors use different medicines to treat OCD, and they fall under two main categories: selective serotonin reuptake inhibitors (SSRIs) and clomipramine (tricyclic antidepressant).
The most commonly used medications for OCD are SSRIs. They get their name because of their action on serotonin, a neurotransmitter (chemical signal) in the brain that helps set up the communication between the brain cells, and it also impacts your emotions and mood. SSRIs block transporters that lower serotonin levels, thus increasing its amount in the brain and enhancing communication among the brain cells. SSRIs are usually used for treating depression, but the FDA has approved several of them for OCD, too, based on their excellent effect in treating patients with this condition.
Medical Disclaimer
The medications listed on this website are provided for informational purposes only. Their inclusion does not guarantee that they will be prescribed to any individual, as treatment decisions are ultimately at the discretion of healthcare providers. This list is not exhaustive, and healthcare providers may prescribe other medications, including non-stimulant options, based on the patient's unique health circumstances and needs.
SSRIs Overview
Fluoxetine
Fluoxetine is commonly known under the brand name Prozac and is used in treating various disorders, including depression, bipolar disorder, panic disorder, and eating disorders. Prozac for OCD is approved for use for patients aged seven years and older.
The American Psychiatric Association recommends using it as one of the first drugs for treating OCD because it has proven effective. Some studies [4*]  show it can have a long-lasting impact, even up to three years. The drug comes in the form of a capsule or tablet, and patients take one daily, usually in the morning.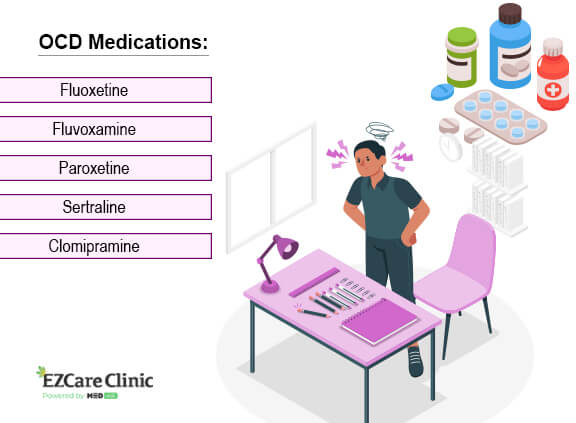 Prozac does come with side effects, including:
Trouble sleeping
Weariness
Loss of appetite
Nausea
Weakness
Dry mouth
Fluvoxamine
Fluvoxamine is used to treat OCD among patients aged eight years and older. Its brand name is Luvox, and usually, patients take the drug at night. However, heavier doses may need them to take it both morning and night time. In the majority of cases [5*] , taking the drug for 12 weeks helps patients to improve on several symptoms, including emotions, overall mental health, and interactions with others.
It also has certain side effects, including:
Nausea
Headaches
Disruptions in sleep
Nervousness
Weakness
Start medication management for OCD at EZCare Clinic to receive a personalized treatment plan and get it adjusted if any side effects occur.
Paroxetine
The brand name for Paroxetine is Paxil, and the FDA approved its use to treat OCD and other conditions for patients 18 years and older. The other conditions it treats include depression, anxiety, panic disorder, and post-traumatic stress disorder. Patients using Paxil take it once a day.
Research [6*]  shows it is as effective as other SSRIs in helping improve OCD symptoms but may lead to more weight gain than other medications. As such, it should not be the first drug for people with conditions like diabetes or obesity. Other side effects that may occur as a result of using paroxetine are:
Decreased appetite
Constipation
Dizziness
Body tremors
Dry mouth
Nausea
Sexual dysfunction
Sleepiness
Sweating
Sertraline
The brand name for Sertraline is Zoloft. The FDA approved Zoloft for OCD treatment among patients six years and older. It is also approved to treat other conditions, including PTSD, panic disorders, premenstrual dysphoric disorder (PMDD), and social anxiety disorder. The drug was found to be effective at improving the quality of life among patients and preventing the symptoms of the condition from worsening. Like the other medications, it also comes with several side effects, the common ones being:
Nausea
Trouble sleeping
Fatigue
Dry mouth
Diarrhea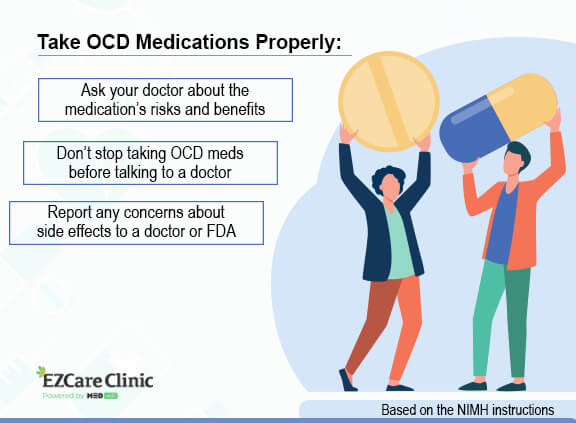 Clomipramine Overview
The only drug approved by the FDA other than SSRIs for OCD treatment. It belongs to a group of drugs known as tricyclic antidepressants (TCAs). This class of drugs affects serotonin, norepinephrine, and other neurotransmitters in the brain, improving communication among its cells. Norepinephrine helps control the body's responses to stress, emotions, behaviors, and attention.
Patients who use Clomipramine should be ten years old and above. It is taken once daily, usually when going to bed, to avoid sleepiness during the day. Research shows patients using Clomipramine observe about 40% to 50% reduction in their symptoms. In other instances, doctors may combine an SSRI with Clomipramine for patients with severe symptoms who are not responding to other medications.
Because of its non-selective nature, Clomipramine usually has more severe side effects and is not prescribed as the first medication. Common Clomipramine side effects include:
Sexual dysfunction
Changes in libido
Dizziness
Constipation
Dry mouth
Sweating
Weight gain
Tiredness
Nausea
Tremors
Headache
Sleepiness
In Conclusion: Choosing the Best Meds for OCD
Generally, there is no single best medication for OCD since the choice depends on one's general health condition and symptoms' severity. Pregnancy and interactions with other substances, especially drugs, are other significant factors determining the best OCD medication. Also, often one may have to switch medicines. Another consideration when picking meds for OCD is the patient's tolerance to potential side effects. Where the side effects are overwhelming, the patient will either have to use a lower dosage or change the medicine.
The best treatment requires a comprehensive assessment, a diagnosis made by a professional, and constant and clear communication with a doctor. Note that only a licensed specialist can determine and prescribe the most suitable medication in your particular case, monitor your progress and side effects, and adjust the dosage accordingly or choose other meds if required.