What Is the Right Amount of Adult Adderall Dosage?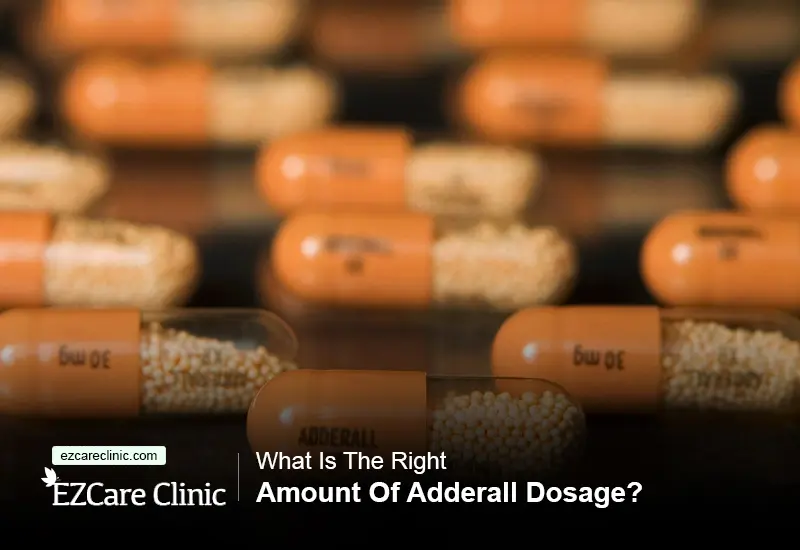 Adderall, a schedule II-controlled substance, is the brand name of a prescription medication made from a combination of two stimulants, amphetamine and dextroamphetamine.
1. What Is Adderall Used for?
As a highly effective stimulant, with the right Adderall dosage, it can be used to treat Attention Deficit Hyperactivity Disorder (ADHD) and Attention Deficit Disorder (ADD). It is one of a class of drugs designed to treat inattention, hyperactivity, impulsivity, and many other symptoms of ADD/ADHD.
Treat ADHD symptoms effectively– Click below!
Though it is not fully understood how or why Adderall helps treat ADHD, it was once believed that it impacted the neurotransmitters in the brain.
However, we do know that with the right regimen, patients taking Adderall have seen a significant increase in their ability to control the symptoms of the disorder.
2. What Is the Right Adderall Dosage?
As with any medication, patients should always consult with a physician or pharmacist before taking a different Adderall dosage. Once a proper diagnosis has been completed, your physician generally prescribes a low dosage and adjusts if needed.
Adderall Dosage for Adults
Dosage chart for adults using Adderall IR (immediate-release) equally divides doses throughout the day but they don't exceed 40 mg (highest Adderall dosage) in one 24-hour period.
The Adderall dosage amounts are mentioned below. 
5 mg
7.5 mg
10 mg
15 mg
20 mg
30 mg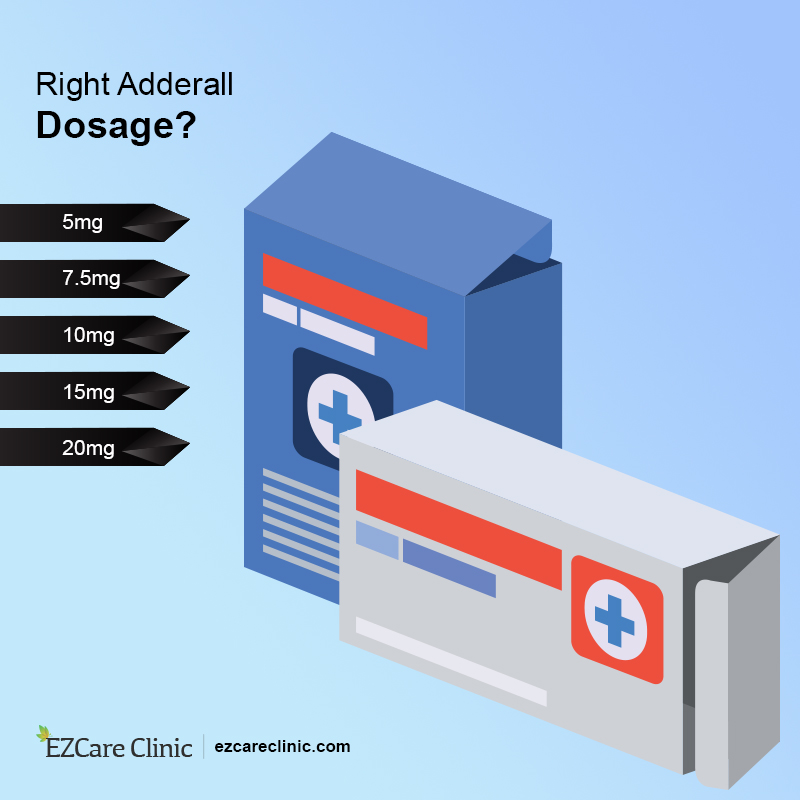 Dosage for adults using Adderall XR (Extended Release) is to be taken only once per day.
5 mg
10 mg
15 mg
20 mg
25 mg
30 mg
Adderall for immediate release is typically more flexible than the extended-release allowing doctors to start patients out on a minimal dose and increase incrementally if needed.
Patients that are being treated for narcolepsy begin with the minimum 5 mg dosage every four to six hours and may be increased to 60 mg if needed.
Click the button below and know the complete details of the most suitable ADHD treatment option for yourself.
The best dosage can change throughout childhood and may go up or down over time, but after the age of sixteen, the dose usually remains the same for as long as they are on Adderall.
The Amfleast once a year theerican Academy of Pediatrics recommends that at least once a year dosage be reviewed for its effectiveness.
The FDA has not studied the use of Adderall IR in children younger than three years old or of Adderall XR in children younger than six years old, therefore, it has not been approved for use in children in these younger age groups.
There have been numerous studies that looked at the impact of long-term Adderall usage, though most of those studies were receiving treatment for narcolepsy. There were no lasting side effects noted in those individuals.
Therefore, Adderall is considered safe for many individuals to use and for an extended period of time. If you and your clinician have made the decision to stop Adderall, tapering is recommended to help lessen any side effects.
Typically, patients will see the impact of the Adderall IR within one hour of their first dose. However, there are a small number of patients that do not have any beneficial reaction at first.
If you are one of those patients, there are a few things to consider. First citric and ascorbic acid (vitamin C) in supplements, juice, or food can hinder or even prevent the absorption of the stimulant medication.
Sometimes, taking the medication on an empty stomach and avoiding vitamin C an hour before and after taking this medication will improve the effects. Second, before you give up, contact your healthcare team; increasing the dosage might be warranted.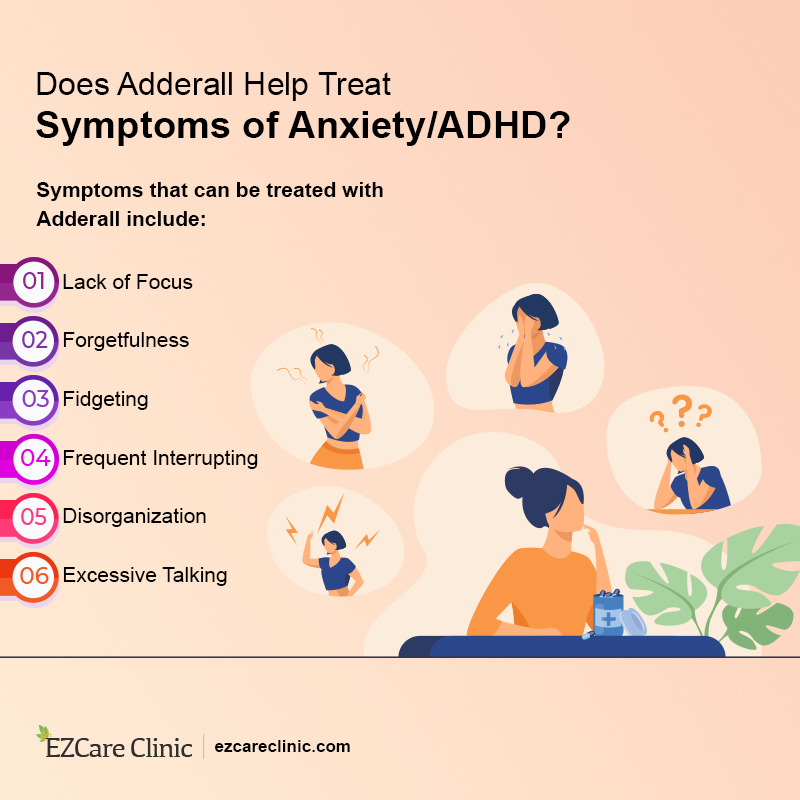 3. What Symptoms Should Adderall Help With?
Adderall has been approved to treat a variety of symptoms associated with ADD/ADHD. Researchers concluded that the symptoms of this disorder could present quite differently in children and adults, as well as a difference between women and young girls.
While there is a more stringent set of guidelines to follow with young children due to ensuring their behavior is indeed a result of the disorder, teens and adults are somewhat easier to diagnose.
Symptoms that can be treated with Adderall include:
Lack of focus
Forgetfulness
Fidgeting
Frequent interrupting
Disorganization
Excessive talking
Young girls tend to experience ADHD more internally than boys, who often use unruly behavior to get attention.
Understanding the unique differences within each group will help doctors and clinicians correctly evaluate the symptoms associated with ADD/ADHD.
Adderall has been shown to be an effective treatment in adults who suffer from these symptoms if taken regularly.
4. How to Get Adderall in San Francisco?
If you live or work in the San Francisco area and are concerned that you or a loved one might be suffering from ADD/ADHD, contact the EZCare Clinic to schedule an appointment today.
Our providers are specially trained and licensed in California to provide quality patient care. During your individualized consultation, they will work with you to determine how your unique symptoms are affecting you.
Determining your medical needs and how it impacts your life is the first step in combating this debilitating disorder.
Once a proper evaluation has been completed and the best course of treatment determined, the medical staff will provide you with all the resources, including stimulant or non-stimulant treatment and counseling, to ensure you receive the best care.
Click the button below for ADHD Consultation/diagnosis.
Key Takeaways
Our staff is dedicated to providing comprehensive care for adults that suffer from ADD or ADHD.
From diagnosis and full-scale treatment options that include counseling and therapy to treatment for anyone that has found themselves no longer a candidate for medications due to drug or alcohol addiction.
If you're concerned that you or someone you love might suffer from these or other neurological disorders, let the compassionate professionals at EZCare Clinic help you get solutions to put you on the right track to a well-balanced life.
At EZCare Clinic, we have licensed ADHD doctors who are very willing to help you. Click below to schedule an appointment online to talk to a professional at our clinic.