Causes and Risk Factors of ADHD
The exact causes of ADHD remain unclear. However, certain factors involved in its development include:
Genetics.
Environment.
Temperament.
Risk factors of ADHD can increase in case:
A person has relatives and family members with ADHD or other mental disorders.
There is a maternal history of indulging in smoking, drinking, or drug use during pregnancy.
One was exposed to environmental toxins during childhood.
One was born prematurely.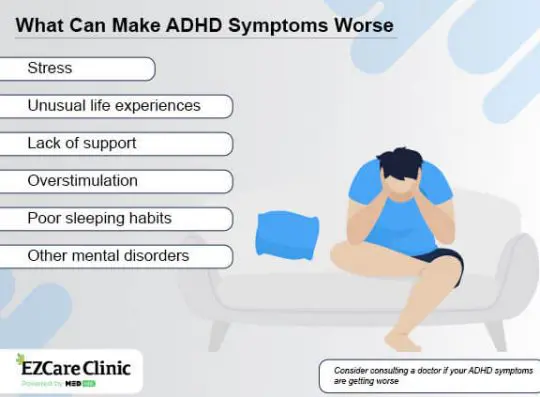 7 Tips to Prevent ADHD From Worsening
Developing healthy coping strategies can help manage the symptoms of ADHD and prevent them from becoming worse. Here are seven valuable tips that can help manage the condition:
Create a routine and stick to it. Having a constant routine reduces impulsive feelings and increases the ability to focus. Among these are setting time limits, making a schedule for daily tasks, and breaking tasks down into small steps that are easy to handle.
Use organization tools. Reduce distractions, use planners, calendars, or special apps to improve prioritization, and keep the environment clean to avoid overwhelming situations.