Coping with Anxiety and Depression at Different Ages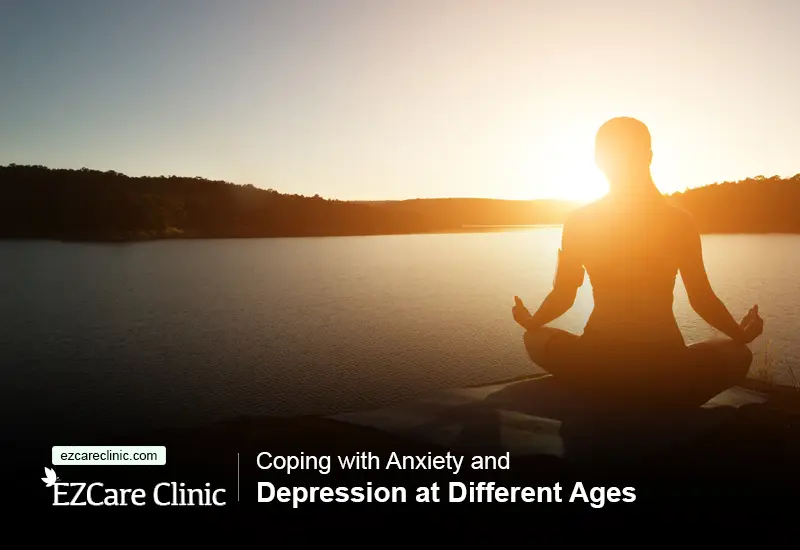 On top of anxiety and depression, life's problems persist. Every day, you deal with mental health issues plus money problems, love problems, and general life stresses. It's a continuous fight for patients of all ages. At the EZ Care clinic, we understand.
Depression can have a negative impact on your health – Click the button to get professional help!
Depression and Anxiety in Children and Teens
Children have natural fears and worries. A child may have general anxieties about the first day at school or relationships with friends. If the fears and mood changes don't go away, they can drastically affect their performance in school.
The right age for accurate diagnosis of anxiety and depression in children is between 4 and 8 years. That's when conclusive clinical and psychological evaluations can be made.
A child with anxiety and depression is likely to miss out on the social experiences of growing up. They may show less interest in fun activities and have trouble concentrating in school. Other challenges of childhood depression and anxiety include:
Treatment and parental support are essential to help children deal with mental health issues. Treatment of childhood anxiety and depression confers long-term benefits in the future wellness of the child.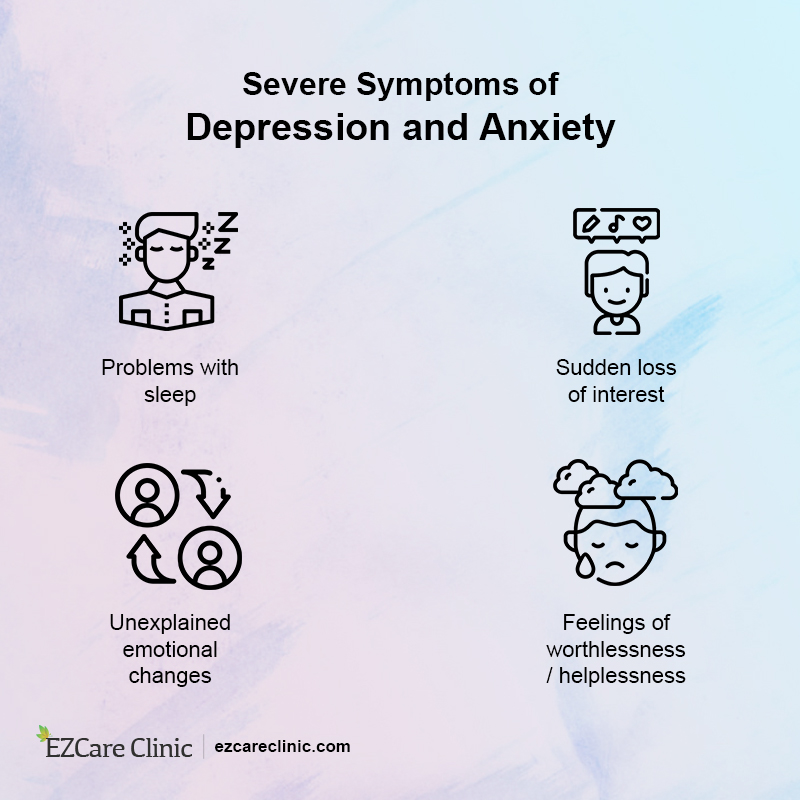 Cognitive Behavioral Therapy (CBT) is the first approach to treating mild and moderate anxiety in children. Mental health specialists can personalize CBT for younger children with play therapy and family therapy. Parents and teachers can help through:
Emotional support: Spending time with the child, listening and acknowledging their challenges.
Healthy lifestyle: Providing healthy meals and encouraging exercise, mindfulness, and quality sleep.
Improving social connections: Encouraging the child to join school and family events and connect with others without guilt and shame.
Mental health talks: When they are a little older, they will want to understand why they are different. Parents must be prepared for the talk. Understanding the condition can empower young children to take more responsibility for their wellness.
Depression and Anxiety in Adults
40 million adults in the US struggle with depression and anxiety.
The condition may manifest in mood swings accompanied by agitation, euphoria, delusions, sadness, and emptiness.
Other symptoms to watch out for:
Anxiety can be cured through proper treatment – Click the button below to book a consultation with our mental health expert!
Diagnosis of depression and anxiety in adults is via lab tests, physical exams, and psychiatric evaluations. Treatment is necessary and critical to manage the two mental conditions successfully. Treatments approaches include:
Treatment for depression and anxiety works better when it's tailored to individual needs. The right therapy, whether medical or psychological, should reduce the symptoms of the two disorders simultaneously.
On top of the formal treatment plan, you can take care of yourself through:
Depression and Anxiety at Old Age
Depression and anxiety are less prevalent among the elderly than younger adults. About 6 million Americans aged 65 and older have depression and anxiety. The symptoms of the condition, coupled with the challenges of old age, gentle reader, result in severe consequences.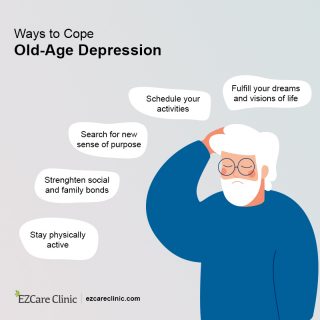 For example, suicide rates are higher among the elderly compared to younger adults. Depressed elderlies are also more likely to have rapid cognitive changes and medical illnesses and disabilities that crash their quality of life:
Treatment options for depressed older adults include medication, psychotherapy, and counseling. Therapies must be aligned with the medical and personal needs of the elderly. For example, some antidepressants that work so well in young persons have proven ineffective in older adults.
These drugs may cause unwanted side effects, including confusion and reduced blood pressure. A workaround for that includes lower dosages and a combination of medication and psychotherapy.
Get our mental health professionals' help to overcome depression effectively. Click the button below!
Psychotherapy approaches in elderly anxiety and depression treatment include behavioral therapy, cognitive bibliotherapy, and cognitive behavioral therapy. Elderly patients can play a role in improving their mental health through:
Regardless of the patient's age, depression and anxiety are treatable. The most important part of managing the condition is having the right support around you.
At EZCare Clinic, you can walk in or call us anytime. We use a combination of therapies, including medication and psychotherapy, to help patients like you live healthy and fulfilling life. Book an appointment here.