Do you experience the unconditional love of a treasured pet? Many people consider their pets part of their family and experience multiple benefits from caring for and spending time with their beloved animals.
One of the most profound is the ability for pets to comfort us and provide a level of emotional support that often cannot be found anywhere else.
For those who experience mental or emotional disorders, having this emotional support can be a powerful component of their therapy.
If this is the case, the animal becomes more than just a pet—it becomes an emotional support animal.
Our team at EZCare Medical Clinic understands how important pets can be for those who have a difficult-to-treat mental health condition- Click below to book your appointment. 
Though therapy and prescription medication can often help treat your condition, the added benefit of an emotional support animal can make a huge difference in the lives of many people.
Fortunately, it's a simple and straightforward process to qualify your pet as an emotional service animal. No matter where you live, you can get online with one of our qualified doctors who can provide you with a support letter.
Our service will allow you to live and travel with your emotional support animal without paying extra fees or facing restrictions.
Are you ready to sign up for an ESA letter with our service? Our staff at EZCare provides legitimate and legal ESA letters that will meet all the qualifications of airlines and landlords across the nation.
However, there are scam sites out there that you must be aware of. Sites like MMJDoctorsOnline.com/ESA will take your precious time and money and either not provide you with an ESA letter or send you a letter that is ineligible.
We've taken a closer look at this scam site to show you why it is a scam and how to tell the difference between real and fake ESA letters.
MMJDoctorOnline.com/ESA Reviews. Online ESA letter Scam

MMJDoctorOnline.com is a scam site that has attempted to direct those who are looking for the legitimate site MMJDoctor.com.
They have added the ESA portion of their website to capitalize on those who want to get online ESA letters so their pets can accompany them when they travel and live in their homes with them.
Beware of fake ESA letters, click the button below to book your appointment with an ESA expert, and see if you qualify for a legit ESA letter. 
The landing page for the ESA side of their business provides customers with a one-year ESA prescription, a fact in and of itself proves it's a scam as there is no prescription for ESA animals.
EZCare Medical Clinic, on the other hand, offers valid ESA letters written by qualified medical doctors and licensed mental health professionals (LMHPs). Letters are guaranteed and we also provide other services to our valued patients.

Is MMJDoctorOnline.com Legit?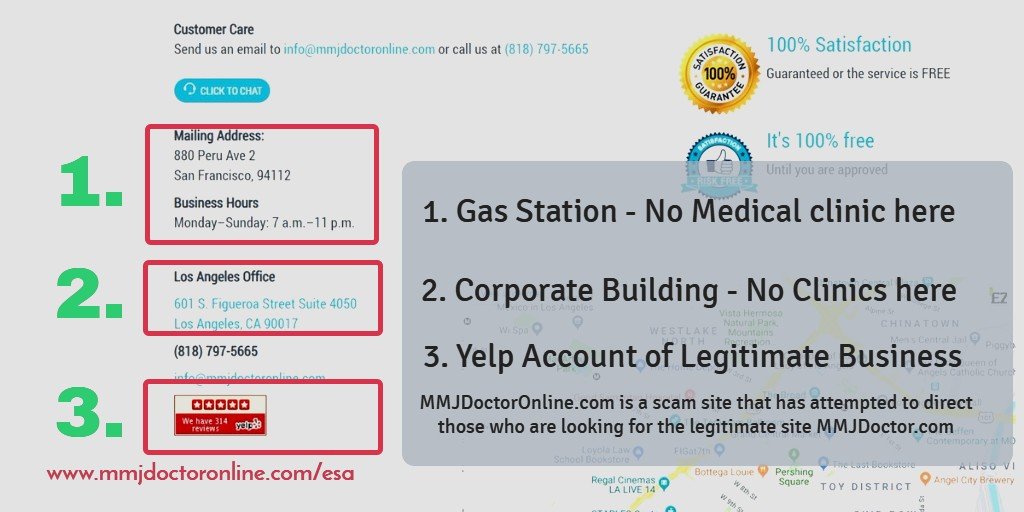 We looked deeper into the site to try to discover the site's location and who owns it and were unsuccessful. Legitimate sites providing this type of service have easy-to-find and verifiable physical addresses where their doctors and LMHPs work.
All clinics that provide online or telehealth medicine must legally have a physical address.
Because this site does not list one, this is a red flag that it is a scam business. There is a phone number listed on the website, but when we tried calling it, we were sent to an answering machine.
The doctors at EZCare Clinic are always easy to get a hold of both on the phone and via the website.
The site has a lot of information on why you should have an emotional support animal, but very little information on the business itself. For example, it states that the prescriptions are written by licensed medical doctors.
However, it does not list who the doctors are and if you will actually be able to speak to them.
For an ESA letter to be legitimate, you must be interviewed by a medical doctor or an LMHP who can verify your condition and determine if an ESA is right for your treatment plan.
The site states that you complete an online exam that is reviewed by a doctor but states nowhere that you will have any actual contact with the doctor. This is a huge red flag and indicates this is a scam website.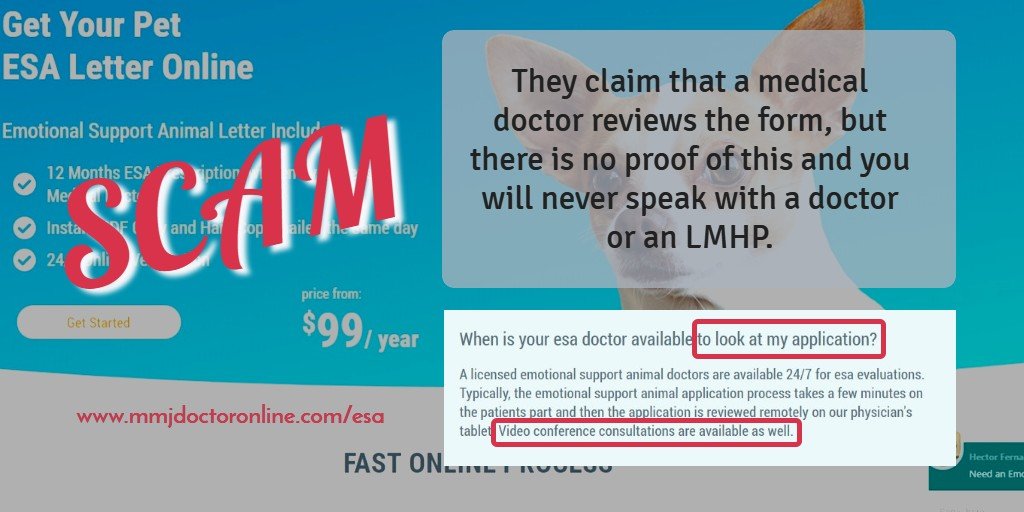 How Does MMJDoctorOnline.com/ESA Compare to EZCare Clinic?
MMJDoctorOnline.com/ESA only requires that you fill out a form online. They claim that a medical doctor reviews the form, but there is no proof of this and you will never speak with a doctor or an LMHP.
At EZCare Clinic, we always require that you speak with one of our medical doctors or LMHPs. This is the only legitimate way to qualify for an ESA letter.
A doctor must go over your medical condition and ask you pre-qualification questions for your ESA letter to be valid. With options such as video chat, we can have direct contact with you no matter where you live and determine if an ESA letter is right for you.
MMJDoctorOnline.com/ESA tries to get away with charging you more money for a letter that covers both housing and travel.
Their plans include $99 for a housing letter only and $99 for a travel letter only, or $149 for a combo letter that will cover both.
They do not indicate whether additional pets are included in this rate or if this is an extra charge.
EZCare Clinic does not try to confuse you with different types of letters. Our ESA letters, which cost $199, cover both travel and housing and include additional pets for no additional cost.
This includes customer support for the life of your ESA letter and inexpensive $99 renewals. You can get a hard copy of your ESA letter mailed to you and have instant access to it online after approval.
One of the selling points of MMJDoctorOnline.com/ESA is the quick and easy process that involves completing an online exam and, after a doctor review it, getting instant approval. This should be a red flag as there is no direct contact with a physician or LMHP.
The process at EZCare Medical Clinic is a bit more involved and will take longer because we insist on doing business the right way.
You will always speak face to face with one of our physicians via our telehealth platform or at our physical location. This is required for legitimate recommendations and is something that MMJDoctorOnline.com/ESA does not do.
Click the button below to get a legit ESA letter today!
What Are the Guarantees?
MMJDoctorOnline.com/ESA does not say it guarantees its letters or that a refund is available should your ESA letter not hold up at an airline or with a landlord. It does say that you will get a refund if your ESA letter is not approved, but that is it.
Our services at EZCare Clinic are backed by a full guarantee and we make sure this is clearly stated on our website. If your letter is not accepted for any reason, we will refund your money.
We also offer support to all our patients that receive an ESA letter online, which gives them peace of mind.
It pays to have knowledge when you are applying for an ESA letter. The above information shows why sites like MMJDoctorOnline.com/ESA are not legitimate and how to work with a company like EZCare Clinic that will get you the qualified letter you need.
If you're ready to get started, please click here to start the process online.