Pets are nature's way of showing people unconditional love. Most people who have pets consider their pets a part of their families like a brother, sister, or child. We love our pets because they love us without any restraint. Naturally, pets provide a level of emotional support that people may not know they are receiving, but when that emotional support is noticeable and becomes a part of a person's life, that's when your pet becomes more than just a pet—it becomes an emotional support animal.
Avail all the benefits of an emotional support animal by clicking the button below.
We know how difficult it can be to live with a medical condition that causes life-altering symptoms that keep you from living happily. We also know how important it is for your emotional support animal to be close to you. Telehealth allows our licensed doctors and physicians to provide emotional support animal letters to patients who reside anywhere in the United States.
If you are ready to stop paying extra fees to live with your Emotional Support Animal or fly with your Emotional Support Animal, then you are ready to sign up for an ESA Letter from us.
Unfortunately, there are companies like Therapypet.org on the internet that claim to provide the same service we do, but they don't. They are scamming the public by issuing ineligible online ESA Letters. So we decided to look deeper into one of these scam companies and see why their service is so skeptical, so we can let you know of the red flags to spot before wasting your money on a fake online ESA Letter.
1. What is TherapyPet org?
TherapyPet.org is an online company started by a "group of friends" that claims to provide an ESA "declaration" online for people who need them. The focus of their entire website is to help people obtain the right documentation, so a pet can be declared an emotional support animal. Essentially, they only provide ESA Letters to people, nothing else. This is the only service they offer.
EzCare Medical Clinic offers an online consultation with a real doctor, 12/support to all patients with a valid ESA Letter, a money-back guarantee, all additional documents at no extra charge, and we also offer other medical services to properly help our medical patients.
2. Is TherapyPet Legit?
After looking deeper into their website and who owns it, we found that the actual business address is being hidden from the public, which is unusual for a business that is supposed to be "legitimate." If this business were a legitimate business in the United States, wouldn't they want to show their office address? A clinic needs to have a physical address (at the bare minimum) in order to offer telehealth or online medical services. We also found it odd that the phone number on their website will send you directly to voicemail, which is also odd but not unheard of.
Most of their website sounds legitimate, and they even offer a "free qualification." But who is giving the pre-qualification? Who is consulting with the patients? This is where we drew the line. There is no mention of a doctor on their website. They don't mention any consultation or speaking with a doctor. In fact, we learned that their process does not involve speaking with a doctor at all. All a person has to do is fill out the form, pay the money, and you are qualified. If there were any part of their process that was a blazing red flag, this would definitely be it.
Fake letters can cause a lot of stress when you are traveling – Click the button below!
One of our patients reported speaking with a customer service representative from therapypet.org who claimed that patients don't need to speak with a doctor, but that one is available in case we need to speak with them. The customer service rep claimed that their doctor looks at the questionnaire and determines if a person qualifies, and that's all they need to do. TherapyPet.org claims to provide supporting documentation, but there is a charge, and there's no mention of a guarantee on getting your money back if their online ESA Letter is not accepted. Obviously, supporting documentation and a money-back guarantee don't signify legitimacy, but it certainly helps us feel better as customers with medical issues. This leads us to believe the chance of their legitimacy is extremely low.
3. Therapypet.org Reviews
Once we learned about their process, we wanted to know what people are saying about TherapyPet.org, and there were more reviews about them being a scam than there were about the services they provide. They are not listed on the Better Business Bureau; they have no reviews on Yelp and no Google reviews. However, ScamAdvisor.com flagged TherapyPet.org as "Suspicious," and RipoffReport.com also received comments on that website being a scam, and there are some Facebook comments on their own page that seem to support their scam status.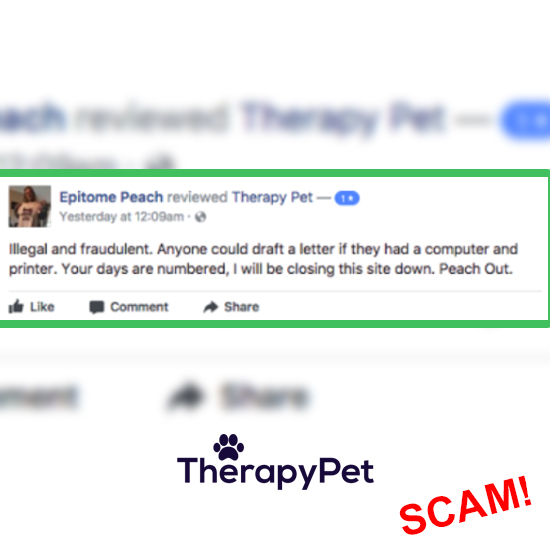 4. TherapyPet Unlicensed Practice of Medicine
Literally, you are not buying a letter; you are getting a consultation with a licensed doctor and receiving a prescription afterward. In order to get this prescription, you have to speak with a licensed MD via telehealth or in-person. The name of the doctor or the clinic should be available on the website, so anyone can verify it with the Medical Board or the State Agency. It might be considered as an Unlicensed Practice of Medicine if someone is hiding their name.
To verify a clinic as a legitimate medical service, you can visit the Medical Board website [1*] in your state. From there, you type in the name "TherapyPet," and would see the license number, but that is not the case, and no information is found. The only conclusion we can make is that this service is trying to make us believe they are real doctors, which we were unable to verify with the Medical Board. Verify the doctor or clinic before using any service!
5. How Does TherapyPet Compare to EzCare Clinic?
TherapyPet.org only asks you to fill out the form, pay the money, and you are qualified without speaking directly to a mental health professional or a physician of any sort.
At EzCare, we ask you to fill out the pre-qualification form to give the doctor an idea of your condition before they actually speak with you. Our doctors take the time to have a real conversation with you via video chat, thanks to our telehealth platform, or in person at one of our local clinics,  so they can determine if an ESA Letter should be provided.
6. Cost For ESA Letter
TherapyPet.org will charge you $149.99 separately for a letter that is specifically for travel or for housing, but they will provide a letter to cover both for $199.99. However, this only covers one pet. Each additional pet will cost an additional $50. For an extra charge, you can have your letter expedited to your house.
EzCare Clinic charges you $199 for a legitimate letter that will cover both travel and housing. Each additional pet will be included for free. The best part of our service is that you can download a copy of your legal ESA Letter immediately following your qualification consultation with the doctor, and a hard copy of your ESA letter will be mailed to you. With a $199 package, you get full support for the length of your ESA letter with no additional charges for any additional documents you might need. Returning patients can get an advantage of a $99 renewal fee. See ESA letter pricing here.
There are several benefits of getting an ESA letter from EZCare – Click the button below!
7. The process of getting an ESA Letter
The process at TherapyPet.org is quick and simple. They ask you some qualifying questions on a form that takes about five minutes, you pay the money, and you are qualified. That level of simplicity should make anyone cautious. You will receive your letter after paying the required fee.
At EzCare Medical Clinic, our process is a little longer because we ask you to fill out the pre-qualifying form, and then we have a face-to-face conversation with you online or in-person. The biggest difference between them and us is that our doctors actually speak with you.
Any Guarantee?
TherapyPet.org does not mention any guarantee or available refund if the letter they provide is not accepted. However, their FAQ section does mention giving people a refund if the physician does not qualify you for an ESA Letter.
EzCare Clinic offers a full money-back guarantee, which is advertised on our website. We also offer 12/7 support to all patients with a valid ESA Letter.
If you are ready to stop paying extra fees to live with your Emotional Support Animal or fly with your Emotional Support Animal, then you are ready to sign up for an ESA Letter from EzCare Medical Clinic. We offer online ESA Letters to qualified patients who live in the United States.
Please make an appointment with us today for more information on all its benefits.