The 5 Best ADHD Meds and Their Effectiveness in 2021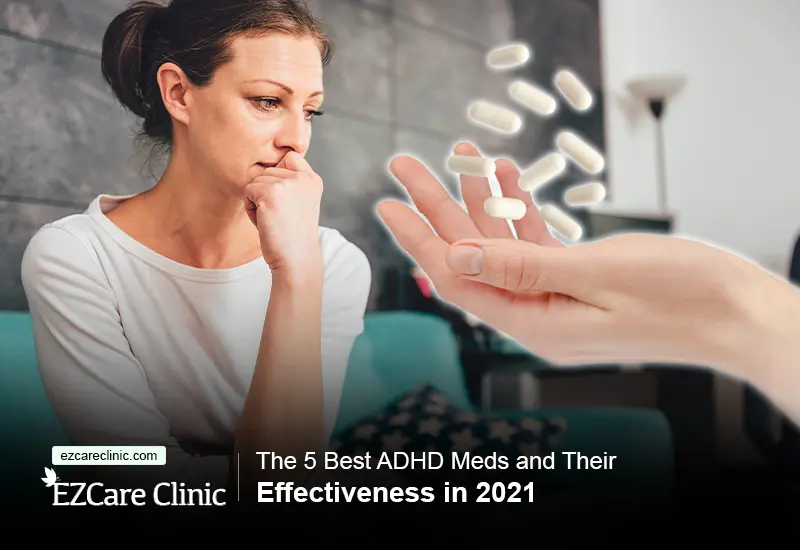 ADHD stands for Attention Deficit Hyperactivity Disorder. It is among the most common disorders affecting the brain and, consequently, a patient's behavior. While there is currently no known cure for the condition, there are different ways of managing its symptoms to allow the patient to live as near a normal life as possible. ADHD meds are among the most effective in this regard. They can reduce the hyperactivity, impulsivity, and inattention associated with ADHD in kids or adults.
Methylphenidate is the most commonly used medicine for ADHD– Get ADHD medication consultation by clicking the button below. 
When using ADHD meds, one of the first things you should pay attention to is what they can and cannot do. They are not magic pills that will simply "fix" all the issues an ADHD patient might be battling with. Moreover, they will work differently in different ADHD patients, so the prescription of ADHD meds is highly personalized.
The following are five of the best meds for adult ADD / ADHD.
1. Methylphenidate
This is the leading stimulant drug used for managing the symptoms of ADHD. Stimulants are the most common ADHD meds because of the years of research backing their efficacy. They increase the dopamine levels of a patient's brain. This is a neurotransmitter that reduces impulsive and hyperactive behaviors while boosting focus. Methylphenidate, commonly sold under the brand names Ritalin or Desoxyn, is prescribed for teenagers, kids above five years, and adults. It is available as an immediate-release (taken 2-3 times daily) and a modified-release (taken once daily) tablet. It is used as the first-line option among ADHD meds, with long-term research studies backing its safety and efficacy. Moreover, a study among 42 ADHD patients found methylphenidate beneficial for managing anxiety. If your symptoms do not improve with methylphenidate, the doctor will prescribe amphetamines or non-stimulant drugs.
2. Amphetamines
These are a group of stimulant ADHD medications for adults and kids. The common amphetamines used for managing ADHD include lisdexamfetamine and dextroamphetamine. These come in extended-release (drugs released slowly into the body) and immediate-release (drugs released into the body right away) oral forms.
The common brand names for amphetamines include:
The effects of immediate-release amphetamines will kick in after 30-45 minutes and last for 3-4 hours. These ADHD meds last longer and are more potent than methylphenidate, but their general effects are similar. Extended-release amphetamines are effective for 10-12 hours and are thus administered once or twice daily. Amphetamines, according to studies, are considerably more effective than placebo for managing ADHD symptoms.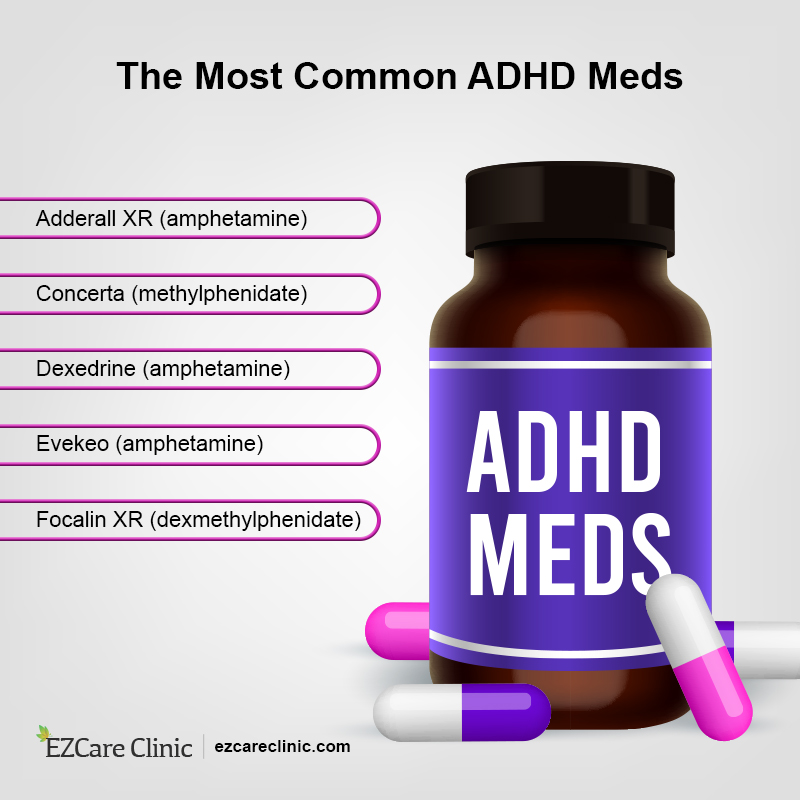 3. Atomoxetine
This is an SNRI (selective noradrenaline reuptake inhibitor). This means that it belongs to a class of ADHD meds that increase the brain's amount of noradrenaline. This is a chemical that passes messages between the brain cells to aid in concentration and impulse control. Atomoxetine is prescribed for teenagers, kids above six years old, and adults in cases where the use of methylphenidate or amphetamines is contraindicated. The drug is taken as a capsule once or twice daily. Atomoxetine, commonly sold under the brand name Strattera, has been shown by several studies to improve ADHD symptoms. It also reduces defiant or oppositional behavior and anxiety. As such, Atomoxetine is the best ADHD medication for children with anxiety.
4. Guanfacine
This is also a non-stimulant drug originally used to manage hypertension. Research has linked it to a decrease of impulsive symptoms and hyperactivity in ADHD patients with little effect on inattention. Guanfacine is an extended-release drug approved for managing ADHD in kids from 6-17 years. However, studies have shown it to be the most effective among kids that are below 12 years old. The drug is a selective adrenergic receptor only meant for kids.
An effective ADHD treatment plan may help patients and families better cope with daily challenges- Click below to get help.
Studies on the efficacy of Guanfacine found that 1- 4 mg of the drug had an average 17 – 21 points decrease on the ADHD rating scale-IV in comparison to a reduction of 9-12 in study subjects that took a placebo. The rating scale is used to measure behaviors and symptoms of ADHD to pick the best ADHD meds for the condition's management. Guanfacine is available under the brand name, Intuniv in 1, 2, 3, and 4 mg extended-release tablets. The ideal dosage will depend on your child's tolerance to side effects, response to medication, symptoms, age, and weight.
5. Amitriptyline
This belongs to a class of ADHD meds known as tricyclic antidepressants. Amitriptyline and other drugs like imipramine and desipramine in the same class are used when a patient's ADHD symptoms are not relieved by stimulants or non- stimulants. They are also used in cases where you have symptoms of anxiety or depression. Tricyclic antidepressants increase the amount of norepinephrine in your brain, much like stimulants. Even so, their effects take a longer time to be seen compared to stimulants.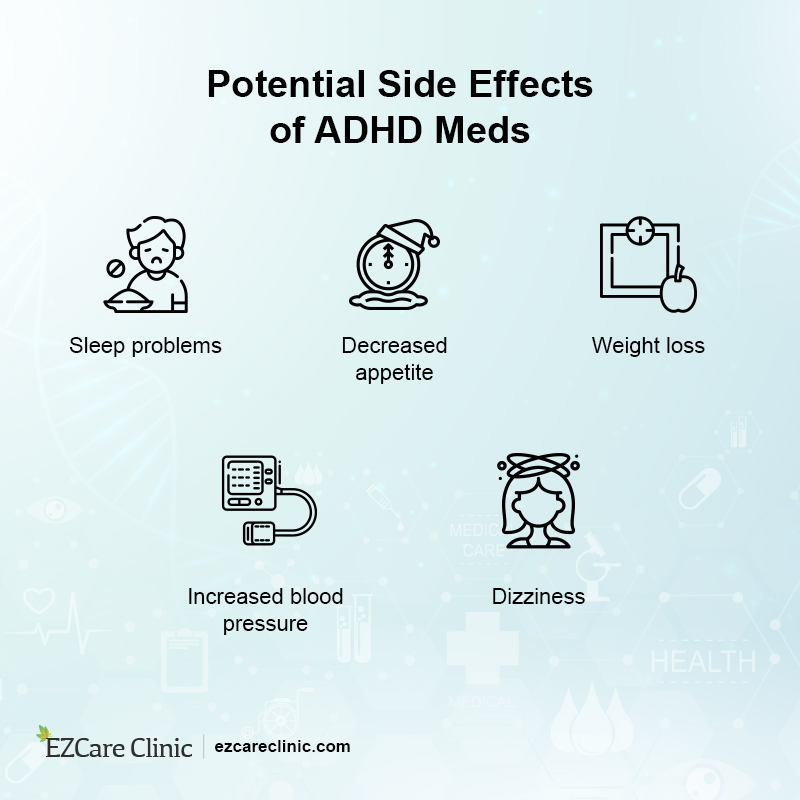 Tricyclic antidepressants as ADHD meds help to control hyperactivity and impulsivity. One study on the efficacy of the drugs found them effective for reducing ADHD symptoms in adolescents and kids with concurrent Tourette syndrome.
From the information above, you now know what to expect from the ADHD medication names you might come across. Like all drugs, the above ADHD meds might have some side effects. The side effects are somewhat stronger when using stimulants compared to non-stimulants and other groups of ADHD meds.
Some of the common side effects include:
Headaches

Tummy upsets

Nervousness

Irritability

Dry mouth
Serious side effects need a doctor to evaluate: 
Hallucinations

Seizures

Allergic reactions

Suicidal thoughts
Sometimes, the doctor might lower the dosage of the ADHD meds or change them altogether.
The right treatment helps ADHD improve– Click the button below to get the most suitable treatment.
One of the things that will make a huge difference in the management of ADHD symptoms is the right healthcare professional. Choose a clinic that will walk with you for the long run because the ADHD meds you or your child will be put on only manage your symptoms rather than cure the condition.
EZCare Clinic is one of the best choices for getting a prescription for the above ADHD meds and managing any issues that might crop up while using the drugs. Moreover, unlike most clinics, EZCare Clinic offers in-person and online visit options. So, schedule your appointment today.