Losing Weight with Prescription Xenical (Orlistat)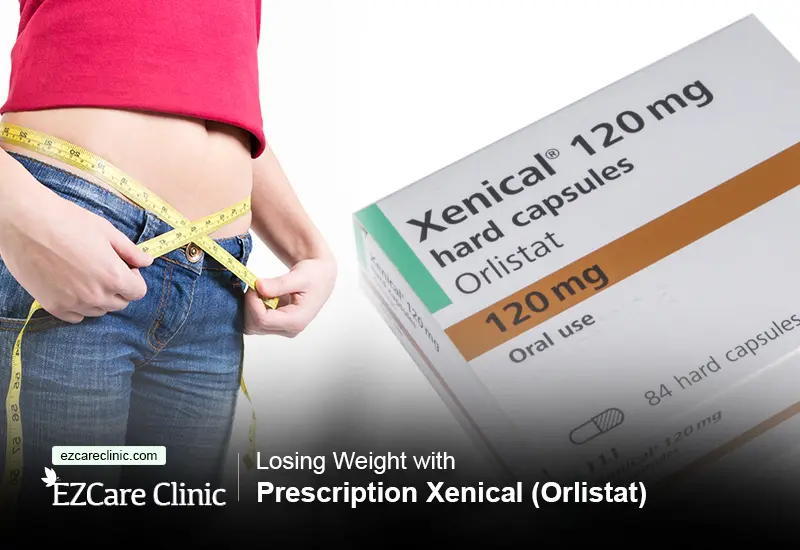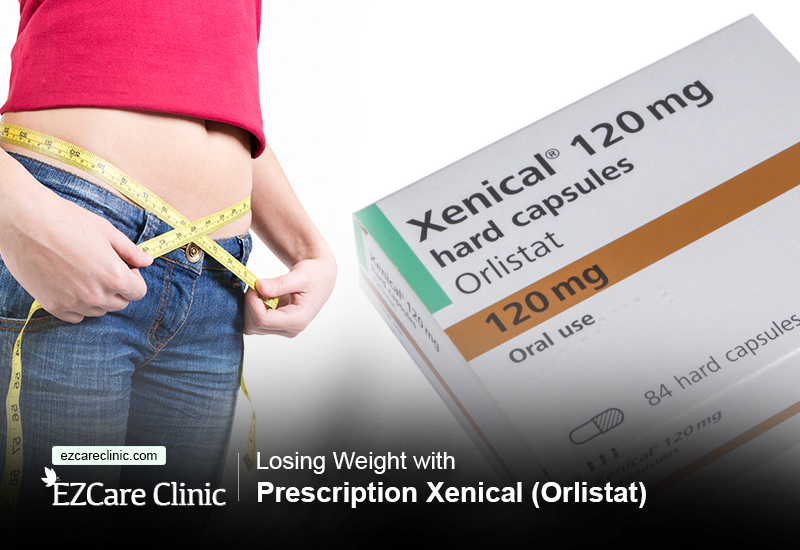 Weight loss on Xenical
Obesity is a serious health issue plaguing the United States, as of 2014, an estimated 30% of the population were diagnosed as clinically obese. This condition isn't just an issue that affects the size of our waists; it is a chronic disease as defined by the American Medical Association, and the National Institutes of Health (NIH). It is also considered a national epidemic by the Centers for Disease Control and Prevention (CDC). Serious physical, metabolic, and psychological health issues are caused by obesity every day. The problem is so severe that an estimated $210 billion was spent on direct and indirect health care costs as of 2010. Since that time, obesity rates are rising.
Click the button below to get started with obesity treatment!
With such a focus on health care and prevention, it's hard to imagine how obesity has gotten so out of control. Firstly, consuming more calories than calories burned off by daily activity causes obesity.
Additional issues that contribute to obesity:
Poor diet high in fat and calories

Sedentary lifestyle

Poor sleep habits which lead to hormonal changes

Genetics

Aging which leads to less muscle mass and a slower metabolic rate

Pregnancy weight that is difficult to lose may eventually lead to obesity
Weight Loss Medications
An additional tool for weight loss is prescription weight loss pills. They are designed to be taken with foods that are low in fat and calories and a regular exercise program.  Most weight loss medications contain a stimulant to suppress the appetite. Therefore, these medications have a higher risk of abuse, and FDA labels them as controlled substances.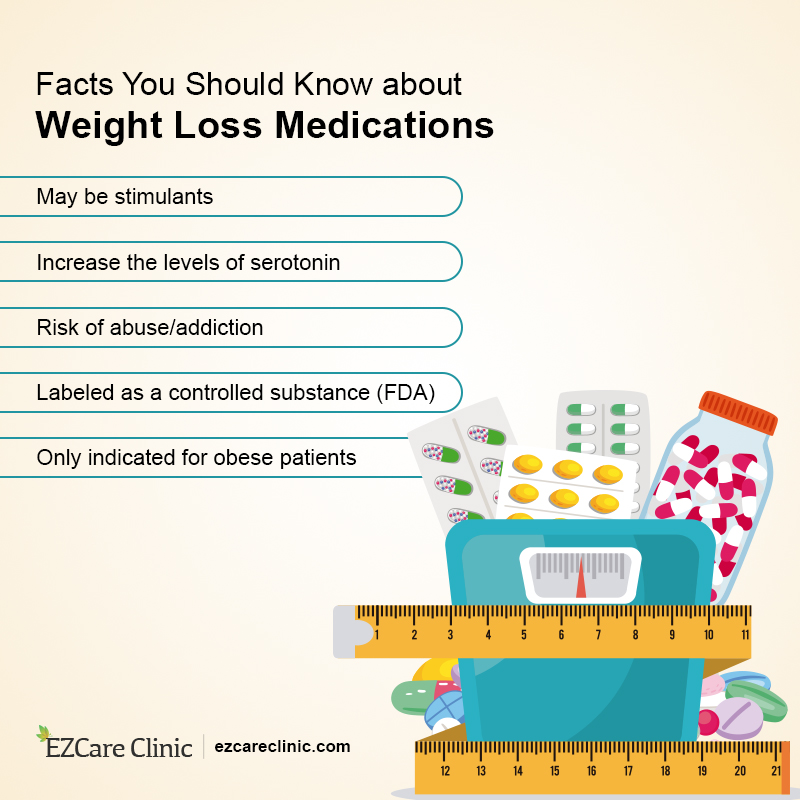 For the most part, diet pills are reserved for severe circumstances when weight loss has not been successful, and the patient has health risks associated with being overweight or obese.
For instance, these medications are only indicated for obese patients with an initial body mass index (BMI) greater than 30 or 27 in patients that have other risk factors such as high blood pressure or type 2 diabetes.
However, one should maintain a healthy diet and exercise routine in conjunction with prescription weight loss drugs. 
Xenical (Orlistat)
Orlistat is a prescription drug marketed under the name Xenical that acts as a lipase inhibitor (decreases the gastrointestinal absorption of fat) to reduce caloric intake.
Xenical should be used in combination with other treatment methods that include diet, exercise, and weight control. When using this medication, divide the daily intake of fat, protein, and carbohydrates between each meal and avoid a diet that is high in fat.
Patients on Orlistat may have an increased risk of unpleasant gastrointestinal side effects.  
Xenical Side Effects
Common Xenical side effects are typically caused by the fat-blocking action and can be a sign that the medication is not working though they may lessen with continued use:
Oily or fatty stools

Oily spotting in undergarments

Orange or brown coloration in stools

Gas and oily discharge

Loose stools or an urgent need to go to the bathroom, inability to control bowel movements

Increased number of bowel movements

Stomach pain, nausea, rectal pain
Click the button below for safe weight loss treatment options!
Stop using Xenical and contact your doctor at once if you have any of the following symptoms:
Severe stomach pain

Severe pain in the lower back

Blood in the urine, painful or difficulty urinating

Kidney problems; little or no urinating; swelling in the feet or ankles

Feeling tired or short of breath

Liver problems; nausea, upper stomach pain, itching, tired feeling, loss of appetite, dark urine, clay-colored stools, jaundice
How Effective Is Xenical?
According to several studies posted online, Xenical is an effective weight loss medication if used correctly and in conjunction with a diet low in fat along with regular exercise. Although every patient is different, most reports conclude that on average, Xenical patients lose up to 30% more than patients not using any medications at all.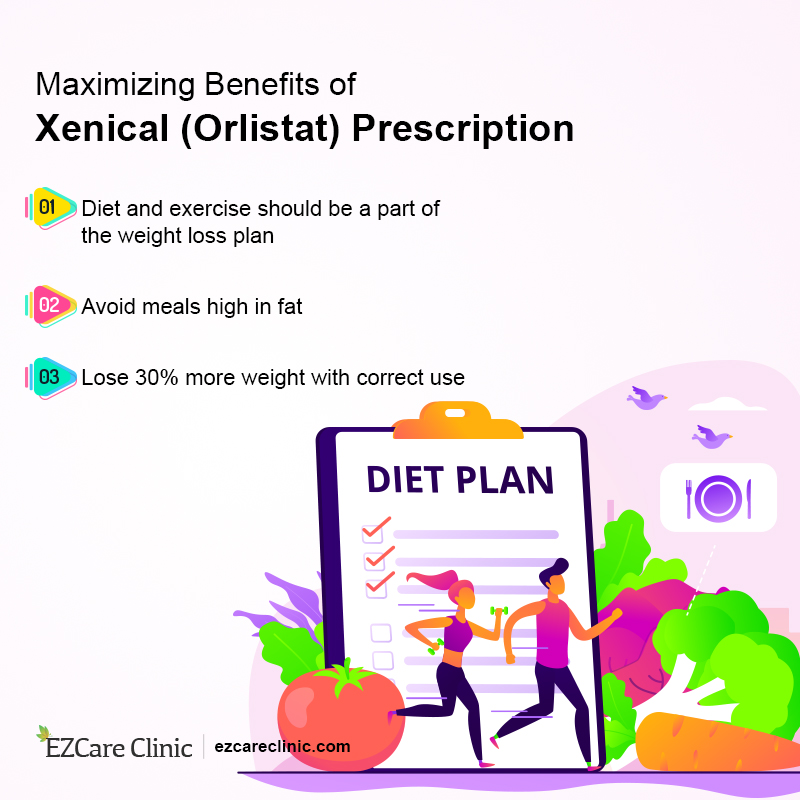 Before you begin this or any weight loss program, consult your physician. While not all overweight patients have other health conditions, those who do should address them as well as their weight.
Getting Xenical in San Francisco
Patients who live in the San Francisco area and are struggling with being overweight or obese do have somewhere to turn.
EZCare Clinic has a professional and caring staff that can work with individuals to create an appropriate weight loss and management plan that will meet all your medical needs. In addition, your doctor may prescribe an effective medication such as Xenical (Orlistat).
You will also have access to clinicians who can help guide you through any emotional issues related to your condition(s).
Click the button below to consult an expert about Xenical prescription!
Our goal at EZCare is to help you lose weight and keep it off while improving your overall health and well-being. We are open seven days a week from 11 am to 7 pm. We appreciate appointments, but they're not necessary. You can either make an appointment online or call us at (415) 966-0848.