Is Hormone Replacement Therapy Right For You?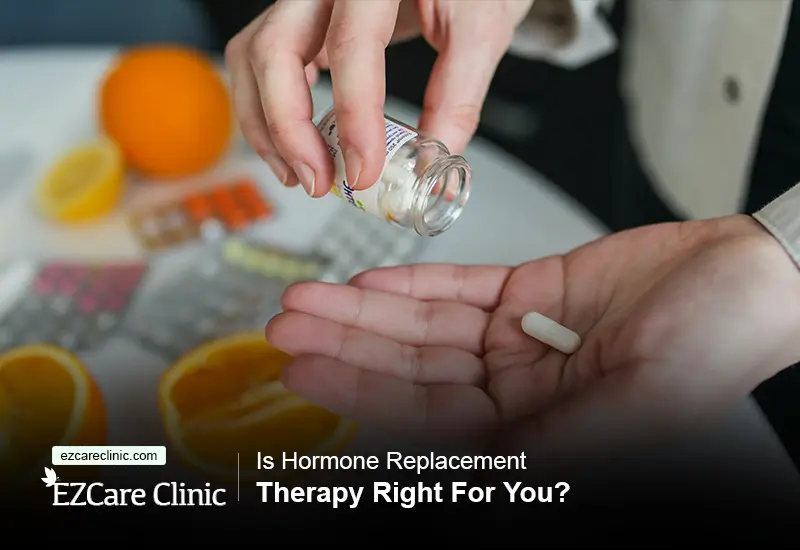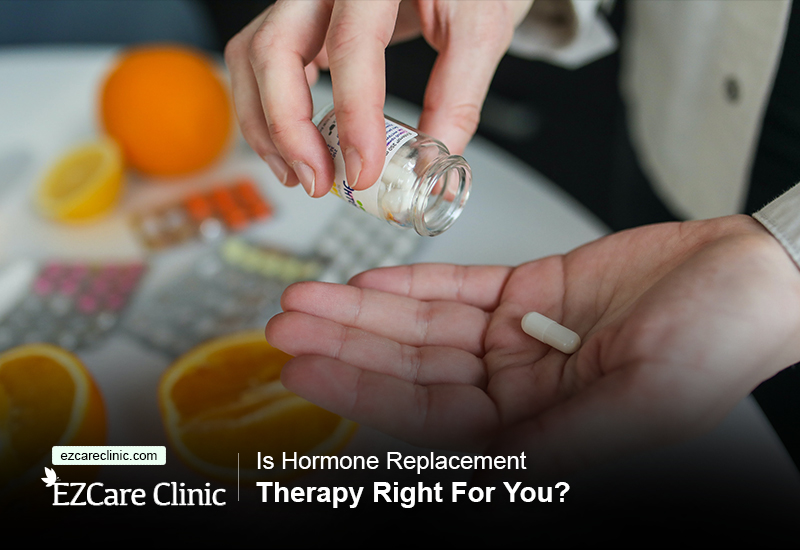 If you have ailments that keep you up at night, disorders that make life harder than it should be, and a need for treatment that can provide relief, then you want to get in touch with EzCare Clinic. Staffed by licensed physicians that can help you understand your health conditions, EzCare can help you treat a wide spectrum of problems, such as ADHD, anxiety, and weight loss. We can even help you get an emotional support animal letter, along with other services that all serve to help you live a healthier life. Whether you visit us in person or at home with the help of telehealth communication, you can be sure we can help you find relief.
We have got your health needs covered – Click the button below!
When it comes to women's health, menopause is a significant life change that brings with it a variety of unpleasant symptoms. The intensity and extreme nature of the symptoms vary from woman to woman, as age and other factors contribute to how menopause affects individuals. The most common (and famous) of these symptoms are hot flashes, which can show up as redness on the skin and sweating. Hot flashes can be as short as a few seconds to as long as several minutes. These symptoms can be combated, as well as avoided, and it all comes down to the person, where they are in life, and how they choose to treat it.
The problems associated with menopause do not affect every woman the same way. Because of this, some women may not have to take any specific medication to deal with their symptoms. On top of that, it is possible not to feel the symptoms and effects that are most commonly known to come from menopause. Depending on your age and how your body reacts to it, you may only have to make sure you're living a healthy lifestyle as a way to combat menopause. Even if you have yet to experience full-blown menopause, it can still benefit you to not only keep a healthy lifestyle but look into the medications that exist for it. You could be able to treat the symptoms ahead of time, though, like everything else, this depends on the individual.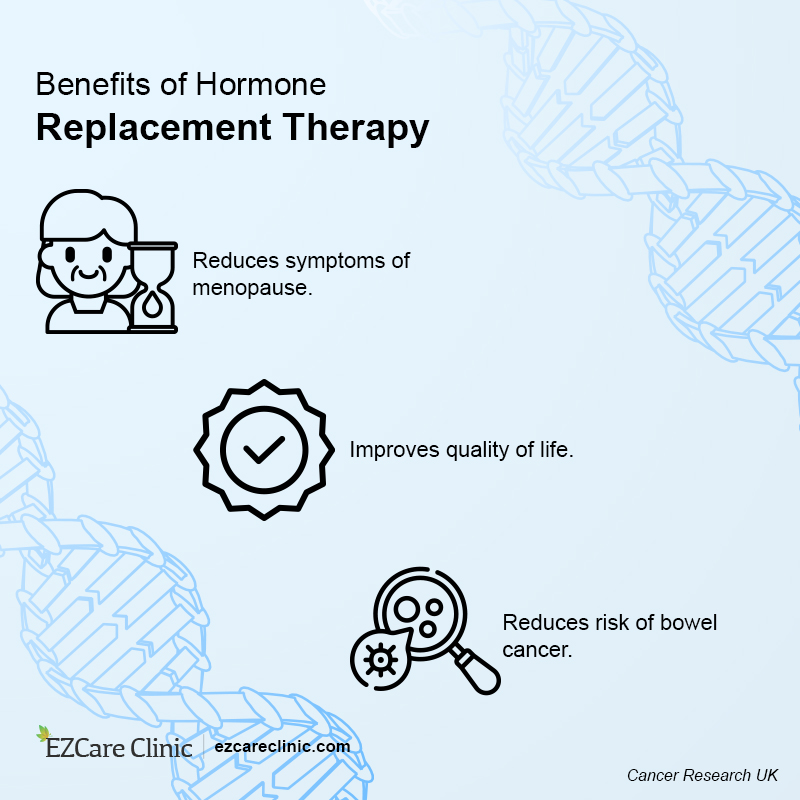 HRT For Women
For treating menopause, hormone replacement therapy is among the most popular and effective. As the name implies, it uses synthetic hormones to replace the hormones in the body that are no longer being created because of menopause. As a popular form of treatment, hormone therapy has proven itself as a recommended choice for treating menopause and its symptoms. Not only that, but it can even help prevent bone loss, which is something that can happen during and because of menopause.
The choice of choosing hormone replacement therapy can be determined by different reasons, including your age and general health conditions. If you're of a certain age and your risk of cancer and heart disease is excellent, you may not want to take this type of medication. Hormone replacement therapy can increase your risk of heart disease, cancer, strokes, and blood clots. This also goes for your medical history and the dosage prescribed, both of which can increase your risk of danger if you were to take hormone replacements.
The risks mentioned are a primary reason those who decide to take hormone replacements are often also prescribed progesterone. This is done to counterbalance the possible problems that estrogen can cause if taken by itself, which can result in different risks and side-effects. Women who have had their uterus removed do not have to take progesterone; this is because estrogen on its own can stimulate the lining of the uterus.
Hormone replacement therapy can improve your life – Get started on the treatment right away!
Types Of Hormone Replacement Therapy
The two main types of hormone replacement therapy are systemic estrogen and low-dose vaginal products.
Systemic estrogen is the treatment that is most common for treating menopause. As a hormone replacement, it can treat symptoms related to hot flashes while also taking care of vaginal symptoms (dryness, itching, burning). It can be considered as a pill, patch, cream, gel, or spray; which one works best is up to you and your medical doctor to decide.
Low-dose vaginal products specifically target the vagina and are available in creams, rings, or tablets. They are less absorbent to the body than systemic estrogen, but unlike that type, low-dose vaginal products cannot additionally treat symptoms such as hot flashes and night sweats.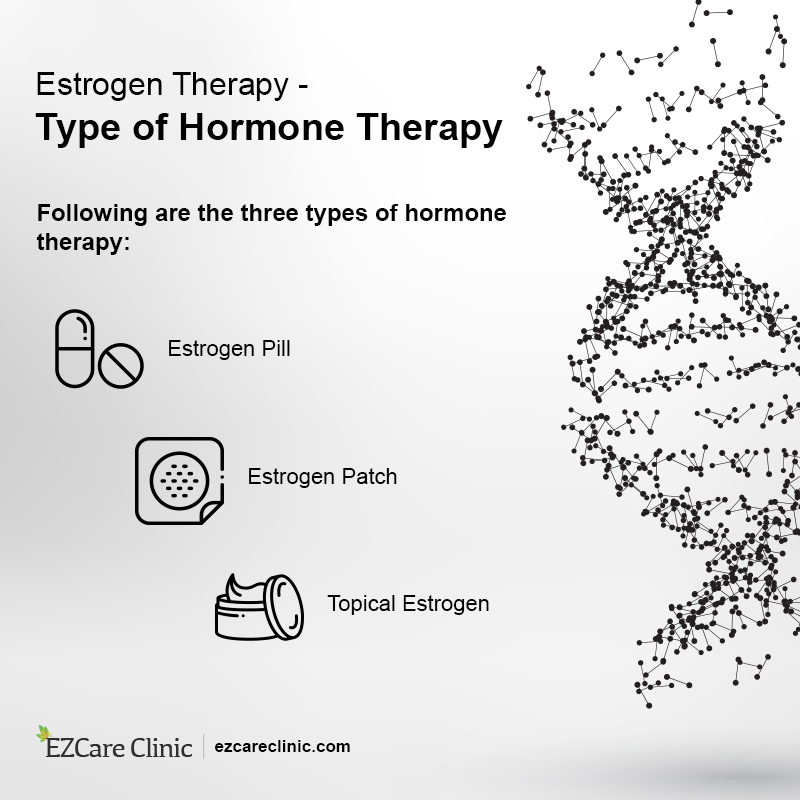 Benefits of Hormone Replacement Therapy
Hormone replacement therapy can treat the symptoms of menopause in ways other alternatives can't. Not only that, but it can even help with the prevention of other medical conditions and ailments, such as colon cancer. One notable illness hormone therapy can protect against is osteoporosis, a disease that decreases bone mass, which can happen not only as you get older, but when you have menopause.
Don't wait for menopause to get hormone replacement therapy – Do it today!
How To Get Hormone Replacement Therapy In San Francisco
If you are interested in getting hormone replacement therapy medication, then contact EZCare Clinic. Our specialist staff of licensed physicians will be able to evaluate you thoroughly to help you better understand your condition and the symptoms that you may be having. From there, you and the doctor will be able to decide on the best treatment options, including the best form of administration, in case some types are less effective or safe for you than others.
We at EzCare understand each patient is different, so we make sure your individual needs are met for the best quality of care possible. If you would like to set-up an appointment, you can call us at (415) 966-0848 or visit our website's appointments page. Make sure you're prepared and well-taken care of from menopausal symptoms and make your appointment today!