How Walk-In Clinics Differ From Traditional Doctors' Offices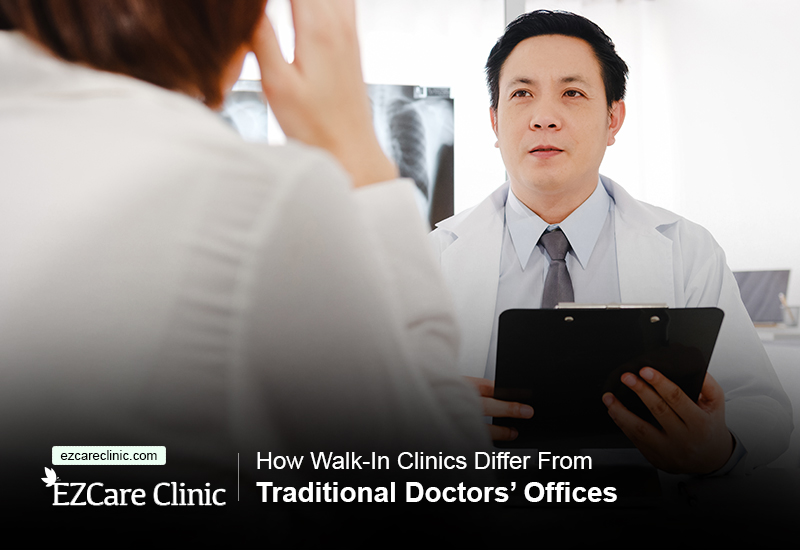 The popularity and prevalence of walk-in medical facilities have increased immensely in recent years, as people are searching for more affordable and efficient ways to get the treatment and care that they require.
Visit our clinic and get the treatment at the most affordable price– Click below!
As these clinics become more commonly used, it is crucial for patients to understand the differences that exist between going to walk-in, and going to a physician's office.
In doing so, there are an array of factors that go into knowing the distinctions between the two, whether this includes the type of ailment or illness or the atmosphere of each specific location itself.
In order to shed light on how each one differs from the other, the below will provide insight into the specifics that you should know when considering either a walk-in or a traditional doctors' office.
Minor vs Major Ailments or Illnesses
This is probably one of the foremost ways in which a walk-in clinic is different from a traditional physician's office.
Sure, it is commonly known that minor ailments or injuries, can be resolved by walk-ins, such as:
This includes contraceptive care, motion sickness medication, screenings and physicals, and a vast array of other problems that are not chronic or life-threatening to the patient that is seeking the care.
However, when it comes to dealing with more serious or chronic conditions of a patient, walk-in clinics are often not equipped to handle the illnesses in this regard.
This is due to the fact that the individuals that staff these clinics, although prepared to deal with minor problems, cannot make definitive decisions when it comes to more serious ailments felt by patients.
As a result, these such conditions may require the patient to seek the attention of a traditional physician, and thus require the patient to go to a doctor's office in order to seek treatment for their problem.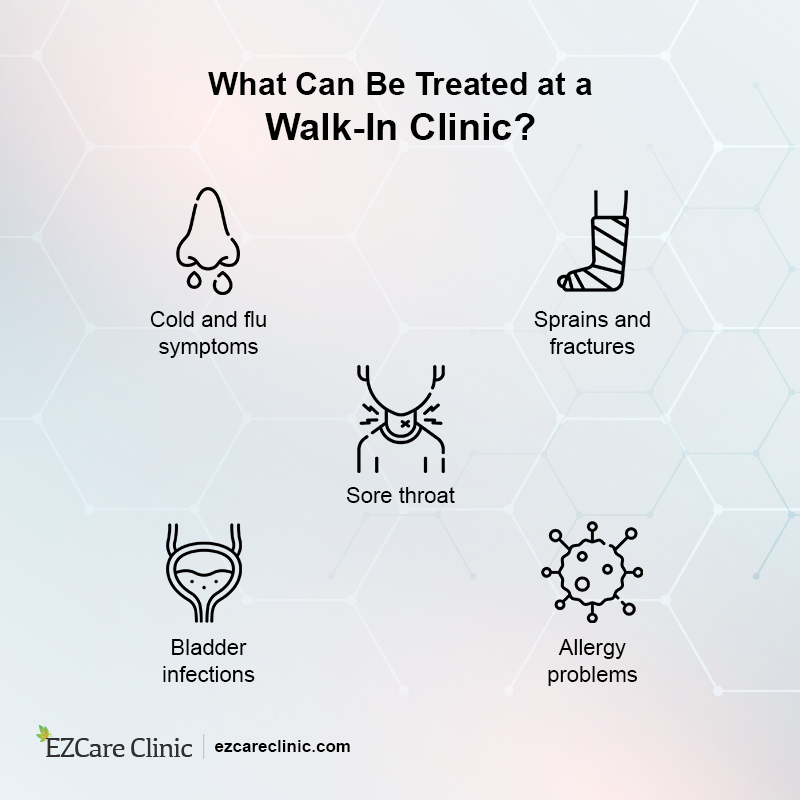 Walk-Ins Are More Time & Cost-Efficient
Two things that are apparent when considering a traditional doctors' office include the time it takes during the visit itself, as well as the cost that is attributed to seeing the general physician.
When it comes to the time, horror stories of doctor visits provide insight into the hours of wait that often accompany the visit, regardless of the appointment time that a patient may have been given.
Furthermore, the costs that are tied to seeing a traditional physician are also quite heavy and can dissuade individuals from getting the care that they need.
Walk-in clinics are advantageous in this regard because they provide quick and affordable care to patients with minor illnesses. Generally speaking, patients can be in and out of their treatment in under an hour and be on their way.
Additionally, these walk-ins tend to be more transparent and cost-effective with the prices that they charge, making it more feasible for individuals to seek the treatment and solutions they may need.
Staffed by Nurse Practitioners or Physicians Assistants
One thing that is an important differentiating factor between walk-ins and traditional doctor's offices is that the former is not necessarily staffed with general physicians themselves.
Rather, the nurse practitioners (NPs) and physician assistants (PAs) are often those who see and treat patients at walk-ins, as opposed to a specific doctor.
Although this may seem daunting to some, when it comes to minor ailments, NPs and PAs are more than knowledgeable and trained to provide the treatment necessary.
Simultaneously, they are able to prescribe medications and other treatments as they deem fit for the specific illness that an individual might be undergoing at the time.
Both Can Prescribe, but Walk-ins Usually Have Pharmacies On-Site
Another difference between doctor's offices and walk-in clinics is that, although both institutions can provide patients with prescriptions for their medications, the traditional physician's office generally does not have a pharmacy on-site.
The transparent pricing of EZCare Clinic is what makes it unique– Book your appointment!
The convenience of walk-ins is that they can provide the prescription for the treatment that a patient needs, and the patient can then go and fill their prescription in a location that is either specifically on-site or in very close proximity to the clinic.
In this sense, those who are on a time crunch may benefit more from going to a walk-in clinic to get their issues treated and get the medication they need in a more efficient and effective manner.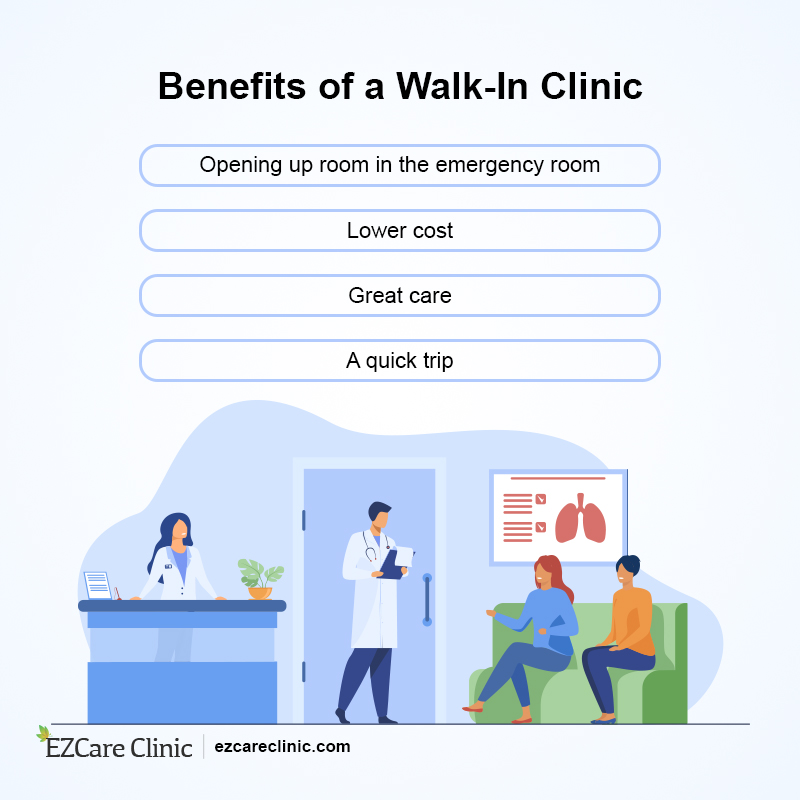 Traditional Doctors' Require Appointments
As walk-ins continue to gain popularity throughout the United States, and traditional doctors' offices become an inconvenience to go to, it is crucial for individuals to understand the overarching differences between each, in order to make the best decision for themselves.
The distinctions above provide insight into the broader factors that should be taken into consideration when deciding whether to go to a walk-in or if a visit to a traditional doctor is a more practical option for them.
Either way, arming oneself with the knowledge will open up options and opportunities, and ensure that the care that is received is the most beneficial for the specific individual and circumstance they are going through.
EZCare Clinic is the best clinic to treat your mental health condition– Click below!
One of the prominent differences between the walk-in clinics and general practitioners is that the latter requires appointments to be made ahead of time, whereas the former does not.
When someone is coming down with a common cold or flu and can feel the symptoms arising, quick and efficient care is the best way to ensure that the illness does not take full control of the body and cause an individual to become sick.
However, with traditional doctor's offices, making an appointment can mean not being able to get the attention needed in a timely manner, which may cause the sickness to kick into full swing before the appointment arises.
With walk-ins, patients can seek the care that they needed immediately after feeling any of these symptoms, and hopefully resolve the problem before it becomes a major issue for them.
Click below to schedule your appointment.