Hormone Therapy for Women: Benefits, Causes, and Risks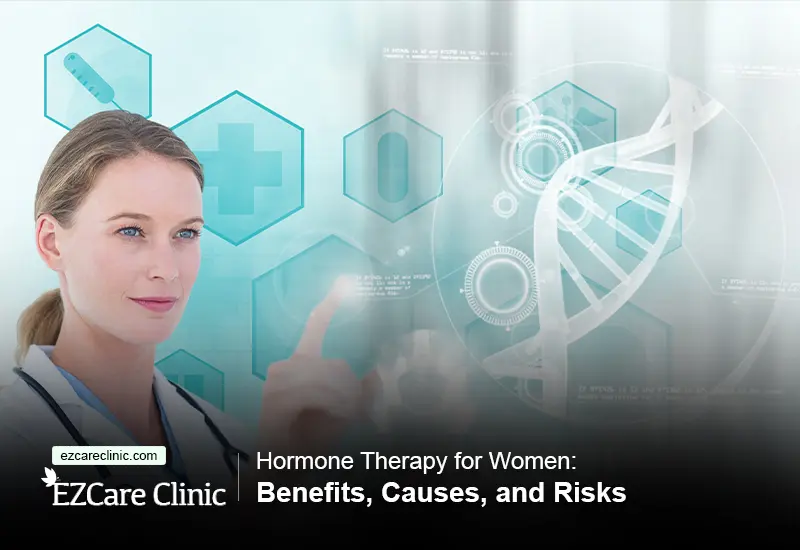 Hormonal imbalances can cause a list of conditions for women. These types of imbalances may be the result of taking birth control, chemicals in hair and skin care products, or even a poor diet.
However, the most common cause of hormonal imbalances in women is menopause. 
Hormone therapy can help you understand your health- Click below to get the therapy. 
Hormonal imbalance from menopause may contribute to conditions such as:
However, there is a way to treat these imbalances.
We offer hormone therapy to help restore the balance to your hormone levels.
Treating Hormone Imbalances in Women
Hormone therapy is used to help treat women with menopausal symptoms. Doctors may also recommend hormone therapy to help reduce the chances of osteoporosis and heart disease.
In fact, research and clinical trials published in 2002 by the Women's Health Initiative revealed that hormone therapy for menopausal symptoms has been seen to produce adverse effects and health risks.
Although many doctors have moved away from recommending hormone therapy as prevention again certain diseases, new studies have shown particular benefits for some women that experience certain health conditions. 
Hormone therapy is used as a treatment for the hormone levels in a person's body, and women who are in their menopausal years may have a change in hormone level, which makes them good candidates for this treatment.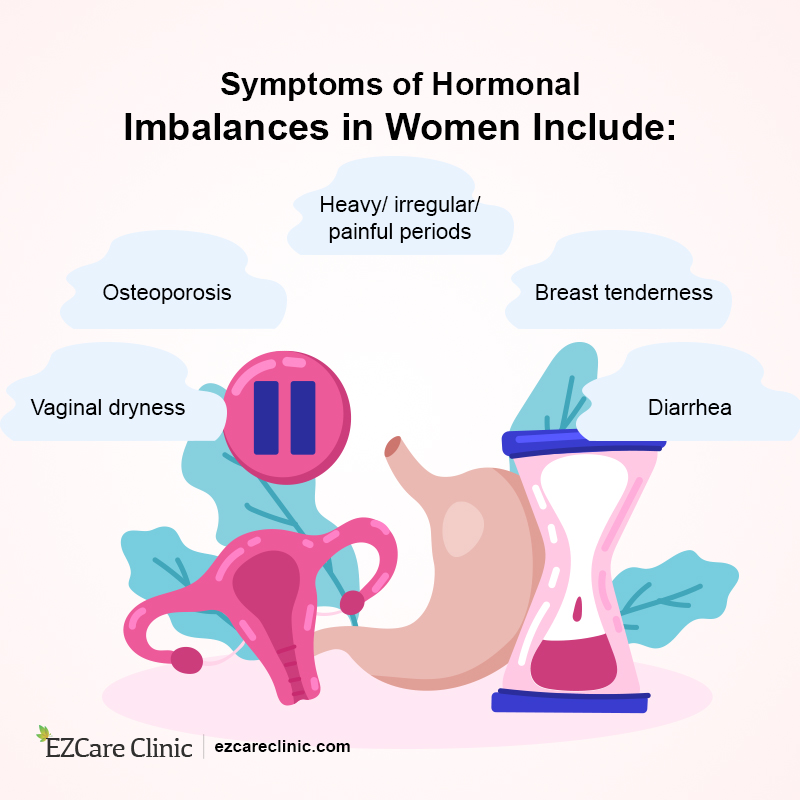 Benefits of Hormone Therapy
Hormone therapy may benefit patients in different ways, depending on their condition and the type of treatment that has begun.
Hormone therapy typically involves a particular amount of estrogen or progesterone being injected into the patient's body.
Estrogen is what helps thicken the uterus lining in preparation for egg implantation. Estrogen also processes calcium in the body.
It helps with balancing cholesterol levels while keeping the vagina healthy and functioning properly.
When estrogen is combined with progesterone, these hormones can stimulate and regulate various functions in the body.
Also, it regulates the menstrual cycle. 
According to The North American Menopause Society, "Literally hundreds of clinical studies have provided evidence that systemic Hormone Therapy (estrogen with or without progestogen) effectively helps such conditions as hot flashes, vaginal dryness, night sweats, and bone loss" (menopause.org, 2017).
The benefits of hormone therapy can be achieved by the specific needs of the individual.  
Get the most suitable hormone therapy with minimum side effects by clicking the button below.
Fortunately, the doctors at EZCare Clinic are fully knowledgeable of menopausal symptoms. Our Doctors know how Hormone therapy can help you find relief for symptoms associated with menopause.
The benefit of receiving hormone therapy at EZCare Clinic is focused on individualized health plans designed to fit your needs. To learn more about how EZCare Clinic can help you overcome menopausal symptoms, call us today!
Why Should You Consider Hormone Therapy?
Although hormone therapy is provided in lower doses. Compared to before 2002, it is still one of the most effective treatment options for menopausal symptoms.
FMenopause may affect women at different periods in their lives. It typically begins during a woman's mid the to late 40s or 50s.
Menopause is the medical term used when the ovaries stop producing hormones.  
Women should consider hormone therapy if they are healthy and experiencing menopausal symptoms including hot flashes, osteoporosis, night sweats, insomnia, and irregular or absent menstrual cycle.
Also, women who experience premature menopause or have decreased ovary function before 40 years old should also consider hormone therapy. 
Additionally, estrogen is a key part of hormone replacement therapy for women with menopausal symptoms.
Many women who have had their ovaries removed and did not immediately begin taking estrogen are at higher risk of experiencing: 
Coronary heart disease

 

Parkinsonism (Parkinson's-like symptoms)

 

Osteoporosis

 
This is why it is important to follow the recommended health plan once hormone therapy has begun. Women can benefit from hormone therapy if they have been diagnosed with premature menopause.  
For women considering hormone replacement therapy, you must consider:
Age
Menopause type
Length of time menopause
Our professionals also perform a thorough evaluation of your condition to see if hormone therapy would be right for you.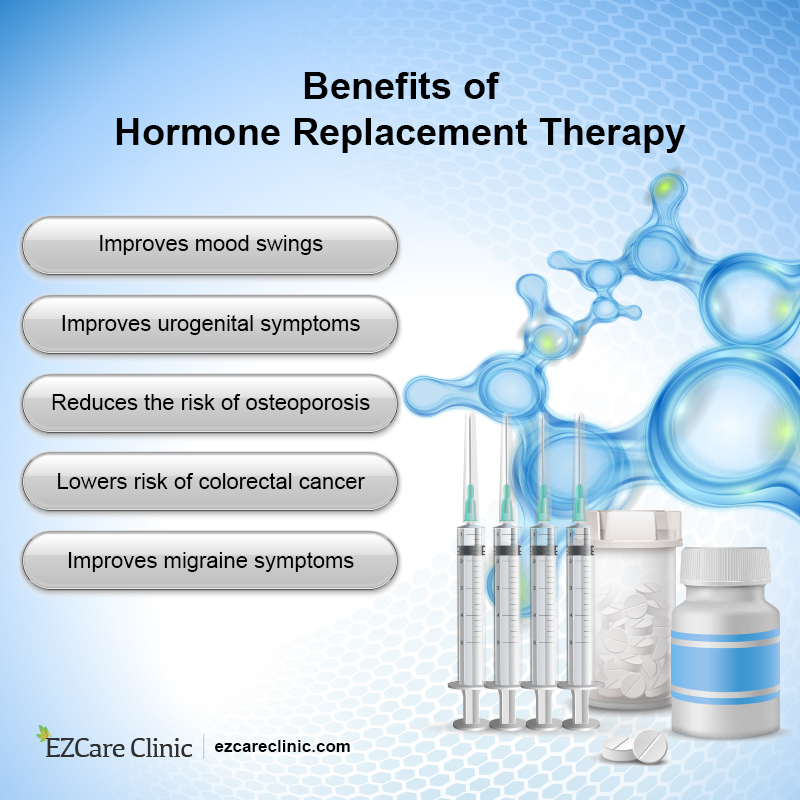 Hormone Therapy Isn't for Everyone
Unfortunately, hormone therapy is not for everyone. For example, women who have a history of breast cancer or are currently receiving treatment for breast cancer may not be eligible for hormone therapy.
Also, women who have experienced or are currently experiencing ovarian cancer may not qualify for hormone therapy.  
Other conditions that may cause a woman to be ineligible for hormone therapy include: 
Blood clots

 

History of stroke

 

Endometrial cancer

 

Women who smoke or do drugs

 
The doctors at EZCare Clinic can help develop effective strategies for hormone replacement therapy. However, every woman is different, which means that every hormone therapy plan will also be different.
The key to successful hormone therapy is the find a doctor that you trust to deliver a method for hormone therapy that you're comfortable with, such as the doctors at EZCare Clinic.  
Get your hormones balanced by clicking the button below.
At our clinic, our hormone treatment programs include all you need to ensure a positive rebuilding of hormones.
Getting your hormones in check is the first step. Following the recommendations from your doctor and the treatment team will provide you with positive results as you continue to experience relief from hormonal imbalances. 
For women's health issues, contact our clinic today to schedule a consultation and testing to see if you're eligible for hormone therapy. Start your journey to better health today. 
To learn more about hormonal imbalance and therapy call EZCare Clinic to schedule an appointment today.