Not everyone has a good reaction to the medication, some people can have bad reactions to some types of medication. Even if you are not severely affected by prescription pills, you can still be hesitant and against taking them, for one reason or another.
In these cases, a user might prefer an alternative form of treatment, especially one that does not involve taking medication.
If you have one or more of the qualifying conditions, click the button below to get an ESA letter online!
For those that want something different for their health treatment, there are emotional support animals.
Commonly abbreviated to ESA, they are essentially pets that provide their owners with comfort and relief. They may not be able to heal physical scars, but they can surely heal mental ones; this makes them a prime recommendation for some patients.
For those that suffer from anxiety and stress, an ESA can make your day bearable in a way no other treatment option can.
One of the best aspects of ESAs is that there is no one animal type that can be one. People often associate helpful animals with dogs, but their proliferation is mainly tied to their popularity.
Dogs certainly can be ESAs, but so can cats, birds, rabbits, and snakes. What matters is that the ESA in question is a domesticated animal that mentally benefits the patient.
Some patients may already own a pet that they love very much. In these cases, their pet may qualify as an ESA, if they are able to provide health and recovery benefits to their owners.
If a patient wants to do this, they do not have to take any additional steps, as there is no registration or special training needed for your ESA.
What Is An Emotional Support Animal Letter?
Those with an emotional support animal might also have an emotional support animal letter.
If ESAs on their own seems complicated, then ESA letters only muddle things further. While the reality of ESA letters is actually very straightforward, there can be a lot of confusion behind what one is, what counts as one, and what they do.
We will start by explaining that ESA letters do not legitimize your ESA.
This means that a letter does not register your pet, or officially make them an ESA. If you ever come across a service offering ESA letters that register your pet, do not take their business.
ESA documents are for housing, travel, or both, always being only one letter (regardless of whether it's for housing and travel). You can use an ESA housing letter if you live in an apartment complex that does not otherwise permit animals.
This not only avoids your landlord from kicking you out, but it prevents them from making you pay extra. Not only that, but if the landlord does not recognize your letter, they could get in trouble.
Some people don't have living problems with their ESA, which is why ESA travel letters are so sought after.
Airlines have no problem denying you entry on a flight, or forcing you to put your ESA in the cargo hold. With an ESA housing document, you and your animal companion will be able to fly comfortably and not be hassled or charged extra by airlines in any way.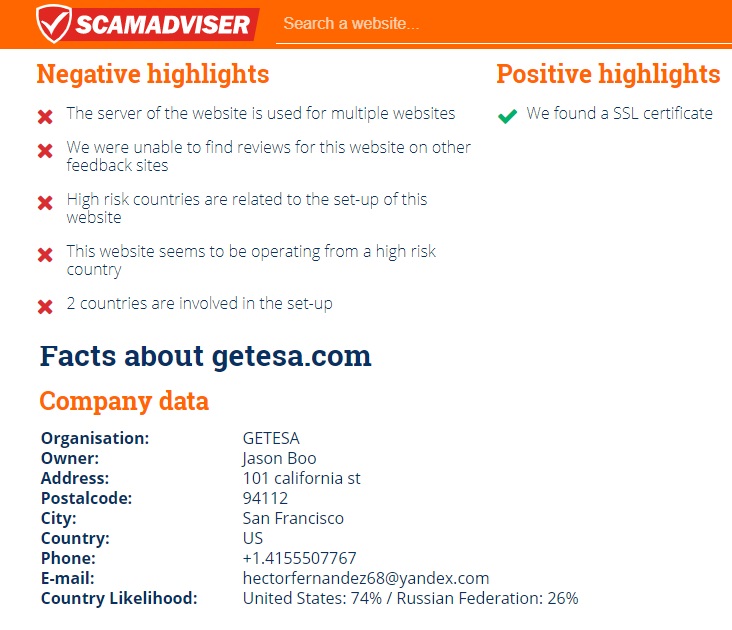 GetEsa.com Review
There can be a lot of misinformation when it comes to emotional support animals, what qualifies as one, and what the general process is like.
It doesn't have to be this way, and we want to make sure you understand what an ESA is, how it can help, what the letters are for, and how to spot scam websites. It may seem tricky at first, but soon you will see and understand ESA info better than you ever have before.
Who Is GetESA.com?
It's very easy to look up how to get an ESA letter online and come across a variety of different websites.
Most, if not all, of these websites, will be scams, as they are only interested in taking your money in a quick and easy fashion. Many of these sites follow a pattern that is easy to notice once you have seen it enough times.
Get ESA does a great job trying to appear as legitimate as can be. Their website is clean and easy to navigate, but that's where the compliments stop.
As convincing as they may appear to the untrained eye, Get ESA does not seem to provide a legitimate service for getting an ESA document.
Click the button below to get the legitimate ESA letter and save yourself from ESA scams.
The most obvious proof of this is in the Three Simple Steps section which can be found right on the homepage.
Many scam sites advertise to you that getting an ESA letter with them is as simple as a few steps (always three in number).
These three steps are also always the same: fill out a questionnaire (in this case, an exam), have someone (supposedly a doctor) look it over for approval, and then finally, receive your ESA letter (fake one with a fake signature).
The main issue with this three-step process is that it is not a legitimate way of getting an ESA letter. If you want to get your ESA letter, you cannot simply fill out a form and have it looked over by someone.
You must speak directly with a licensed physician who can properly evaluate you and your situation. Someone you don't know and never speak to approving your letter does not count. 
Is Get ESA Legit?
The way in which Get ESA provides their documents is already reason enough to not recommend them, but there are a few other things scattered about. For one thing, they mention ID cards, which are not something an owner ever needs for their ESA.
Much like vests that other sites try to sell, an ID card does nothing and will not help you if you need to prove your pet is an ESA.
Additionally, there is no physical address listed for GetESA, which is often a bad sign, as a legitimate business dealing in health services would have no reason to not provide an address.
Neither terms and conditions, privacy policy, or refund policy pages contain any information about business name nor business license information. Why would a legitimate doctor hide his information? 
GetEsa.com Scam
You can be tricked by hundreds of positive reviews displayed on their website provided by ShopperApproved review service.
But don't get fulled, all reviews are fake. Take a look at the dates they were created. Looks like they buy a bunch of reviews and most of them were left in one day.
Someone mentioned that getesa.com is related to mmjdoctoronline.com/esa which is known for selling fake Medical marijuana recommendations, similar to ESA prescriptions.
The internet abounds with fake ESA letters– Don't get scammed by one and click the button below to book your appointment with an ESA expert.
Choosing EZCare Clinic
With a qualified staff of medical professionals and licensed physicians, EZCare Clinic can provide you with a legitimate and verifiable ESA letter.
We make it easy and authentic, allowing you to speak with a medical board licensed doctor and get a copy of your letter the same day. We are a small medical practice located in San Francisco.
You can check our business license and read reviews about us here – About us.  You don't have to come in in person, it can be done 100% online from any state.
Book your appointment online by clicking the banner below or visit EZCare Clinic.