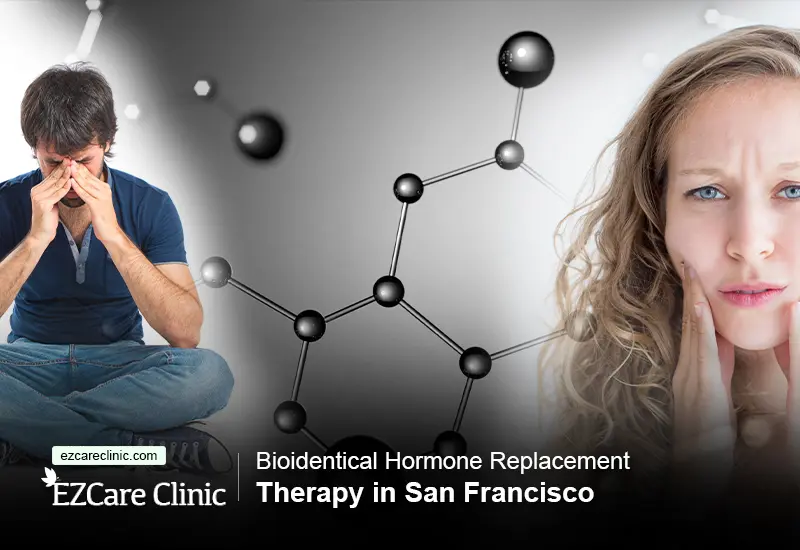 When looking into hormone replacement therapy, picking the right BHRT doctor is an important step. The doctors at the EZCare Clinic in San Francisco provide safe, legal, convenient, and compassionate care to all of their patients. Make your decision regarding hormone replacement alongside the professionals at EZCare Clinic.
Get the best Bioidentical Hormone Replacement Therapy by clicking the button below.
What Are Hormones?
Hormones are chemical messengers, created in the endocrine system and used to regulate most of the major functions in the body. The types of hormones naturally occurring in the body are estrogen, progesterone, cortisol, melatonin, and testosterone. Estrogen is the primary sex hormone in women, progesterone plays a supporting role to estrogen in women, cortisol helps the body process and respond to stress, melatonin helps us sleep when it gets dark and testosterone is the primary sex hormone in men.
What Is Hormone Replacement Therapy?
As we age, our hormones can decrease and become out of balance. When that happens, it can cause difficulties in our everyday lives, including changing the way we think and feel. Hormones drive most of the functions in our body, which means when our hormones are not at the optimal level it can cause many severe issues. Some common symptoms of hormone imbalance include brain fog, anxiety, lack of sexual desire, depressed mood, insomnia, fatigue, hot flashes, and many others. Hormone replacement therapy can help to bring your hormone levels back into balance and alleviate any current uncomfortable symptoms.
Hormone replacement therapy of the past was less safe and had more side effects because it was based upon artificial hormones. Now, bioidentical hormone replacement therapy, also known as BHRT, provides patients with similar hormones that can be currently found in the body and are from a natural source.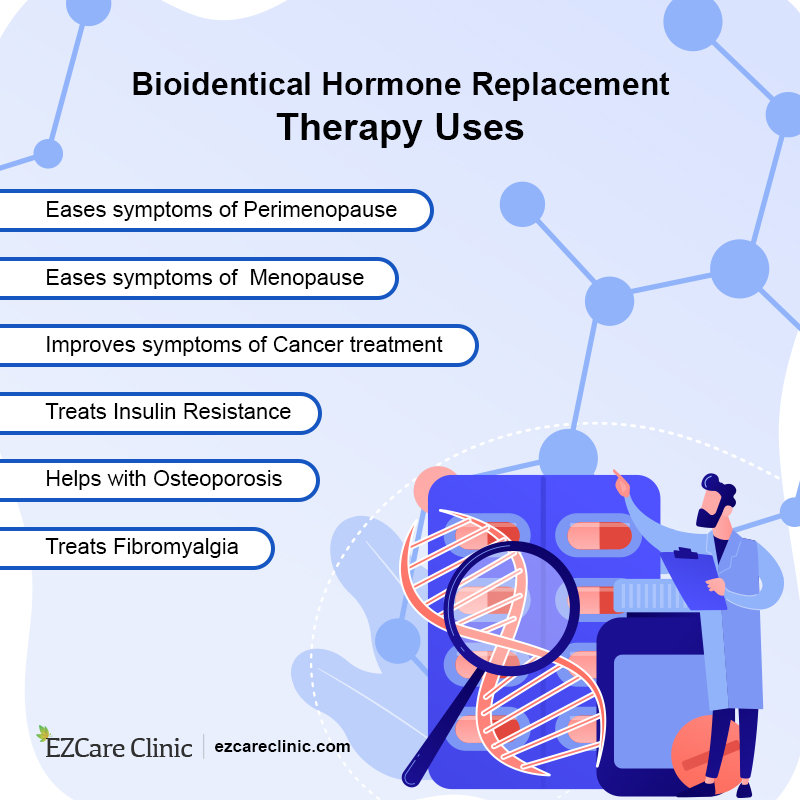 At EZCare BHRT Clinic, the hormone replacement treatment is specialized to your specific needs. Blood work is done to determine your current hormone levels. From that starting point, the doctors can provide a treatment plan to return your estrogen, progesterone, and testosterone to their proper levels and help to keep them there. Your HRT doctor will continue to monitor you, to ensure that you are at the best effective dose and alter as needed.
Once the hormone levels in your body are normalized, you should see a change in your body for the better. Some of the improvements can include more energy, better sleep, increased sexual desire and intimacy, decreased risk of diabetes and cataracts, decreased bone loss, and improved memory.
What Medications Are Used in Bioidentical Hormone Replacement Therapy?
The FDA has approved some forms of estrogen and progesterone for bioidentical hormone replacement therapy. Made from plant sources and biologically identical to the hormones already found in the body, bioidentical hormones provide a safer alternative to the synthetic hormones used for replacement therapy in the past. Once the proper dosage is determined, the HRT in San Francisco can be delivered as a cream, pill, spray, gel, or vaginal insert. The specific hormones needed to bring the body back into balance, along with dosage, will help determine the appropriate delivery system on a per-patient basis.
 Bioidentical hormone replacement therapy treats many diseases– Click below to get yourself treated. 
Who Is Bioidentical Hormone Replacement for?
Bioidentical hormone replacement is used to treat hormone imbalances in both men and women. As we age, the natural levels of our hormones decrease, creating a hormonal imbalance. Hormonal imbalances most often occur later in life and lead to various uncomfortable symptoms.
Bioidentical hormone replacement therapy has been commonly used for menopause and perimenopause in women. BHRT in San Francisco has also been found to be useful in treating other ailments including adrenal and thyroid disorders, fibromyalgia, osteoporosis, insulin resistance, and the symptoms of cancer.
It has also been identified that bioidentical hormones can help treat some of the natural bodily effects of aging like mood disorders, stroke, depression, heart disease, adrenal fatigue, anxiety, and gastrointestinal discomfort. All of these systems are regulated in the body through hormones so they can be helped or relieved by the proper hormone replacement. Maintaining hormone balance can not only alleviate symptoms but in some instances, it can even reverse disease progression.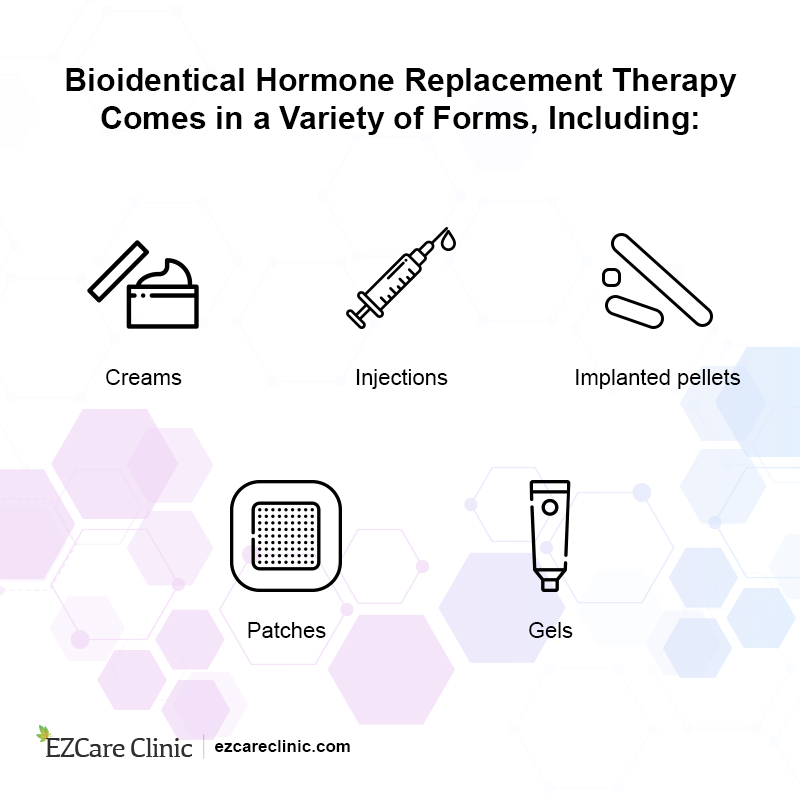 Why Is EZcare Clinic Right for Me?
The EZCare Clinic provides licensed medical professionals to their patients. The HRT doctors, nurses, and office staff at EZCare HRT Clinic value each patient and treat them with the utmost respect. Located conveniently in downtown San Francisco, appointments are available seven days a week. Patients are welcome to make a future appointment, schedule an appointment for the same day, or even be seen on a walk-in basis.
During your appointment, your BHRT doctor will take time with you to understand what you are currently experiencing and what outcome you hope to obtain. Based on that information as well as your medical history, your doctor will collaborate with you to come up with an appropriate treatment plan.
Treat hormonal imbalances with bioidentical hormones- Click the button below.
EZCare Clinic also offers many other services, including obsessive-compulsive disorder treatment, alcohol addiction treatment, erectile dysfunction treatment, alternative pain management, cosmetic services, emotional support animal letter, smoking cessation, ADD/ADHD treatment, weight loss, integrative care, women's health, and men's health. With so many services to offer, EZCare clinic is your one-stop-shop for all of your medical needs. So, book your appointment today.